PCIA congratulates Missouri/Kansas Wireless Association on its official launch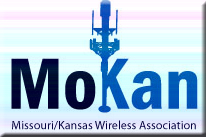 January 26, 2006 - Today the Missouri/Kansas Wireless Association (MoKan) held its kickoff meeting to officially launch the Association in St. Louis, MO.  Participants in the day's event included Michael Fitch, PCIA president and CEO, and Pat Tant, Vice President, Sales & Marketing of AAT Communications Corporation. 
MoKan was formed to promote wireless industry awareness through the education of local and state public officials about the role of the wireless industry and its benefits and to ensure the continued growth of wireless services in Kansas and Missouri. 
 
"The state wireless associations play a vital role in expanding the reach of the wireless industry; these associations provide great value for the individuals involved, their companies, their communities, and the industry," said PCIA President Michael Fitch in his address. "We congratulate everyone involved in the process of making MoKan a reality."
Selected to lead the new wireless association are: President, Sarah Berry; Secretary, Mary Kreps; Treasurer, Doug Janette; and Member at Large, Scott Berry.
 
The organization's mission statement identifies that MoKan is to promote positive wireless industry awareness. It further states: "The companies and individuals within the MoKan Wireless Association have joined forces to educate local and state public officials about the role of the wireless industry and its benefits; to cultivate relationships between the various members of the industry; to strengthen the relationships between the industry and the local communities they serve; and to ensure the continued growth and development of the wireless industry within Missouri and Kansas. 
The MoKan Wireless Association Web site can be viewed at www.MoKanwireless.org .