What could serve as a model for the nation,
Encompassing Michigan tower safety standard set for July 15 public hearing in Lansing
June 30, 2008 - New safety requirements to protect workers on communication towers have been proposed by the Michigan Occupational Safety and Health Administration, MIOSHA, which will hold a public hearing on the new regulations on
July 15.
Michigan will follow North Carolina as the second State OSHA to specifically address communication tower construction safety. North Carolina approved their standard in 2005.
Concerned about tower workers' safety, MIOSHA wanted to develop a safety standard that incorporated the most up-to-date best practices for working aloft, but the effort to draft a standard failed on the state's first try because a workable committee couldn't be assembled.
However, MIOSHA never lost sight of the importance of ensuring that communications tower workers arrived home safely every evening and under the guidance of Construction Safety and Health Division Supervisor Tony Allam and Terry Sharp, Jr., co-chairman of the standard's group, tower company management and MIOSHA officials sat down again in March 2006.
This time the committee knew it had the talent and cooperation from tower industry professionals to put together a draft standard that represents the best practices across the nation.

Disagreements were resolved
Although there were times that advisory committee members did not agree, they were able to work through their differences.
"I have great respect for MIOSHA and their willingness to look beyond a problem to find a solution," said Sharp, President of Grant Tower, Inc. of Grant, MI.
Sharp, who also serves as the National Association of Tower Erectors' secretary/treasurer, was active in the development of all areas of the standard, but he guided the group in drafting the Riding-the-Line and the CPL.
Sharp's industry knowledge and interaction with MIOSHA over the years was helpful in resolving issues as they arose.
Grant Tower, established in 1968, was the first erector in the nation to receive an experimental variance for Riding-the-Line from MIOSHA. The tower company's variance served as the foundation for the national directive.
Sharp also had an active role in the RF section of the standard and encouraged the committee to adopt the Federal Communications Commission's standards opposed to the American Conference of Governmental Industrial Hygienists' standards.
"I feel fortunate to have served on this committee and was very happy with how timely we produced such a comprehensive standard," Sharp said.
The 2005 North Carolina Communication Tower Standard was used as the base for the advisory committee to begin drafting the proposed standard, however many changes and additions were made, the most notable being the Riding-the-Line Directive (CPL) which NATE helped originally develop.
If passed, MIOSHA said that the standard's requirements will provide minimum protection for Michigan communication tower workers while constructing, altering, repairing, operating, inspecting, maintaining, and demolishing communication towers at heights over six feet.
Under the current proposed safety standard, they are asking for a mandatory minimum of a two man crew on all job sites.
Once approved, the proposed rules will become effective 14 days after filing with the Secretary of State.

Rescue training time frame not contentious this time
As the standard was first being drafted, MIOSHA -- regarding when employers used their own employees to provide elevated rescue and emergency services -- wanted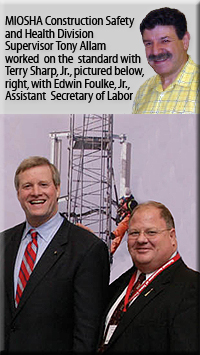 two rescue trained employees on site, but when there would only be two employees on site, the employer would comply with the requirement if one employee is trained and one employee has been employed for less than six months.
Sharp said that he and NATE feel strongly that an employee, employed for only six months in the industry, even with proper rescue training, does not possess the various skills and confidence to facilitate a rescue.
Following discussions, the committee agreed and the formal draft now has the requirement at 12 months.
When the North Carolina standard was first presented to committee members (Tower, Fall, RF), it required rescue training to be completed within 45-days of the tower tech's employment. After discussions with tower companies, they changed the employment time to six months.
NATE and other company representatives were insistent that it should be 12 months, but the North Carolina Department of Labor said they weren't going to give in to industry demands.
A spokesman for NCDOL said that they believed that a person could be capable of performing the rescue skills within six months and the move to extend it to 12 months was based upon financial concerns of companies who saw a high turnover of workers during their first year of employment.
Following a considerable lobbying effort by NATE, the employment period was changed to nine months.
As written, Sharp doesn't believe that there are any areas in the MIOSHA draft standard that need revisiting.
He said that the committee was a very dynamic group of people that brought a vast array of talents and perspectives to the table and NATE was well-represented in the decision making process.
"I believe the standard provides the best effort to date to address tower safety from a regulatory perspective."
"The standard will most importantly keep workers safe and serve the industry well, because it represents the most current best practices for our industry. This is a standard all vested parties can be proud of, including NATE," said Sharp.
Sharp said that NATE is currently working to get a tower standard placed on the regulatory agenda for OSHA promulgation.
"By driving consistency across state boundaries, a national standard will help the industry to readily identify rules and requirements to increase compliance and continue to put safety top of mind," Sharp explained.
In the meantime, providing the MIOSHA standard remains essentially intact throughout the review and comment process, Sharp believes the committee's work would provide a very good platform for state-run tower safety plans.

Hearing to be well-attended
Sharp says that he expects the hearing will be well-attended by NATE members and other Michigan contractors. NATE has approximately ten member companies that are construction contractors based in Michigan, but many other association members perform services within the state.
The public hearing will begin at 9 a.m. in the General Office Building, State Secondary Complex, 7150 Harris Dr., Lansing, MI, Conference Room B, First Floor.
Attendees will be provided an opportunity to present data, views, questions, and arguments relative to the proposed amendments as promulgated by the Construction Safety Standards Commission to Construction Safety Standard Part 29 Communication Towers.
If you're unable to attend you may submit separate written data, views, and arguments relative to the proposed rules by mail, e-mail, or facsimile. They must be received no later than 5 p.m. on July 22, 2008.
Correspondence should be directed to:
Michigan Department of Labor and Economic Growth
MIOSHA Standards Section
7150 Harris Drive - P.O. Box 30643, Lansing, MI 48909
Telephone 517.322.1845 - Facsimile 517.322.1775
E-mail: hundtc1@michigan.gov