Industry veteran has decades of experience
Coleman elected to serve as NATE's new chairman
February 23, 2009 - The National Association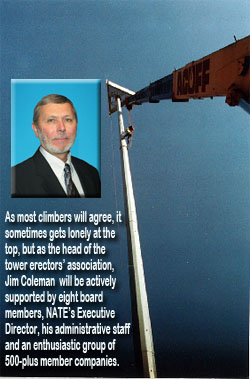 of Tower Erectors' governing board of directors at its annual conference in Nashville this morning elected Jim Coleman, Jr. to serve as its chairman.

Coleman replaces Don Doty who announced last year that he would be stepping down as a director to allow others within the association to bring forth new ideas and assist in guiding the erectors' group.

He tackled climbing as a toddler
The new chairman has been climbing things all his life, starting with telephones poles when, as a pre-schooler, he would spend time with his grandmother in East Birmingham, Alabama.

"She would get upset," Coleman said, "but I could not understand why because I thought it was great fun." And almost four decades later he still does.

Observing 37 years of changes
After graduating from college, Coleman began working with an educational television facility, and owned and operated Coleman Tower Company on the side. During that
 time, he gained valuable experience in the broadcast industry servicing AM, FM, TV and microwave facilities.

In 1977, he changed the company's name to Southern Broadcast Services, Inc. and was engaged full time in doing not only what he thought was fun, but what would become a life-long profession.

With over 37 years in the tower construction industry, he is highly experienced in all phases of construction of self-supporting towers, guyed towers, monopoles, monopines and roof-tops.
 
Coleman holds a General Radio License and is an active member of the Society of Broadcast Engineers. He is also a Professional Member of the American Society of Safety Engineers and a founding member of the Alabama Wireless Association.
He has been actively serving on the National Association of Tower Erectors Board of Directors since 2004, as well as serving on the OSHA Relations Committee as a member and board oversight director.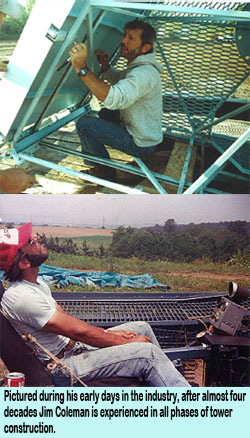 His company is a participant in the NATE/OSHA National Partnership and he serves on the NATE/OSHA Partnership management team.
Coleman has also been very active working with the local Alabama OSHA office and has conferred with them on numerous occasions. He conducted a seminar for Alabama OSHA for "Preventing Accidents at Heights" as a sharing of information and best practice procedures relating to the tower industry.
In addition, Coleman is certified as an instructor in tower climbing and safety rescue. Use of his expertise and knowledge has been sought by many attorneys as he has worked with various legal firms. The newly elected chairman has been retained on numerous occasions as an expert witness for litigation procedures and counsel on tower safety issues. He has also given presentations on tower maintenance and safety.
Throughout Coleman's years in the industry, he has seen many changes, challenges and improvements.
"The industry has certainly evolved from the days of the lineman's belt to full body harnesses, along with various other changes. I look forward to serving in an active role as our industry continues to grow and develop," Coleman said.