Strong exhibition attendance highlights NATE's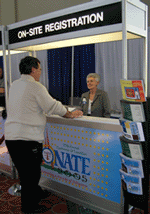 10th Conference and Exposition
February 18, 2005 --The National Association of Tower Erectors celebrated its 10th anniversary during its annual conference and exhibition February 14-17, 2005 at the

Wyndham Anatole in Dallas, Texas.  According to NATE Administrator Patrick Howey, pre-registration for the show had been excellent and the association was hoping to top last year's attendees. Patrick explained that on-site registration in Dallas was typically higher than most show locations due to the number of tower erection and associated companies within the tri-state area. Trade Show Chairman Ken Meador stated that exhibitors were appreciative of the excellent networking opportunities that the show provided. See exhibitor photographs below.

Educational sessions were offered in two groups, a Tower Hand Track and a Management Track so that both groups of professionals had an opportunity to attend the educational sessions that better suited their interests.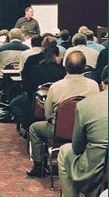 The Tower Hand Track helped to educate and refresh tower hands with a wide variety of subjects that they use on a daily basis. The sessions included: Engineering Basics Minus the Math, FAA Obstruction Marking Requirements, Hoists and Hydraulic Power Systems, RF Safety, and Aerial Device Safety.

Management Track sessions also assisted in educating tower companies with the knowledge to comply and excel in an ever-changing industry environment. Those presented included: The Effective Leader of the Next Generation, Leadership in Modern Day Business Organizations, NATE and OSHA Relations, DOT/CDL, and Controlling Substance Abuse.
Retired Army Lieutenant General Lawson Magruder was the keynote speaker at the keynote/general session that was held this year as a breakfast event.

The event's sponsors were recognized throughout the show for their support: Gold Sponsors - Arthur J. Gallagher, Andrew Corporation and Valmont Structures; Silver: ALT, Sabre Communications Corporation and TESSCO Technologies; Bronze: Shenandoah Tower Service, Ltd., Patron: American Wireless Supply, Doty Moore, Eupen, Midwest Underground Technology, Inc. Hutton, KCI Wireless Services, Primus Electronics, Site Pro 1, Tower and Communication Services, Inc., Tower Systems, Inc., and TWR Lighting, Inc.; Friends of NATE: CellxionCipov Enterprises, Radian/Rohn Products, RSI, Southern Broadcast Services, Talley Communications, Tower Awards and Weisman Consultants, Inc.

New exhibitors sign on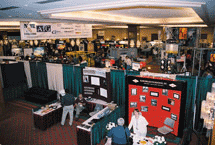 The show's exhibition was well received on Wednesday and Thursday and for many attendees was one of the best ever. Ninety-two exhibitors were on hand to display the latest innovations in the broadcast and telecommunications tower construction, maintenance and service industry. Manufacturers and suppliers throughout the United States and Canada exhibited. Twenty-two new vendors took part in this year's event.

Bird, Midwest and Andrew awarded
Exhibitors singled out for their booth presentation included the following Best of Show awards: 10'x10' Booth, Bird Technologies Group; 10'x20' Booth, Midwest Unlimited; and 20'x20' Booth, Andrew Corporation.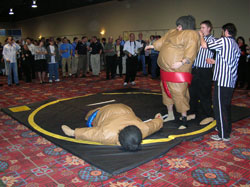 Although attendees were tempted to open their belt a notch or two after enjoying the delicious food available at breakfast, luncheon and the evening receptions, some members' girths were truly expanded during the Sumo wrestling event on Wednesday evening. NATE members and guests were invited to don padded Sumo outfits replete with a silk-like sagari and challenge their friends and competitors in the crowd-drawing event. Pride was the only injury when smaller competitors were able to easily remove their opponents from the ring.
WirelessEstimator.com will provide you with updates for the next NATE show scheduled for February 13-16, 2006 in sunny Orlando at the Coronado Springs Resort.
 
 
 
 
 
 
 
 
 
 
 
 
 
 
 
 

  

 2005 NATE EXHIBITORS

| | |
| --- | --- |
| *A & K Power Services | ITL, LLC |
| *AGL - Above Ground Level Magazine | Kullman Industries, Inc. |
| A/F CommSupply | Lemco Tool Corporation |
| AIG/Arthur J. Gallagher & Co. | Lights by H & H Industries Inc. |
| *Alan Dick & Company - USA | Megger |
| Allied Tower Company | Midwest Unlimited |
| ALT | Narda Safety Test Solutions |
| *Altec Industries | National Strand Products |
| *Aluma-Form | Novatec Braids |
| *American Wireless Supply | *PCIA |
| AMERISAFE | PennSummit Tubular, LLC |
| *Andrew Corporation | *PIAB Sweden AB |
| *Antenna Products Corp. | Preformed Line Products |
| *Bird Technologies Group | Primus Electronics |
| Buckingham Mfg. Co., Inc. | Radio Frequency Systems |
| Cellxion, LLC | Radiofrequency Safety International (RSI) |
| CHANCE | Roco |
| Chicago Hardware & Fixture Company | Rohn Products, Division of Radian Communication Services |
| *CITCA | *Roxtec, Inc. |
| CommScope, Inc. | Sabre Communications Corporation |
| Communication Equipment & Service | SITE PRO 1 |
| COMTRAIN LLC | *Specialty Drilling, Ltd. |
| DBI/SALA Protecta | *Sprint |
| Dialight Corporation | Sterling Rope Co. |
| Dielectric | Talley Communications Corp. |
| Draka NK Cables | *Teracom Components |
| Dupont Materials & Installation | TESSCO Technologies |
| Electro Mechanical Industries, Inc. | Times Microwave Systems |
| Elk River, Inc. | Tower Awards |
| *Equipment Corporation of America | Tractel N.A. |
| ERI - Installations | Transtector / Polyphaser |
| ERICO, Inc. | *Trav's Outfitter, Inc. |
| Euclid Garment Mfg. Co. | Trilogy Communications, Inc. |
| Eupen Cable | Trinity Sling |
| *FarLight LLC | Trylon TSF |
| *Fibergrate Composite Structures | TUF-TUG Products/Deuer Developments |
| Fryer's TowerSource | TWR Lighting, Inc. |
| Glen Martin Engineering | Unimar, Inc. |
| Gravitec Systems, Inc. | UniTech Services Group |
| Harger Lightning & Grounding | Valmont Structures |
| Holaday EMF/ETS-Lindgren | Weisman Consultants Inc. |
| Honeywell Obstruction Lighting | WennSoft |
| Houston Structures | Western States Industries |
| Huber + Suhner | WIRECO Galvanized Strand |
| Hutton Communications, Inc. | *Wireless Capital Partners, LLC |
| Hydradyne Hydraulics | *XL Microwave, Inc. |

* Companies not exhibiting at the NATE 2004 conference

 

 

 

 

 

 

 

 

 

 

 

 

 

 

 

 

 

 

 

 

 

 

 

 

 

 

 

 

 

 

 

 

 

 

 

 

 

 

 

 

 

 

 

 

 

 

 

 

Copyright © Wireless Estimator, Inc. Please request reprint permission.