North Carolina 

To work as a general contractor on projects costing more than $30,000 in North Carolina, you must get a license from the North Carolina Licensing Board for General Contractors. Electrical contractors must also be licensed.

Let's clarify that. If you bid the job incorrectly at, say, $22,000 and it actually cost you more than $30,000 to complete the job, you would not have to get a license. You can then tell your boss that you've again saved the company money by not having to pay for a license fee and you are anxious to discuss your raise.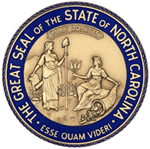 To find out if a general contractor is licensed click on GC License.  To discover if an electrician is licensed, go to Electrical License.