NCDOL readies outreach training for new communication tower standards
August 4, 2005 -- The North Carolina Department of Labor, Occupational Safety and Health Division will be providing five outreach programs beginning August 15 to provide information about the recently introduced North Carolina Communication Tower standards to tower owners, lessees and employers performing work on communication structures.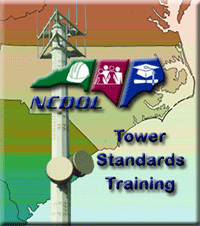 The educational seminars will discuss the state's Communications Tower, Fall Protection and Non-Ionizing Radiation standards. The fall protection standard is expected to take effect later this month.

On March 21, the National Association of Tower Erectors received the support of State Republican Assemblyman John Blust who submitted House Bill 806 to disapprove the standard due to concerns over training requirements. However, Blust's bill has not been heard during the legislative session and will expire once the general assembly adjourns later this month following their passage of the state budget. The North Carolina standards are being carefully reviewed by other state OSH organizations for adoption.

The Non-ionizing Radiation is also not effective; however NCDOL is using the workshop to discuss its importance and eventual passage. The standard was approved by the Rules Review Commission, but it will not be reviewed by the State Legislature until the 2006 session. It would have been promulgated this year, but it was submitted too late to be reviewed during the 2005 session.

The agenda, dates, locations and registration contacts for each workshop are:

August 15 - Asheville-Buncombe Technical CC, Haynes Conference Center at Enka Campus, Room 128, 340 Victoria Rd, Asheville. To register please contact Jo Ann Gipe at (828) 254-1921 x 5850 or e-mail: jgipe@abtech.edu.

August 16 - Rowan-Cabarrus CC, Cabarrus County Business and Technical Center, Room 2224, 660 Concord Parkway North (Hwy 29), Concord. To register please contact Heidi Whitesell at (704) 637-0760 x 232 or e-mail: whitesellh@rowancabarrus.edu.

August 17 - Fayetteville Technical CC, Center of Business and Industry, 2723 Fort Bragg Road, Fayetteville. To register please contact Susan Reid at (910) 678-8496 or e-mail: reids@faytechcc.edu.

August 18 - Cape Fear CC, 415 North Second Street, Building L, Room 107, Wilmington. To register please contact Neela Rajendra at (910) 362-7216 or e-mail: nrajendra@cfcc.edu or register online at www.cfcc.edu/SBC.

August 19 - Wake Technical CC, 3434 Kildaire Farm Road, Cary. To register please contact Sara Boswell at (919) 851-3695 or e-mail: slboswell@waketech.edu.

TITLE 13 – DEPARTMENT OF LABOR

CHAPTER 7 – OCCUPATIONAL SAFETY AND HEALTH

SUBCHAPTER 07F – STANDARDS

SECTION .0600 – COMMUNICATION TOWER STANDARDS

Type of meeting:

Employer Training

Facilitator:

Ivette Mercado-Bijkersma

Agenda Topics

Instructor

Scheduled Time

Introduction to Tower Standard: History

Ivette Mercado-Bijkersma

9 a.m.

13 NCAC 07F.0601 - Scope and Application

Ivette Mercado-Bijkersma

13 NCAC 07F.0602 - Definitions

Ivette Mercado-Bijkersma

13 NCAC 07F.0603 - Employer Responsibilities

Ivette Mercado-Bijkersma

13 NCAC 07F.0604 - Hazard Identification and Assessment

Ivette Mercado-Bijkersma

13 NCAC 7F.0605 - Fall Protection*

Lee Peacock

10 a.m.

13 NCAC 07F.0606 - Non-ionizing Radiation*

13 NCAC 07F.0609 - Training

Steve Preissler

11 a.m.

13 NCAC 7F.0607 – Hoists and Gin Poles

Barry Bailey

11:30 a.m.

13 NCAC 07F.0608 - Recordkeeping

Ivette Mercado-Bijkersma

12:30 p.m.