New Hampshire 

Only electrical contractors are required to be licensed in New Hampshire. Check local jurisdictions for licensing requirements.

To find out if an electrician is licensed, call (603) 271-3748.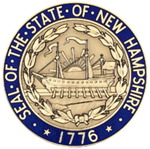 New Motto for Out-of-State Corporations?
Out-of-state corporations working in New Hampshire must be licensed by the Secretary of State. There is a charge for this license. A few companies are trying to work in the state without paying the small tariff.  Therefore, to assist the state in enforcing payment there is a movement afoot to change the state motto to "License Fee or Die". So far, there hasn't been a groundswell of support. For information contact Secretary of State.