New York 

Start singing the blues. All construction work in New York is regulated at the local level. With 62 counties and a gazillion point two municipalities, boroughs, cities, townships and other cute bedroom community monikers, it can be taxing to identify the licensing requirements when you tackle a bid that was due yesterday.

To find out if a contractor is licensed in New York, you will need to contact the licensing board in that community.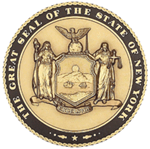 Out-of-State Corporations
Corporations doing business in New York must register with the New York Secretary of State to do business in the state. For information, click on Secretary of State.