New York legislators want to accelerate buildout following unnecessary death of Brooklynite
January 31, 2007 - Three 100-foot  tall cell towers and another four 75-foot structures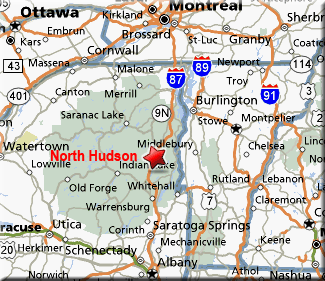 are on the fast track to be reviewed and possibly built in the North Hudson, NY area, but it took the death of a 63-year-old Brooklyn man last Thursday to advance the long-sought-after communications towers.
Police say Alfred Langner died from hypothermia after driving off a remote location of Interstate 87 in the Adirondacks. Langner and his wife Barbara were trapped in their car and were incapable of calling for help because of a lack of cell phone coverage in the area.
State police confirmed to WirelessEstimator that the couple had tried to call for help following their 19-hour ordeal. The Langners were driving south sometime at 1:30 a.m. Thursday morning about a mile north of Exit 30, when their car went off the road, hit a culvert and became airborne, State Police said. The 1989 Lincoln Town Car landed in a grove of pine trees that hid it from view of passing motorists.
In the past, state lawmakers' efforts to have cell towers installed along the Northway have been opposed by environmentalists and the Adirondack Park Association, said State Senator Elizabeth Little. However, the Queensbury Republican said it is time to move quickly to provide adequate communications in the area.
"This is such a tragedy, but the bigger tragedy would be that it happens again," Little said.
Several of her colleagues are backing a plan to approve three 100-foot-tall cell towers and four 75-foot towers along the windy stretch of highway.

Tower industry representatives have repeatedly cautioned New York and other state officials that their reluctance to approved needed cell sites will eventually lead to deaths that could have been avoided if there was adequate coverage to report emergencies, but they're saddened that it took a fatality to emphasize the need and prompt advocacy by legislators.
State Assemblywoman Teresa Sayward agrees, stating that this should not have happened. "No one should have to lose their life to bring attention to a situation that we have talked about for years. It's just an outrage," said Sayward.
The Northway, an interstate highway from Montreal to New York has had emergency call boxes since the 1970s. Motorist aid call systems have been on the sides of roads since the mid 1960s, most of them utilized wireline-based systems that were provided by the local telephone companies. A few systems use a magneto-crank-type system that sends a signal to a receiving tower, but it only allows the motorist to select whether they need emergency assistance or vehicle assistance.
Unfortunately, for the Langners, the nearest box was a quarter of a mile from their accident.
Cell towers were considered for the Northway in 2000, when the system began to show its wear and break down. Environmental groups and the APA opposed large towers, but agreed to consider a distributed antenna system with one tower consolidator being the neutral host.
However, the proposed smaller 38-foot monopoles every few miles required for the DAS was not acceptable to the area's cell phone carriers who said the smaller structures would not allow them to provide the corridor coverage they required along the Northway.
Cost constraints were also a concern. DAS projects work well in office complexes, shopping malls and stadiums, but are not necessarily an affordable solution.
Not being able to reach an agreement, the state then replaced the old call boxes with new ones in 2003.

Little says that the objections to these cell towers are purely visual. She maintains that "There is no real harm to the environment."
The legislator is considering proposing a law that would stop governmental agencies, like the APA and municipalities, from prohibiting the construction of cell towers on interstate highways.
She said she expects Governor Eliot Spitzer to be briefed on the situation this week.
"We will work with the private sector, state agencies and local communities to identify technology solutions that improve communication in the Northway corridor while also respecting the unique Adirondack environment through which the highway passes," Spitzer spokesman Marc Violette said.
The new seven tower proposal has to go through National Environmental Policy Act and State Environmental Quality Review analyses.
The APA has approved 50 permits since 2000 for towers and facilities across the park.