State wireless associations lauded as New England readies November 8 meeting
October 1, 2006 - The New England Wireless Association will hold its organizational and first quarterly meeting on November 8 at the Sheraton Colonial Hotel and Golf 
Club in Wakefield, MA, according to Jeffrey Previte of EBI Consulting of Burlington, MA.
As the latest entry of state wireless associations, NEWA is being formed to facilitate the creation of new business relationships, improve communications and streamline processes within New England's wireless industry.
The luncheon will be held from 12 noon to 3 p.m. The event cost is $45 in advance and $50 at the door. Reservations are being requested no later than October 20 by sending them to Kati MacGregor, EBI Consulting, 4 A Street, Burlington, MA 01803.
For additional information about the meeting and luncheon or if your company wishes to be a sponsor of the event, contact MacGregor at kmacgregor@ebiconsulting.com .

The guest speaker will be Michael Fitch, CEO of  PCIA, the Wireless Infrastructure Association. The PCIA has evolved into an organization within the wireless community focused on the growth and advancement of the industry. They concentrate on working with governmental agencies such as the FCC, FAA, and EPA in order to ensure that all parties within the wireless community are represented on infrastructure siting issues.

Fitch's prior experience includes positions at: Boeing Company and Hughes Electronics in California, Division Chief and Bureau Chief at the FCC (policy and licensing), Senior Legal and International Advisor to the Chairman of the FCC, Office Director and Deputy Assistant Secretary in the Bureau of International Communications and Information Policy at the Department of State .

Grass roots organizations congratulated
The State Wireless Association Program (SWAP) was recently lauded by the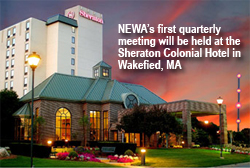 nation's leading tower company CEOs at the PCIA Wireless Infrastructure Show in Nashville, TN.
Jeffrey Stoops, PCIA's Chairman, said in earlier years the industry's focus was a little more Federal, "but as the years have passed the issues that really face our industry in terms of co-location and certainly asset growth are much at the state level. To effectively deal with those you do need grass roots organizations, people right there on the scene."
The state wireless associations were identified by James Taiclet, Chairman, President and CEO of American Tower Corporation, as a very valuable vehicle for collaboration between the wireless carriers and tower owners. "The mission of the two sets of companies are really aligned together," said Taiclet.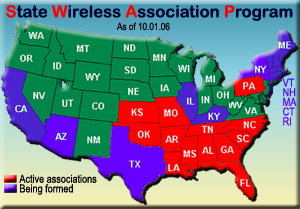 According to Michael Fitch, President and CEO of PCIA, between existing associations and new organizations that are forming, half of the nation is represented. Fitch said PCIA was pleased with the number of associations that have formed in a relatively short period of time.
For additional information about SWAP, contact Janet Gill at 423-304-8652 or email her at janet.gill@PCIA.com .