CommScope makes network upgrades easier with HELIAX FiberFeed Direct
Surging mobile data demands are making network modernization a priority, but the current patchwork of hardware makes it difficult to match the interfacing that OEMs place on the remote radio units (RRU).
HELIAX FiberFeed Direct minimizes common fiber to the antenna (FTTA) cabling challenges — time consuming, expensive, non-standardized connectors — while deploying quickly and easily, delivering true OpEx savings.
Designed with an integrated canister and pre-installed fiber tails, HELIAX FiberFeed connects the RRU directly to the baseband unit, eliminating the need for a junction box. It accommodates a range of RRU interfaces by simply connecting the matching fiber tail.
Without the need for a junction box or multiple cable runs, towers incur reduced weight and wind load burdens, while the system's compact design lowers tower leasing costs.
Configurations are scalable, too, accommodating up to 18 RRUs, with future RRUs requiring only a fiber tail change to connect to the new RRU interface. And deployment is truly plug-and-play: Attach the necessary cables and you're done.
HELIAX FiberFeed Direct delivers a range of tangible benefits, including:
Plug-and-play deployment
33% reduction in tower loading
50% reduction in labor costs
Universal design
Scalable: supports up to 6 RRUs per cable, 18 RRUs per site via 1 cable per sector
More reliable and efficient network upgrades means a healthier bottom line and enhanced customer satisfaction. Which makes HELIAX FiberFeed Direct the better way to upgrade your network.
For more information on HELIAX FiberFeed Direct or to place an order, contact your Talley product expert at 800-949-7079 or at sales@talleycom.com. Talley is a proud supplier of HELIAX FiberFeed and one of the nation's largest distributors of products for wireless communications professionals. Visit their web site for additional information.
RSI announces the availability of SATIMO
personal protection monitors
Radiofrequency Safety International (RSI) has announced that it can provide immediate delivery of the SATIMO Personal Protection Monitors. Leading the way in 21st century technology, SATIMO RFR monitors were just released for sale in the
USA and RSI is the only authorized distributor for these state of the art devices.

The EME Guard has cutting-edge technology with Time Weighted Averaging (TWA) capabilities. By providing real-time data for pass through safety programs, workers can remain in the area and complete their assigned tasks with confidence based on their company's safety plan.

The EME Guard XS is extremely light weight, offers an arm band carrying option, and utilizes isotropic with tri-axis sensors, all of which offer greater safety for the user. The EME Guard also utilizes isotropic, tri-axis sensors which provides for a decreased deviation factor, allowing an increase in accuracy that has not previously been available.

They also have an overload capacity of over 5000%, so they don't burn up in high RF environments, enabling use for incidental passage through high RF zones. With the rapid growth of the industry and technology within, the education and protection of workers equally increases, making smart tools even more critical. All companies with employees working in areas with RF fields need a written RF plan and training to ensure worker safety. The RF program would also include specific training for any PPM.

"The EME Guard XS is smaller in size and greater in safety," said Steve Walz, Director of RSI.

SATIMO personal protection monitors are an update driven by customer feedback and is part of RSI's commitment to deliver the latest products to the industry. SATIMO PPMs are available at this time.

RSI helps employers insure they are in compliance with OSHA, MSHA, FCC, EPA and other regulatory agencies. Radiofrequency Safety International (RSI) is the leader in RF safety offering a wide range of products and services designed to keep employers and employees safe and in compliance. For more additional information, call 888-830-5648 or email safetysue@rsicorp.com or brendam@rsicorp.com or visit their website.
Anritsu introduces New PIM Master options for top of tower testing in key bands
Anritsu Company has introduced three frequency options for its industry-leading PIM Master MW82119A Passive Intermodulation (PIM) high-power, battery-operated, portable PIM test analyzer. The new options provide wireless field engineers and technicians with the first battery-operated handheld analyzers that c
an accurately conduct "top of the tower" PIM measurements in the LTE 800 MHz and UMTS 2100 MHz bands, in addition to the LTE 2600 MHz band.
The new options have been specifically developed to address the top bands planned for LTE network deployments, and can help ensure LTE networks do not suffer from lower data throughput caused by PIM interference. Coupled with the battery operation, small size, and ability to perform 40W PIM testing, the new options make the PIM Master MW82119A well suited for deploying, installing, and maintaining LTE networks using Remote Radio Heads (RRHs) at the top of the tower. The PIM Master MW82119A can also be used to measure PIM at traditional macro site installations, as well as in Distributed Antenna Systems (DAS).
The three new frequency options extend the PIM Master MW82119A family to nine analyzers. Six other models are available to address major frequency ranges, including the upper and lower 700 MHz, 850 MHz, 900 MHz, 1800 MHz, 1900 MHz, and 1900/2100 MHz bands. All PIM Master MW82119A analyzers incorporate Distance-to-PIM (DTP) technology, allowing tower contractors, maintenance contractors, and wireless service provider field technicians to pinpoint PIM problems, whether they are on the tower or outside the antenna system. The analyzers' ability to test at 40W allows the PIM Master MW82119A to locate faults that conventional 20W test solutions might miss, such as intermittent and power-sensitive PIM problems.
As with all Anritsu handheld test solutions, the PIM Master MW82119A is designed to withstand transportation shock, vibration, and harsh outdoor test conditions associated with cell site deployment, installation, and maintenance. Testing is simplified by the analyzer's ability to save and recall test set ups for standardized testing, and limit lines can be set for visual and/or audible pass/fail criteria. Anritsu's Line Sweep Tools can be used to manage PIM Master MW82119A measurements, and generate reports that combine VSWR data as well as PIM data into a unified site report. PIM measurements can be tagged with the GPS location when the analyzers are equipped with the GPS option.
The PIM Master MW82119A delivery is six weeks.
Anritsu's new Compact PIM MasterTM
to be available exclusively through Talley
Talley Inc. has announced that it has entered into an exclusive agreement to distribute Anritsu's Compact PIM MasterTM. This product is a strong addition to Talley's
Wireless Infrastructure division, which has been distributing microwave/RF handheld solutions and accessories, as well as optical test field instruments throughout the United States to contractors, site owners and carriers since 1983.
Anritsu's new PIM Master MW82119A is the industry's first high-power, battery-operated, portable PIM test analyzer. One quarter the size and half the weight of alternative PIM test solutions, the MW82119A offers the inherent advantages of PIM Master – including 40W testing and Anritsu's patented Distance-to-PIMTM (DTP) – in a compact housing suited for difficult-to-access sites, such as Remote Radio Head (RRH) installations and indoor Distributed Antenna Systems (DAS).
As one of Anritsu Company's national leading channel partners/distributors. Talley has been distributing Anritsu products throughout the United States for over 30 years. It has been a successful relationship that is expected to continue with the addition of the PIM Master MW82119A.
"Our relationship with Anritsu is based upon its strong handheld product line, as well as its training programs, service, and support. The PIM Master MW82119A is an instrument our customers have asked for and we are pleased to be able to offer it to our wireless professionals," said Pat Flynn, Vice President of Market Development, Talley Inc.
"Talley has a well-deserved reputation in the industry and has established very strong relationships with the wireless professionals who deploy, install, and maintain wireless networks coast-to-coast. Our PIM Master MW82119A meets many testing challenges of these professionals and we expect the PIM Master MW82119A to help Talley serve its customers," said Donn Mulder, VP and GM, Microwave Measurements Division, Anritsu Company.
Site Pro 1 introduces its new lines of safety products in their 2013 safety catalog
Valmont Site Pro 1 Inc. has always been committed to the needs of industry installers. I
n sticking with that commitment they have introduced their 2013 Safety Catalog.
"We felt that we could bring an extremely high service level to this group of products," said Steve Hagee, National Sales Manager for the company.
Hagee said his company looked at this line of products as something they would be able to enhance in their product portfolio. "We feel we have achieved that and have added high quality well known brands which include Fieldsense RF Monitors and PMI rescue equipment to name a few."
Site Pro 1 also features products from DBI Sala, Elk River and many others.
"We can maintain a very high service level on these products by offering deep inventory in our six distribution centers throughout the country. We don't drop ship," Hagee said.
To obtain the catalog, visit www.sitepro1.com to download it or request a hard copy.
Anritsu introduces its 9th generation
Site Master handheld analyzer
Anritsu Company has introduced the Site Master S331L Cable and Antenna Analyzer, a new generation of rugged handheld field instrumentation that builds off the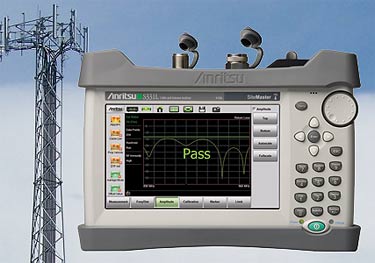 field-proven design and success of the Site Master to provide high-performance cable and antenna analysis quickly and accurately.

Reliable, durable, easy-to-use, and offering eight hours of continuous battery life, the S331L is a cost-efficient tool for tower contractors, installation and maintenance contractors, and wireless service providers to ensure optimum deployment, installation, and maintenance of wireless networks.
If you want to know more about the Site Master™ S331L, click here, register and get a free Cable and Antenna Troubleshooting Guide.


The S331L, which covers 2 MHz to 4 GHz, brings a high level of performance to return loss, cable loss, and Distance-to-Fault (DTF) measurements. It has the highest RF immunity of any Site Master. A sweep speed per data point of 1.5 msec (typical) saves technicians time and enables easier identification of intermittent problems in real time.

Helping ensure measurement accuracy is the standard built-in InstaCal™, which provides fast one-connection calibration anytime, anywhere. The S331L also features a standard built-in power meter, for easy, convenient te sting of RF power in field environments.

With eight hours of continuous battery life, the S331L allows field technicians to conduct a full day's testing on a single charge. Intelligent power-saving features – such as sleep mode and auto-display brightness that automatically reduces the screen's backlight when the analyzer is not in use – can extend battery life well beyond the continuous eight hour rating.

The S331L features the field-proven Site Master design. It is dust- and splash-resistant, has a backlit 7-inch TFT touch screen display, and weighs under 2 kg (4.4 lbs), including battery. The rugged design and compact size make the S331L well suited for any field application, including level ground, climbing large towers, or climbing through a roof hatch.

Managing measurement results has never been easier than with the S331L. More than 1,000 files, such as sweeps, setups, and screenshots, can be stored internally on the analyzer. Every Anritsu Site Master S331L also includes SweepMasters DIRECT. An easy-to-use trace delivery service, SweepMasters DIRECT allows S331L users to capture, upload, and deliver traces. Site traces can be emailed as links to the stored traces, as well as a .PDF report containing plots of the uploaded traces.

The S331L can also be used with Sweep Master Pro™, an enterprise-level, web-based line sweep and tracking tool for large multiple cell-site installation and maintenance projects, and Line Sweep Tools (LST), a free PC-based program that increases productivity for users responsible for numerous cable and antenna traces daily.

The S331L is priced at $6,750 and is available in two to three weeks after a receipt of an order.
TPT Contractor© ensures accuracy for plumb and tension, keeping contractors and clients satisfied
Oftentimes contractors will question whether the guyed tower tensioning project they just completed was performed accurately, and likewise, owners sometimes have reservations as to whether the plumb and tension work met EIA/TIA standards.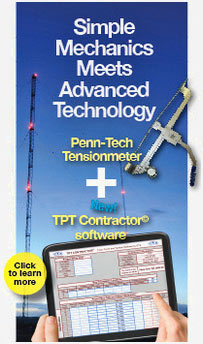 Using TPT Contractor's software solves both parties' concerns. It was developed by Penn-Tech International, the well-respected manufacturer of the Penn-Tech Tensionmeter.

TPT Contractor© provides tower contractors with a powerful, yet easy to use software program that will increase the accuracy of the Twist, Plumb and Tension work being performed.
This software is designed for tower contractors that know towers, not computers. It's simple and logical with many drop down selections to keep the process quick and easy.

Labor and cost saving benefits
Significantly reduce time on site doing either inspections or performing a tower Plumb and Tension.
Instantly generates professional looking reports thereby reducing administrative costs.
Greatly reduces human error and removes a lot of guess work.
Simplifies learning process for performing Plumb & Tension work.

Assures customers of greater accuracy and standardized records.Measurement using TIA-222's method from three directions is misunderstood by most contractors and the required calculations are considerably more complex than the older two point method. Field practices and measurement methods also differ from contractor to contractor. Due to complexity, twist calculations are often ignored.

It is quite common for two contractors to arrive at different measurement results for the exact same tower! TPT Contractor© helps solve this problem as it standardizes the Plumb and Tension process. Anyone using the software will follow the same steps and methods as other users would.
Some key features
Integrated temperature compensation
Guy size range: 3/16" to 1 1/8"
Handles 12 guy elevations and 3 anchor points per azimuth
Either angular or "% of leg" measurement units for plumb and twist
Screen Shots with all tension data for each cable on the tower
Complies with EIA/TIA 222 rev G
Incorporates the calibration data for the specific Penn-Tech Tensionmeter being used

For a more comprehensive overview and a training guide download visit Penn-Tech website.
Anritsu's new PIM unit utilizes 40 Watts
to simulate real-world conditions
Anritsu Company has introduced the MW8208A PIM Master, an innovative test s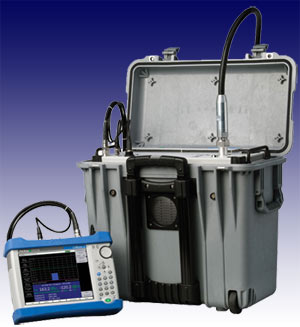 olution that brings the inherent advantages of Anritsu's patented Distance-to-PIM technology to 850 MHz cellular band applications.

Unique to Anritsu, Distance-to-PIM helps make the MW8208A a comprehensive trouble-finding tool that allows field technicians and engineers responsible for deploying, installing, and maintaining wireless networks to accurately and quickly locate the source of passive intermodulation (PIM), whether it is in the base station antenna system or in the surrounding environment.

With the MW8208A PIM Master, users can uncover the distance and relative magnitude of all static PIM faults simultaneously, including those resulting from dirty connectors, corroded connectors, over-torqued connectors, and microscopic arcing connectors.

PIM Master can also accurately locate PIM outside the antenna system - the only test solution that can do so. Similar to Anritsu's market-changing Distance-to-Fault technology designed into its Site Master cable and antenna analyzers, Distance-to-PIM helps eliminate one of the biggest problems facing wireless network deployment and operation.

The MW8208A generates two high-power tones in the transmit band of a base station and can measure the 3rd, 5th, and 7th order intermodulation products in the receive band coming down the same cable. Utilizing the GPS feature on the Anritsu handheld analyzers, users can record the location of the measurement

Another advantage of the MW8208A is its 40 W testing, compared to alternative methods that only measure at 20 W.

Utilizing 40 Watts simulates real-world power that activates the PIM that might not otherwise be activated by 20 Watt systems. In addition, using double the power allows PIM Master to locate intermittent failures due to light corrosion, high-traffic loading, or changing weather conditions.
-
Site Pro 1's new products help you to adapt to changing site requirements
To assist in providing products that are required to adapt to changing installation requirements, Site Pro 1 has introduced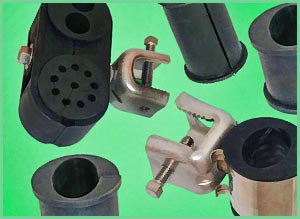 its Barrel Cushions for coax, fiber and power cables.

These rubber inserts fit inside snap-in hangers or their CXB series coax blocks or their CBH half blocks for easy installation.

The new cushions allow for multiple runs with a single attachment point. They are manufactured from UV resistant EPDM rubber which is durable in extreme conditions.

For additional information regarding the Barrel Cushions, click here.

With 6 locations, Site Pro 1 can now reach 96% of the USA in 1-2 days.
-
Primus inks distributorship rights for U.S.'s
most advanced PIM analyzers
Primus Electronics has announced its partnership with Communication Components, Inc. to satisfy the demands of PIM testing in the wireless industry.
"Primus is very excited to be able to offer CCI's next generation PIM-Pro portable analyzers which are capable of 40 watt output power," said Michael Johnson, President of the Morris, Illinois distributor founded in 1980.

The PIM-Pro is capable of displaying simultaneous measurements of return loss and PIM on the same screen, as well as being able to provide other measurement functions such as PIM vs. time, frequency sweep and interference analysis, Johnson said.

With the PIM-Pro analyzers, the operator will have the ability to save intuitively configured reports on a USB stick, which makes this a very user-friendly piece of test equipment, explained CCI's Sylvain Lafreniere.

According to the PIM-Pro literature, the unit is designed around a Linux software platform and there are four models covering today's common bands: PIM-Pro 700 (LTE), PIM-Pro 850 (GSM), PIM-Pro 900 (GSM Europe), PIM-Pro 1921 (PCS and AWS) in a single unit.

Features include:
- 40 W output power capability
- Highest "Power to weight" ratio on the market...lots of power in a small portable 36 pound package
- Robust Linux operating system, quick boot-up with no "Windows" screen freeze
- Rugged design for harsh field conditions
- Better than -140 dBm receiver sensitivity
- Crisp, bright color display
- Intuitive and flexible report generation in HTML and pdf file format

Primus also offers the component/calibration kit, PIM-PRO AK, which is a complete DIN 7-16 companion kit that is compatible with all the PIM-Pro models.

A full inventory of analyzers and component kits are available with same day shipping from Primus. CCI also offers certification classes for this test equipment.

Call Primus at (800) 435-1636 to talk with a sales representative for more information on the most advanced portable PIM analyzers on the market today or visit their website at www.primuselectronics.com
-
FieldSENSE launches an affordable
personal RF safety monitor device
Following years of research, a new occupational RF monitor has been introduced by
fieldSENSE.

The company says its cost-effective solution to ensure RF safety for all personnel working at communications sites has been a long overdue industry safety product.

The sensibly priced personal radio frequency monitor system for anyone working near wireless antennas is available now from GME Supply.
The personal RF monitor is designed for one hand operation and features a single-button operation. It provides an audible warning buzzer and a bright LED information display panel.

It can be used in either monitoring or measuring modes.

The tower technician can pinpoint sources of RF radiation and confirm that specific sectors have been shut down, or are transmitting reduced power levels so that it can it be considered safe to approach and complete a required task.

The device features a durable design intended for everyday use, and is compact enough to fit easily into the pocket of the user.

The rubbery outer sleeve offers improved grip and protects the fieldSENSE against mechanical shock and impact. The monitor is calibrated to ICNIRP reference levels, and operates in all bands commonly used for mobile telecommunications.
-
Site Pro 1's new catalog addresses changing
cell site technology requirements
Site Pro 1, A Valmont Company, is proud to announce the release of its new 2011-2012 Wireless Site Components Catalog.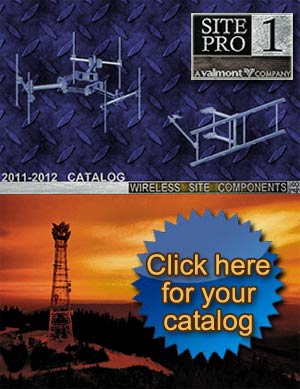 Valmont Site Pro 1 is one of the industry's leading manufacturers and distributors of wireless site products.

"This Catalog was quite an undertaking.
It features 208 pages and hundreds of new products. Although we have always been known to have the easiest to use catalog in the business, this catalog has taken that even further with new product renderings and more detailed product information," said Steve Hagee, sales manager for the company.

"We have listened to our customers. Given our extremely high service level, they want to buy more products from us. We also recognize that the technology of the cell site is changing. We feel we have taken major steps towards addressing this by the addition of fiber cable management, fiber connectors and fiber enclosures to name just a few. We also know that sites are getting smaller and what we put on the site has to be lighter but just as strong. We feel we have achieved this with the addition of numerous new products that are engineered and manufactured to the highest standards," Hagee said.

For more information and to get a copy of the new catalog, visit: www.sitepro1.com
-
Industry health check provides real time snapshot
Do you ever wonder how the tower design, development and maintenance industry is doing compared to other telecom sectors? WirelessEstimator.com has created two new tracking indexes to provide a capsule view of our industry's health as well as news about publically trades companies you may be doing business with.

You'll also be able to see at glance some of the commodities that move product pricing. Click here to view the following helpful statistics: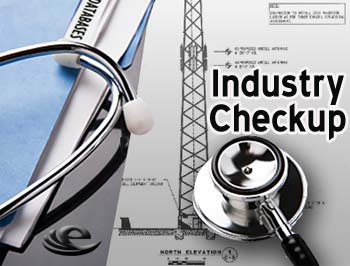 Infrastructure Index: Dozens of available indexes provide the 50,000-foot view of telecom, weighted with Google, Oracle and others far removed from the wireless infrastructure industry. This index is comprised of tower owners, construction and design groups so that you can obtain a better view of the industry's health.

Carrier Index: You won't find China Telecom and Deutsche Telekom skewing the strength of America's mobile carriers in this index. It's a pure play on the fitness of America's publically traded companies.

Hiring Trends: Using the industry's largest and most comprehensive job listings in the nation, WirelessEstimator.com's new employment tracker can assist in forecasting where the industry is heading, allowing companies to immediately assess changes within the sector.

Commodities Charts: With updated information you'll be able to keep abreast of the pricing of commodities which affect the products you rely upon to build out America's wireless infrastructure, from steel, zinc, aluminum, copper and other materials, including gasoline and diesel fuels.

Pricing Variances by Zip: You can easily identify material, installation, and weighted average cost differences by each state or in every major sectional zip code in the country. You'll quickly see how your area compares with the national average.
-
AT&T starts selling cell tower in a suitcase
AT&T announced that it is now selling small, portable cellular antennas that will allow
corporate and government customers to provide their own wireless coverage in remote or disaster-struck areas.
The carrier's "Fly Away" Remote Mobility Zone is effectively a small cell tower that packs into a suitcase.

The satellite dish is carried separately. The generator is provided by the user.

Usually, cellphone companies have to restore service after disasters like hurricanes by sending in their own cell on wheels. But AT&T's new product would let first responders such as police and emergency workers immediately control where they have coverage.

One of AT&T's options is a unit that packs into a suitcase, with a satellite dish carried separately. The unit requires outside power, such as a generator, to work.

The Remote Mobility Zone can handle 14 simultaneous calls, and data at less-than-broadband speeds. Coverage extends up to half a mile from the unit. The "portable cell tower" can also be mounted in a car or truck.

The Remote Mobility Zone's satellite dish makes it independent of broadband service. AT&T also sells smartphones that can talk directly to satellites. The Remote Mobility Zone would be able to be used with any AT&T phone.

The cost of the units will range from $15,000 to $45,000, AT&T said, plus some monthly fees.

Like other carriers, AT&T also sells "femtocells," even smaller cellular antennas that users can place indoors. Connected to broadband service, they provide added coverage inside a home.
-
Structural steel adhesives proving to reduce time and tower reinforcement costs
The tower retrofitting landscape is mapped with engineered products that can assist in providing additional capacity to a communications tower - from a structural support
system that will allow a compromised leg to be safely removed and replaced with a new one - to a method of encapsulating a monopole.

The newest structurally efficient entry in providing a reinforcement solution is an engineered adhesive system that was used to upgrade more than 150 cell towers in Jamaica, according to Chris Martin, Chief Technical Officer for GlenMartin, Inc. whose Boonville, Missouri-based company was awarded the challenging project.

The existing towers, designed for a wind speed of 112 miles per hour, needed to withstand Jamaica's current requirement of 150 miles per hour.

However, limitations on electrical power, terrain, labor and equipment meant the standard solution of welding and bolting were not feasible options for the time and budget restraints of the structures' owner.

"GlenMartin's challenge was how to increase the tower's speeds from what they were actually designed for to the increased wind speed and rating," commented Beau Aero, General Manager for GME Supply.

"Although their solution of designing specially-shaped reinforcements for the towers solved the upgrade problem, they still had to figure out how to attach the reinforcements to the towers without using welding apparatus," Aero said.

The solution: structural adhesives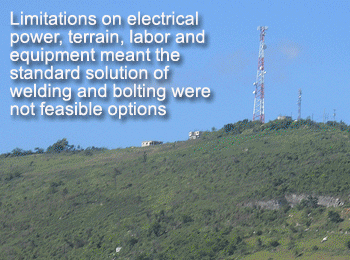 "After conferring with Martin and Aero to get a thorough understanding of the challenges, we decided that one of our high-strength structural adhesives would be the ideal solution for bonding the reinforcements to the existing structures," explained Carlos Cruz, Market Manager for LORD Corporation, an adhesives manufacturer with products available through GME Supply.

Cruz chose a two-component acrylic adhesive designed to replace welding and other mechanical methods that is especially useful in areas subject to high-impact or high-shear loads.

According to Aero and Martin, LORD Corporation's assistance on this project went beyond just providing a product with instructions on how to use it. They worked with GlenMartin on every step of product development and deployment, including visiting the Jamaica site several times to assure that the adhesives were properly mixed and applied.

To help create a robust tower-leg reinforcement application process, GlenMartin and LORD designed and implemented on-site surface adhesion testing and evaluation methodology, adhesive usage training, and adhesive processing and fixturing support. To help promote successful adhesive usage, they made available training and troubleshooting guides.

Ice chests were used to keep the adhesives in a controlled environment prior to dispensing. The steel reinforcements were kept in a shaded environment and bonding applications were performed earlier or later in the day when temperatures were cooler."

Adhesives gain respectability
"Historically, in the steel structure industry, the standard for reinforcement is to use welding or fastening," explained Martin. "Other alternatives have not been considered, and in the case of adhesives, there is the mistaken impression that adhesives are inferior to welding."

Martin pointed out that in many other applications, replacing rivets with structural adhesives offers better structural soundness because adhesives provide continuous bonded connections unlike riveting which can only offer "spot" attachments. For the Jamaica cell tower owners, once they understood how structurally sound the adhesives were and how they were a less expensive alternative to welding, they were 'sold,' " he said.

To learn more about the project and how you can successfully use structural adhesives to reinforce cell tower structures, contact Beau Aero. The adhesives and other industry products are available through GME Supply.
-
New online training introduced by safety advocate to allow for affordable courses
With over 40 years of experience, Gordon Lyman has chaired committees focused upon improving the telecommunication tower industry - especially in regards to worker safety.
His committees and standards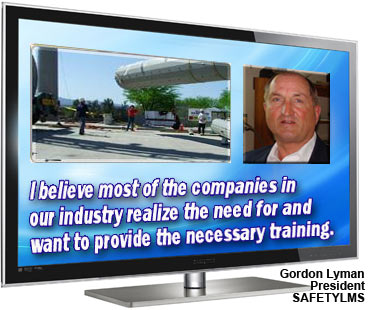 groups' efforts have been well-received and the niche industry's proactive achievements have been embraced by manufacturers and contractors.
"Unfortunately," Lyman said, "an abundance of safety and technical training and standards information is available, but many companies do not take advantage of them. Budgets and scheduling in today's overheated market are preventing workers from obtaining quality training. When that happens everyone suffers."
To fill that void, Lyman has created a new online training site -SAFETYLMS - that can easily fit into any company's budget, "but more importantly," Lyman says, "they all offer the user the flexibility to train on his or her schedule and expensive travel and lodging costs will no longer be a consideration for not being able to elevate a worker's knowledge and productivity."
Current courses being offered are Fundamentals of RF Radiation, Basic Rigging Principles, Capstan Hoist Operation, and Authorized Climber. A Workplace Hazardous Materials Information System course will be released shortly and is based upon a worker's right to know the hazardous materials they are exposed to in the workplace.

Two other courses in production are Gin Poles and Hoist.

Safety LMSystems Director of Operations Dominique Valdez notes that the company's online training offers many advantages including ease of use, a consistent message, affordability, interactive learning, and an archival system that makes retrieving copies of certificates a breeze.
"Our teaching philosophy is built upon a three-prong approach to presenting course material. This system seeks to maximize the student's exposure to the subject matter by using a combination of visual, audio and interactive cues. Our goal is to present the information in an environment that is both informative and engaging to the user," Valdez said.
Lyman is Chairman of the NATE/OSHA Relations Committee and participates in writing ANSI 359 standards for Fall Protection in North America. He also works with industry standard groups like OSHA, ASSE, ANSI and TIA.

Visit www.safetylms.net to learn more.
-
New process allows for inexpensive leg replacement without service interruption
Tower owners will rightfully boast about their unique services that set them apart from their competition, but they all share two common problems as their infrastructure ages: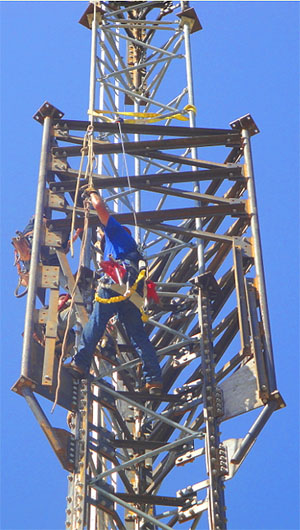 Towers that have exceeded their capacity for new tenants plus structures that are discovered to be at risk due to corroded legs, some so severe that they would ground the most intrepid tower climber.
The remedy is oftentimes an expensive tower "drop and swap" or retrofitting, dramatically affecting carrier service and severely straining the tower owner's budget.
However, TriVis Communications, a division of TriVis, Inc. located in Pelham, Ala., a national leader in industrial, commercial and utility services, has designed and successfully tested an alternative that is expected to save tower owners hundreds of thousands of dollars, and ensure a better relationship with their carrier clients.
According to Michael A. Clark, Vice President - Communications Division, his company demonstrated its revolutionary new process earlier this month whereby damaged, corroded, and structurally failing guyed tower legs can be replaced "in the air".
Clark said, on September 2 TriVis successfully removed a tower leg from a 120-foot Rohn 80 to mock a 260-foot tower at its training facility in Pell City.

The industry-changing concept performed by members of the TriVis staff was observed by many associates within the industry, from asset owners, engineers, contractors, carriers and suppliers to fabricators, said Thom Adams, TriVis TLR's General Manager.
Through extensive research, engineering and trials, TriVis developed the flexible apparatus that provides the proper structural support to the tower to enable the compromised leg to be safely removed and replaced with a new one.
How the Tower Leg
Replacement system works
The process consists of bridging over a typical 20-foot section. Through engineered design, the unit accepts the loads above the section on a jacking system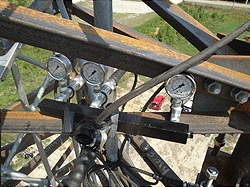 provided by Enerpac, using 60-ton jacks.

Each one is used with a 3 to 1 manifold system so that the jacks apply pressure equally. The pump is a mechanical over hydraulic. TriVis applies the apparatus on a reinforced leg with their cladding system above and below the compromised leg.

This takes the doubt out of the integrity of the leg above the compromised section. Their apparatus is designed to handle the loading of a 600-foot tower with nine carriers at 18 lines each. However, it can be engineered for any additional load. Each leg replacement will be analyzed and be site-specific.

The separation to remove the leg is minimal, typically 3/16 of an inch is needed to remove the degraded or over engineered leg. The apparatus is not limited to knock down tower sections.

TriVis can cut out welded and a bell housing flange system as well. This apparatus is designed to facilitate a simulated 20-foot section during the remediation process.

Replacement legs that are solid round members can strengthen a tower section by as much as 46%.

The structure maintained its plumb and tension without any loss, one of the requirements in meeting numerous industry standards

"In some cases engineers have completely exhausted the tower whereby no more modifications can be performed to accept the loading. Engineers are often tested to design a cost efficient design acceptable to the owner and also acceptable to the carrier to award a portion of carrier contribution finances; thereby extending the construction time frame and delaying a launch by carriers," Adams said.

Adams said that this safe cost-reduction initiative has created a great deal of interest from tower owners looking to quickly and inexpensively maintain their assets and offer additional co-location opportunities for their clients.

"This new process will extend the life of an untold number of guyed towers and self supporting towers that normally would be replaced or structurally enhanced," Adams said.

For additional information contact TriVis TLR LLC at thom.adams@trivisinc.com or visit: www.trivisinc.com

UV resistant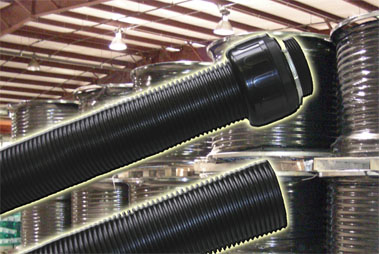 innerduct tubing now available
from Site Pro 1
Site Pro 1, a Valmont Company, has announced the addition of corrugated innerduct HDPE tubing to their expanding product line.

The 2" tubing with tape is manufactured from High Density Polyethylene with a factory installed pull tape.

It is UV resistant and meets Clearwire specificatons.

The tubing will provide long term protection of cables and fiber. It is sold on compact 1,000-foot reels and is in stock and can ship from any of Site Pro 1's five strategic locations.

The reel is priced at $749 and the connector are $7.99 each.

For additional information about Site Pro 1 and its product offerings, click here.

Gravitec develops rescue system specifically geared towards the tower industry
Fall protection and rescue specialist Gravitec Systems, Inc., has developed the TR System, a simple and effective rescue kit for workers at height in the tower industry.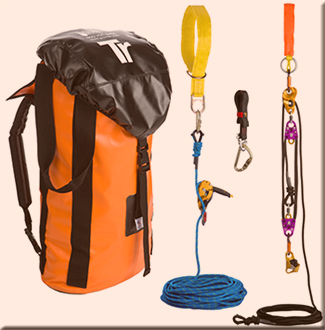 The TR may be used for assisted rescue where the subject is lowered alone or suspended rescue where the rescuer and rescue subject are lowered together.
Ease of use, safety and versatility were Gravitec's primary focus during the development of the TR System. Training for any rescue system is required, however, advanced, technical skill sets are not required to operate the TR, reducing the margin for human error, according to Gravitec.
If the rescuer loses control of the rope, built-in fail safes won't allow free spooling. If the TR is used incorrectly, the lowering operation simply stops. Misuse of other rescue systems on the market may result in more serious consequences. Because the system has lifting capabilities, cutting away the rescue subject is not necessary.
This eliminates the possibility of cutting the wrong line which could result in a fall.
"The TR System doesn't sacrifice versatility with its ease of use and fail safes. It is highly adaptable to most any rescue situation, whether it be a monopole or a rescue from the top of a tower, the TR is a very versatile rescue system," said Gravitec Training Manager Kevin Denis.
"When a rescue situation arises, I like knowing that I have the option to choose the safest and most efficient method to rescue myself or others. The TR system includes all of the tools necessary to make that decision."
Because Gravitec recognizes that the ability to recall training exercises may be compromised in a crisis situation when rescue is necessary, laminated cards detailing how to use the TR are included with the system. The rescuer simply attaches the cards to his/her harness with a nonload-bearing carabiner that is provided with the cards.
Simple drawings show how to anchor and load the industrial descender along with the procedures for a single-person evacuation, an assisted rescue and a suspended rescue.
"The short haul system which comes with the TR gives the end users up to a 5:1 mechanical advantage, providing more lifting power than they'll ever need. The progress capturing device used in the short haul system allows hands free work to disconnect and prepare the rescue subject for lowering," said Gravitec Training Coordinator William Wright.
The TR is packaged in a durable, weatherproof, PVC rope bag. A seal imprinted with each system's unique serial number is also provided so the purchaser may seal the bag to protect the integrity of the system.
A detailed instruction manual is provided in addition to the laminated cards for quick reference.
The maximum length of rope provided with the systems is 300 feet. It may be ordered in other lengths or with fire-retardant rope if necessary.
The TR may be purchased online at www.gravitec.com or for customization of rope, contact a Gravitec equipment advisor at 800.755.8455.

New module offers quick tour of available
industry advertising opportunities
Marketing executives are sure to enjoy a new module introduced by WirelessEstimator.com to easily and quickly present the advertising opportunities available on the nation's oldest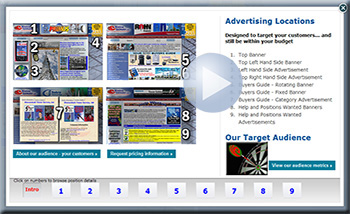 and most popular web site dedicated to tower design, installation and service industry professionals. Click here!

With nine advertising opportunities designed to target customers - and still remain within marketing budgets - the web site recently created additional niche locations to capture affordable advertising opportunities starting at $220 in the 2010 Buyers Guide.

The module also provides a profile of our many thousands of daily visitors as well as viewing metrics and ad specifications.

If you would like to see greater industry exposure and branding for your products or services, please take the quick tour or pass this information on to your marketing manager.
.

Inspection program should please tower owners, inspectors and engineers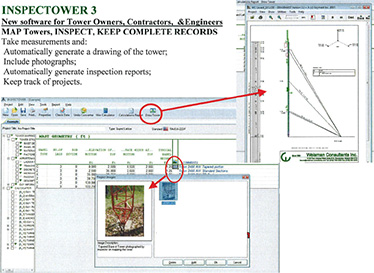 Guymast Inc. has released a new software program for tower owners, contractors and engineers that's sure to become a popular software tool for tower inspections.
With today's inspections, once the field work is completed, the inspector needs to perform calculations, create tables for a report, add photographs and a drawing for a mapping assignment.
This could easily take half a day to a day and producing the drawing could take another four hours.
With INSPECTOWER 3, the inspector will save most of that time. He can enter the data in about half an hour, and then produce drawings in less than a minute, and the inspection tables in less than a minute. Then he'll add some comments and quickly print the report.
In addition, contractors adjusting alignment and guy tensions can save at least a day of field work and a trip back to the site by using the recommended turnbuckle adjustments automatically generated by INSPECTOR 3. For additional information, visit: http://www.guymast.com/

New tower face mount said to be first truly universal mounting solution
Andrew Solutions, the CommScope, Inc., division that is a global leader in wireless communications systems and products, has introduced its new Tower Face Mount kits that they state are the first truly universal face mounting solution in the industry.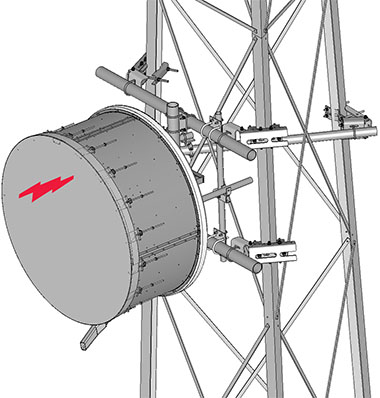 Tower Face Mount kits are an ideal mounting solution for installing microwave antennas on the face of straight or tapered lattice towers. Each kit comes with universal saddle mounts that allow for mounting to straight or tapered round legs up to 8 inches OD, 60 degree angle legs up to 6 inches, or 90 degree angle legs up to 8 inches.
Each mount contains specially designed sliding channels to accommodate for taper adjustment for a true vertical mounting solution. Each kit is shipped complete with saddle mounts, taper adjustment channels, horizontal pipes, antenna mounting pipe, and all necessary hardware. All components are hot dip galvanized for maximum corrosion protection.
For additional information, click here.

Passive intermodulation (PIM) analyzers now available from Rosenberger Site Solutions
Rosenberger Site Solutions is pleased to present the Portable and Site Portable PIM Analyzers.

Portable Analyzer - The portable Passive Intermodulation Analyzer (PIA) from Rosenberger has
been designed to quickly and accurately measure the intermodulation characteristics of connectors, cable assemblies, antennas, filters, tower mounted devices and other passive components – fast, simple and in high precision quality.

The Portable PIA can also be used for a precise analysis of the RF infrastructure quality and performance of radio base stations. The portable PIA is available for operation in LTE 700, AMPS, EGSM, DCS, PCS, UMTS, UMTS II / LTE / BRS- EBS and WiMAX frequency bands.

Delivered in a highly shockproof, stable transport case, the portable Rosenberger PIA is ideally suited for outdoor and field measurements, e.g. radio base stations, as well as for laboratory and manufacturing applications.

Site Portable Analyzer
The Site Passive Intermodulation Analyzer is especially designed for intermodulation measurements in the field. The Site PIA is installed in a rugged, waterproof case (55 x 35 x 20 cm). The Site PIA is available for operation in LTE 700, AMPS, EGSM, DCS, PCS, UMTS, UMTS II / LTE / BRS- EBS and WiMAX frequency bands.

Features:
Stringent PIM testing of systems and/or components
"Site Portable" version for rugged field environment
"Portable" version for field or bench top applications
Smallest package-size/weight for capabilities
Bands- AMPS, DCS, EGSM, PCS,UMTS,LTE & WIMAX
Low residual PIM < -168dBc
Power individually selectable from +33 to +35dBm (2x)
Operator selectable 2-tone & frequency sweep
Time sweep to test and plot dynamic stability
LCD display visible in direct sunlight
User friendly operation- GUI and software
Efficiently test and prepare deliverable reports
USB ports for remote operation and data storage
Durable transit case- "Site" has wheels & retract handle
Included Accessory Kit- Low PIM Load, PIM Standard, Torque Wrenches, Adjustable Back-up Wrench, 3 Test Cables, Connector Adaptors, Connector Cleaning Kit, and Carrying Case

The PIM Analyzers are available for purchase, rent or rent-to-own. Call Rosenberger Site Solutions at 1.866.598.5250, email rlss@RLSS.us, or visit www.RLSS.us for additional information and assistance.

Guying system capable of doubling monopole's capacity with a minimum increase in footprint
Structural Components' Vertical Guy Reinforcement (VGX) is proving to be a unique solution for monopoles that have overstresses in both the pole and foundation, according to the company's vice president of sales and marketing, David Jessip.
Designed using the latest RISA 3-D software and Finite Element Analysis (FEA), the VGX has the potential to double a monopole's capacity with a minimal increase in footprint. Utilizing the same bent plate shape as the SWITCHBLADE and the BLADE, the VGX attachments fit easily onto round or sided monopoles.
The versatility of the VGX is what makes it an ideal reinforcement for overstressed poles and foundations. The attachment locations and spacing can be altered to fit around existing carriers, port holes or other obstructions.
By being able to use any three sides of the pole, the VGX will be installed so that all base terminations are within existing lease space and do not interfere with any equipment on the ground.
The base termination of the VGX is custom designed to site-specific geological conditions. Whether the ground is soft sand or hard granite, Structural Components will custom design base terminations that will ensure the stress is taken out of the existing foundation.
For additional information, contact Jessip at: djessip@structuralcomponents.net.

ROHN's new catalog provides a user friendly experience as well as new products
Typically, a tower manufacturer's first catalog is an offering that will see steady improvements as the
company learns what their customers desire. But for ROHN Products, their recently introduced Catalog No. 1 is a compilation of over 60 years of industry knowledge and is user friendly so that clients don't have to rely upon guesswork when searching for the right products.
In the catalog ROHN has redesigned their G-Series towers to meet Revision G standards.
This redesign includes the 25G, 45G and 55G towers that the industry has come to love.
ROHN's new catalog also includes standard Light Duty Broadband Poles. Picking the design that satisfies your project needs has never been easier.
"In the new catalog, ROHN is introducing several new products, including our newest roof mount, the non-penetrating Peak Roof Mount (PRM) and our new Light Duty Ice Bridges to accompany ROHN's standard Heavy Duty Ice Bridges," said ROHN's national sales manager, David Ramsay.
The ROHN RSL tower also has a home within this new catalog – along with standard loading charts, making it even easier to match the right tower to your project.

CellXion unveils Envolock Building System
CellXion, LLC, the shelter division of Sabre Industries, Inc., introduced its new Envolock Building System at the 2009 ISA show in Houston.
Utilizing interlocking panels manufactured from material as heavy as 11 gauge steel, along with integral structural studs varying in depth up to 9 inches, this new building system is superior to wood buildings in strength and durability, pest and spore resistance, and increased weather resistance.
Jim Dean, Vice President and General Manager of CellXion, commented, "We are excited to add the Envolock Building System to our product portfolio. This system is superior to traditional metal or wood framing methods, and provides flexible alternatives to our customers across many industries, including oil and gas, telecommunications, and utility and power distribution."
The pre-eminent alternative to conventional buildings, the Envolock Building System lends itself to green manufacturing. All waste from the entire framing process should be able to fit into a five gallon bucket, providing a manufacturing process that helps with green initiatives.
Whether your focus is on energy conservation, blast resistance or extreme loading conditions, the new Envolock Building System offers you the right value solution. For site-built applications, the speed at which an Envolock Building System is assembled and "in the dry" is unparalleled in the industry.
For additional information, visit: http://www.cellxion.com.