Oklahoma 

Oklahoma doesn't license resident construction contractors, except in the electrical, mechanical and plumbing trades. You will find that there are some special requirements for nonresident contractors.

It's not that OkIahoma's financial fathers don't trust you to assist in filling their tax coffers; it's just that they don't trust you. If you're not a resident of Oklahoma, you must post a bond equal to three times the tax liability (or 10%) of any contract you get in the state. You will also need an employer identification number from the Oklahoma Tax Commission and the Oklahoma Employment Security Commission.

Check to see if there are any jurisdictional license requirements.

To find out if an electrician is licensed in Oklahoma, call (405) 271-5217.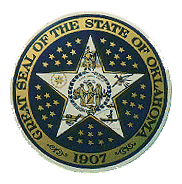 Out-of-State Corporations
An out-of-state corporation needs to register with the Oklahoma Secretary of State to do business in the state. For information, click on Secretary of State.