OSHA's blacklist begins this week coupled with higher contractor penalties
June 7, 2010 - As a result of OSHA's new Severe Violator Enforcement Program (SVEP) effective yesterday, tower contractors could easily find themselves out of business due to a federal flogging in the news media and carrier and other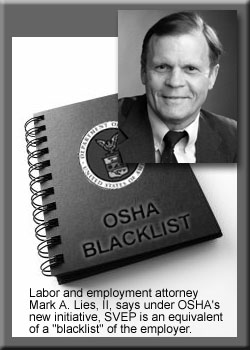 company boycotts.
Whether or not companies make the severe violator list, OSHA says that they can be assured that if they are cited for safety violations, the penalty costs will be considerably higher under their new policy announced in April.
Since the tower construction industry is in OSHA's high-emphasis hazard of specific fall standards, if an employer is classified as a severe violator, OSHA says it's going to let the public know through press releases and a log on the OSHA website.
The agency says it will also inspect other locations of the company for worksite hazards and it has the ability to ask for a list of every jobsite that crews will be on every day.
"If an employer's citation history causes it to be identified as an employer classified as a severe violator under the SVEP, it will face significant OSHA scrutiny and, since the SVEP is equivalent to a 'blacklist' of the employer, it will cause the employer to be viewed very negatively throughout its industry and impact its ability to qualify for business opportunities," said labor and employment attorney Mark A. Lies, ll, a partner with the law firm of Seyfarth Shaw LLP.
OSHA says employers can be "lined out" of the SVEP log by entering into a formal or informal settlement agreement in which the citation is deleted, or if an administrative law judge, review commission, or court decision vacates the citation.
However, it is suspected that removal from the SVEP log will come too late, as the employer will already have suffered damage to its goodwill and reputation by being identified as a severe violator.

Too low fines raised
Last year, OSHA assembled a work group to evaluate its penalty practices. The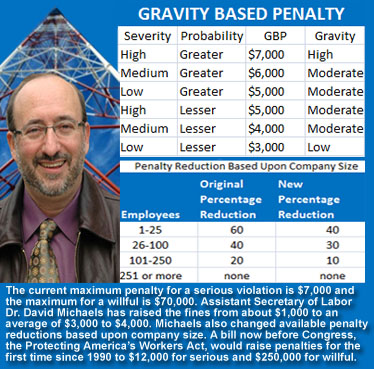 consensus of the group was OSHA'S penalties are "too low to have an adequate deterrent effect," according to a memorandum on the change. Based on the group's findings and recommendations, several administrative changes to the penalty calculation system outlined in the Field Operations Manual are being made.

The average penalty for a severe violation — one that could cause death or serious injury — will increase from about $1,000 to an average of $3,000 to $4,000.

The penalty changes will increase the overall dollar amount of all penalties while maintaining OSHA's policy of reducing penalties for small employers and those acting in good faith. But those incentives will be reduced.

The agency would like to increase penalties even further, but is constrained by current legal maximums of $7,000 for serious violations and $70,000 for willful violations.

Legislation pending in Congress, which OSHA favors, would increase those maximum penalties to $12,000 and $250,000, and adjust them for inflation in the future.

"Although we are making significant adjustments in our penalty policy within the tight constraints of our law, this administrative effort is no substitute for the meaningful and substantial penalty charges included in the Protecting America's Workers Act," OSHA Director Dr. David Michaels said.

All OSH States plans must step up enforcement
Because SVEP requires nationwide applicability, States with their own plans are required to either adopt this program or establish their own equivalent program. They are allowed up to six months to identify whether they plan to adopt SVEP.

The Obama Administration has constantly sought to increase occupational safety and health oversight by expanding the enforcement activities of OSHA.  As expressed repeatedly in speeches by the new Secretary of Labor, Hilda Solis, "There is a new sheriff in town" when it comes to OSHA enforcement.

"Under these new initiatives, it is clear that OSHA will be focusing its resources on enforcement with more citations, enhanced monetary penalties and higher gravity classifications - Repeat, Willful, Failure to Abate - and not on cooperative interaction, such as partnerships," said Lies.

The agency said it was eliminating the 10 percent good faith reduction for employers enrolled in OSHA's Strategic Partnership Program.

Recalcitrant employers targeted by SVEP
The SVEP will focus the agency's enforcement resources on "recalcitrant employers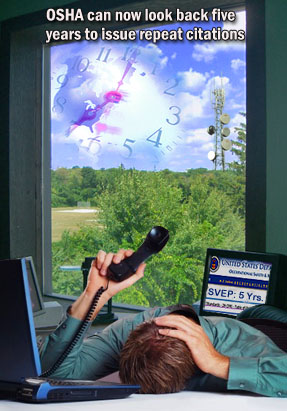 who endanger workers by demonstrating indifference to their responsibilities under the law," according to a statement from OSHA. This "supplemental enforcement tool" includes increased OSHA inspections in these work sites, including mandatory follow-up inspections, and inspections of other work sites of the same employer where similar hazards and deficiencies may be present.

Among other areas, the SVEP targets employers where an OSHA inspection following a fatality or a catastrophe (three or more hospitalizations) results in at least one serious violation cited as willful, repeated, or failure-to-abate.

With respect to a fatality or casualty, OSHA's authority to cite a violation as a repeat violation is extremely broad. If one citation in any other office of the contractor in the country has been affirmed as to a particular safety and health issue, and another citation is issued in the next two years with respect to the same or similar issue, it can be issued as a repeat citation.

It will only take one repeat citation in the context of a fatality or catastrophe to trigger SVEP status.

Enhanced enforcement penalties 
Since Michaels' April 22, 2010 memorandum authorizes a penalty of up to $70,000 for a repeat violation, tower contractors with multiple offices have to be almost doubly concerned. The new policy says OSHA can now look back five years to issue repeat citations. The previous window was three years - a period that a number of employers would have reached this year.

In addition to increasing the average maximum penalty assessed for a serious violation from $1,000 to between $3,000 and $4,000, other changes enacted by Assistant Secretary Michaels include:

• Raising the minimum gravity-based penalty to $3,000 (from $1,500);

• Raising the minimum proposed penalty for a posting violation to $250 (from $100) and a serious violation to $500 (from $100);

• Reducing employer size-based penalty reduction levels from 60 percent to 40 percent for employers with one to 25 employees; from 40 percent to 30 percent for employers with between 26 and 100 employees; from 20 percent to 10 percent for employers with between 101 and 250 employees; eliminating entirely size-based reductions for employers with more than 250 employees;

• Denying reductions via an informal conference if the employer owes an outstanding balance to OSHA unless the employer is making timely payments on a penalty payment plan;

• Increasing penalties by 10 percent if the employer has been cited for a high-gravity serious, willful, repeat or failure-to-abate violation in the past five years;

• Decreasing reductions by extending the violation-free time frame required to qualify for reductions from three years to five years;

• Potentially decreasing reductions by requiring an OSHA regional administrator to approve penalty reductions of more than 30 percent; and

• Changing the Penalty Calculation Policy from a summed total to a serial application of the penalty adjustment factors that will result in higher penalties up to the statutory limit of $7,000.

"OSHA's recent activity confirms its announced intent toward more aggressive enforcement and less leniency toward employers," said Lies.

"This increased enforcement exposure reinforces the need for employers to develop systematic and thorough strategies for addressing OSHA citations and correcting health and safety violations promptly to avoid a similar fate.

He offers the following suggestions to employers:
 Develop company-wide written safety policies to ensure that all facilities are at the same level of compliance.  Remember that even company-wide safety policies must often be tailored to address the hazards of each particular workplace.
 Develop a company-wide system of tracking citations that have become final within five years to avoid Repeat liabilities.
 Develop written policies for ensuring that required training is conducted for every employee subject to the requirement. This should include a method for ensuring, for example, that employees who are absent from work on the date of their scheduled training are not overlooked or forgotten.
 Maintain documentation demonstrating the receipt of training for every employee required to receive the training.
 Hold individual employees, including managers and supervisors, accountable through appropriate disciplinary measures where a safety rule or practice is violated. Maintain documentation of any such disciplinary action.
 Consider engaging bilingual trainers to conduct training and document employees' understanding of that training.
 Consider translating safety programs into Spanish or other languages where the employer has a large non-English speaking workforce.
 In the event a citation is issued, contact your legal counsel immediately to assess the potential risk of Repeat exposure and to avoid waiving your right to contest that citation.