OSHA pulls out all of the stops to create safety awareness following multiple tower tech deaths
February 14, 2014 – From a new tower industry-focused web page to a veiled threat by the Occupational Safety and Health Administration chief, the federal agency is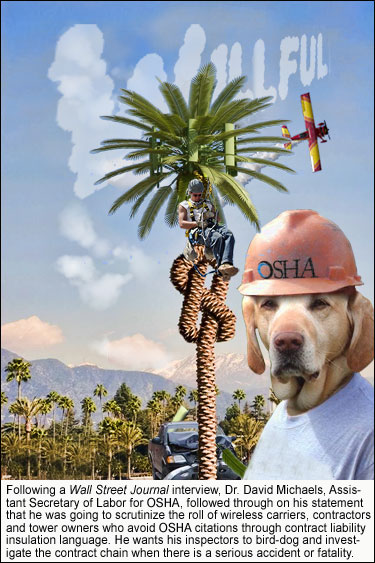 charging hard in numerous directions to end the spiraling accident and death rate in the wireless construction and maintenance industry.
Thirteen industry fatalities occurred in 2013, more than in the previous two years combined, according to Wireless Estimator data, and OSHA is concerned by this disturbing trend that appears to be continuing, with four deaths occurring in the first five weeks of 2014, one being a firefighter who was killed when a tower collapsed as he was rescuing injured tower techs.
Last August, Dr. David Michaels, Assistant Secretary of Labor for OSHA, said in an interview in The Wall Street Journal that he was going to scrutinize the roll of wireless carriers and contractors who avoid OSHA citations for fatalities and accidents by not directly hiring contractors who violate safety standards.
A number of industry observers thought it was a public relations gesture to identify that OSHA was troubled by tower construction and maintenance companies' high fatality rate, but little would be done by the bureaucracy which is oftentimes accused of moving at glacial speeds.

However, on Tuesday, Dr. Michaels quickly delivered on his commitment and sent a letter to contractors indicating the seriousness of his concern, and implied that carriers, contractors and tower owners could be held responsible for their subcontractors' violations of safety practices – an aggressive warning that could test the legal boundaries of the agency's multi-employer worksite doctrine.
Construction contract chain to be targeted
"Tower worker deaths cannot be the price we pay for increased wireless communication. Employers and cell tower owners and operators must do everything possible to stop these senseless, preventable tragedies," said Dr. Michaels.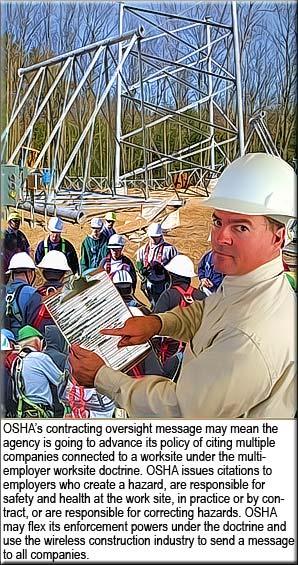 During inspections, Dr. Michaels said OSHA field personnel will be paying particular attention to contract oversight issues, and will obtain contracts in order to identify not only the company performing work on the tower, but the tower owner, carrier, and other responsible parties in the contracting chain.
"Contractor selection should include safety criteria and close oversight of subcontracting, if allowed at all. Simple 'check the box' contract language may not provide enough information to evaluate a contractor's ability to perform the work safely," said Dr. Michaels in his letter to communication tower industry employers.
Dean McKenzie, OSHA's Acting Deputy Director of Construction Services, Directorate of Construction, said that Dr. Michaels' concern over a simple "check the box" safety contract language stemmed from an investigation of a 2013 fatality which identified that the deceased's company's qualification application to its tower-owner client only required it to check a box to confirm that it would meet all applicable OSHA standards and that it had a safety program in place.
Tuesday's announcement follows an internal memo OSHA officials sent to its compliance officers and regional administrators in November, directing its investigators to target the industry.
Willful, where applicable, is OSHA's first choice
The instructions from James Maddux, Director, Directorate of Construction, stated, "In appropriate cases, area directors should work closely with their regional solicitor to develop willful fall protection citations, including, when applicable, citations of the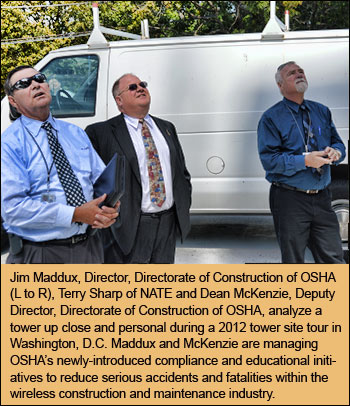 general duty clause."
This appears to be the first time that OSHA has requested that area directors should consider a willful citation. Three industry safety directors told Wireless Estimator that they view it as an inferred directive to not consider other options.
Former OSHA Cleveland area director Rob Medlock said the memo is extraordinary.
"For Maddux to reference consideration of willful citations for failure to use fall protection is unprecedented in a public document, but I am pleased to see that he and Dr. Michaels recognize the problem with subcontractors and intend to monitor contract oversight," said Medlock, Vice President of Ohio-based SCT, a safety engineering, consultation and training company.
"The liability insulation experienced by tower owners, general contractors, and carriers appears to be under renewed scrutiny. I applaud this effort by Dr. Michaels and hope OSHA devotes the resources necessary to make an impact. We will never truly have the desired result until OSHA can move up the contract chain to hold those at the top accountable."
Medlock acknowledged, however, that it is difficult for OSHA to issue citations to wireless carriers and tower owners since they usually hire subcontractors to work on the wireless structures, because the workers aren't their employees and they aren't on site or providing project direction, other than issuing scopes of work.
"I also wish that OSHA continues to recognize those folks in the industry that have been devoted to making the industry safer and not lump the entire industry into one basket," said Medlock who used to be OSHA's liaison to the National Association of Tower Erectors and served as chairman for OSHA's tower-industry task force.

According to a U.S. Department of Labor press release, Dr. Michaels' letter was prompted by four fatalities that occurred in two accidents earlier this year.
However, McKenzie said that Dr. Michaels' message and other OSHA initiatives had been a work in progress last year and were scheduled for release later this month, but the sudden spate of fatalities needed to be addressed as quickly as possible.
Carriers not in the chain of recent deaths
The year's first fatality occurred on Jan. 31, 2014 in Cameron County, Tex. when a tower technician performing maintenance on a guyed tower fell to his death.
It is unknown whether the Corpus Christi, Tex. OSHA area office will consider a willful citation against Tower Smith, since its proprietor, and possibly only employee, Ronaldo Eduard Smith, 62, was the decedent and OSHA does not have jurisdiction over a self-employed individual.
Area director Michael Rivera said that his office was still reviewing the accident to make a determination as to whether Smith's deadly fall off of the World Radio Network tower would be under their jurisdiction.
The following day in Clarksburg, W.Va., two tower technicians employed by S&S Communications Specialist, Inc. of Hulbert, Okla., fell to their death while they were retrofitting a SBA Communications, Inc. tower when it collapsed.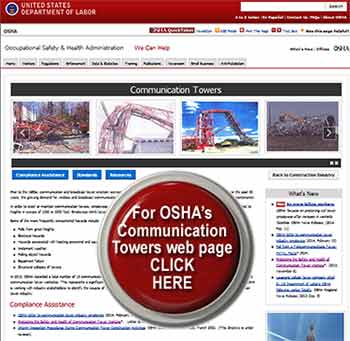 In 2009, one of their employees, a 26-year-old tech from Wagoner, Okla., fell 300 feet off a tower and died in Thomasville, Mo. after he transitioned without tying off. The company received two serious violations and was fined $3,000 by OSHA.
It is expected that, as detailed in Maddux's memo, if S&S is found to not be in conformance with OSHA regulations, they will be cited with a willful violation, and the possibility of a $70,000 fine for each citation.
OSHA will also be looking at the role SBA maintained in the reinforcement project.

Responsibility is a key to lowering fatality count
"We're in the process of trying to push every button that we can to affect this industry and how everyone in the chain looks at their responsibility towards safety," said McKenzie.

Within a week or so, OSHA's newly introduced Communication Towers web page which targets the issues surrounding communication tower work safety, according to McKenzie, will be populated with previous tower-related inspections and the agency's determinations.
New inspections will also be listed as they become available so that the industry can get a real-time snapshot of accidents and fatalities.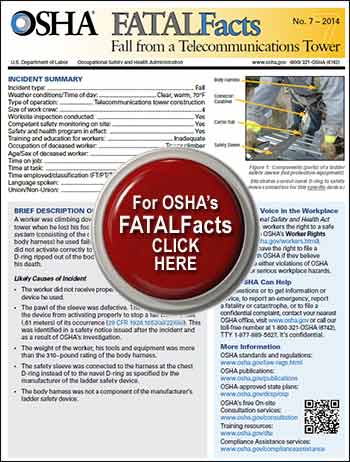 It would be expected that some insurers, carriers and contractors will use this information in performing due diligence before approving their contractors.

Current OSHA establishment search methods require the user to input the company's name, and if it isn't exactly as the company or OSHA investigator spelled it, no results will be found.
McKenzie said that to complement other OSHA outreach efforts, in its FATALFacts publication, the agency recently explored the likely causes of the death of a tower technician.
The incident appears to be a fatality from 2005 when a worker fell because a safety sleeve on a carrier rail did not perform properly on a tower in New Boston, N.H.
Collaboration with NATE included in OSHA's initiatives
In 2002, Assistant Secretary of Labor John Henshaw sent a letter to tower owners, carriers, broadcasters and contractors, requesting them to commit to joining him in an effort to reduce the alarming frequency of tower construction accidents and fatalities.
He cited Bureau of Labor Statistics data that "indicate that more than 150 people have died in this industry over the last decade," a claim that neither OSHA, the BLS, nor the National Institute for Occupational Safety and Health could document following requests from Wireless Estimator.
Henshaw's concern and the seemingly bloated fatality count received limited media attention.
But the poor safety record of the industry gained national exposure six years ago, today, when Assistant Secretary of Labor Edwin Foulke, Jr., said in a keynote address at a NATE conference in Orlando, "Tower climbing remains the most dangerous job in America," surpassing perennial high risk professions of logging and fishing.

An outreach video message from Dr. Michaels regarding tower worker safety will be shown during NATE's annual convention in San Diego, Calif. during its Tues., Feb. 25, 2014 keynote luncheon.
OSHA's press release said that it was collaborating with NATE and other industry stakeholders to ensure that every communication tower employer understands their responsibility to protect workers performing high-hazard work.
On Nov. 8, 2006, NATE and OSHA entered into a strategic partnership and its success was heralded by OSHA as one of their more successful ventures, and was a lead construction achievement story on the agency's web site.
On Sept. 10, 2010, NATE informed Dr. Michaels that his agency had reduced the approximately 125-member partnership to a one-sided agreement, stripped of benefits such as the previously enjoyed citation reductions for good faith, and a focused inspection checklist that made the alliance successful, and the partnership would not be continued by the trade group.
NATE replaced the partnership program with its STAR Initiative, which currently has a participation of 106 association members.
Most recent death citations bring $7,000 in fines
Oregon OSHA issued a $7,000 fine to North American Powerline Construction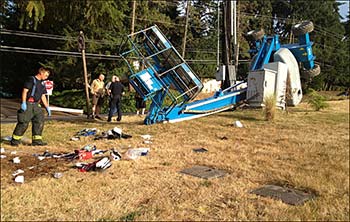 Services on Feb. 4, 2014 after a tower technician died in Eugene last August when the aerial lift he was using tipped over as he was taking documentation pictures.

Investigators found that 31-year-old David Huynh and his coworker were exposed to serious hazards associated with operating the boom lift on a slope; that Huynh had not attached his PPE to approved anchor points in the basket in order to protect himself; and that the two workers had incorrectly anchored themselves to the basket's handrail when they hooked up a 4G antenna system.