Broadband climber succumbs following 90' fall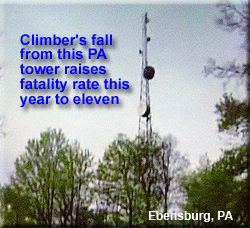 May 6, 2006 - A Lebanon, Pennsylvania tower climber became the nation's eleventh fatality this year when he fell 90 feet off a self supporting tower in Ebensburg yesterday.


According to Cambria County Coroner Dennis Kwiatkowski, twenty-five-year-old Michael Sellers fell to his death about 10:00 a.m. while preparing to install an antenna for his employer, Sting Communications Inc. of Lebanon.


It is not known if Sellers was tied off to the tower. The coroner was informed by a second Sting Communications employee on site that he was "feeding up the safety rope," according to published reports.


Fall protection capability disputed
Kwiatkowski said that Sellers wore a harness, but the coroner was told that there was no way that the decedent could have employed 100% fall protection while he was climbing, a position that would be assuredly argued by safety professionals.


The tower is located on the campus of Bishop Carroll High School. OSHA will begin their investigation on Monday, according to Ed Selker, assistant area director of the Pittsburgh Area Office.


Sting Communications does not provide tower construction projects, but employs climbers to develop its broadband wireless access installations for regional IP networks.


There are a growing number of installation technicians that are being hired by BWA companies. Some are well funded and provide the proper equipment and training to their climbers and maintain a company requirement to observe 100% fall protection.


However, some smaller ISPs in the extremely competitive broadband marketplace will hire individuals or subcontract to companies that will not observe safe climbing requirements.


"Many of these wireless internet companies are really under the radar," explained Chris Mika, President of Novotech Construction, Inc., an Altoona tower construction company. "Oftentimes these ISP climbers will work upon or install equipment on the tower without the owner's knowledge," he said.


Protection equipment becomes lifting device
Mika told WirelessEstimator.com that he has personally observed two ISP technicians free climbing on a tower that he had previously managed that had a safety cable installed. He said that although they were equipped with a full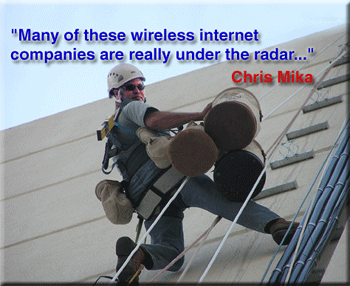 body harness with a single leg lanyard on the dorsal attachment point, the lanyard was being used to carry the radio and panel antenna. "They had no positioning lanyards, only a couple of large carabiners that they would attach to one of their side D rings or the other, never both at the same time," he said.


Mika said that he had them return to the ground and learned that they had never been around tower climbers and had never been trained in safe tower climbing techniques and requirements. Their ISP employer's supervisor was contacted and told of Mika's employer's policies, general tower climbing policies, and that they would not be
allowed to work on the company's towers unless they were in compliance.


Would Mika ever waiver in his belief that 100% fall protection can be occasionally circumvented? Not likely. He spoke of an arrested fall from a tower two weeks ago because the technician was properly tied off.


"It happened at 220' when an experienced, well-trained climber slipped off a peg as he was repositioning," Mika said, explaining that the climber was employed by a major tower company where safety is a culture, not a department.


Had this experienced climber not been tied off, the climber fatality count would probably have been raised by another technician's death, Mika said.

To further ensure that his company is in compliance with safety regulations, Mika is a participant in an OSHA outreach program that is administered by Indiana University of Pennsylvania. It is a free federally funded program. Independent safety consultants are assigned to audit his tower construction business for OSHA compliance. If they find a serious OSHA violation they require him to submit in writing the arrangements he has made to bring his company into compliance.