FCC test tells Floyd, New York residents that their mast hysteria is unfounded
June 30, 2009 - Last month, Floyd, New York resident Steve Lloyd suddenly heard music from God's Country radio playing from his bedroom TV and then he later noticed that the WOKR FM radio station broadcast at 93.5 FM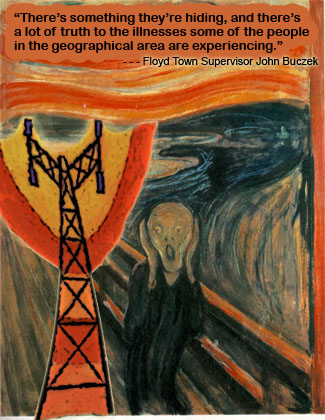 , came in on other frequencies in his home.
Lloyd called the local media and told them that he and his wife started getting headaches and diarrhea, felt nauseous and tired, and blisters started appearing on their skin, forcing them to move to a camp they owned 25 minutes away on Kayuta Lake.
Their physical ailments, he said, were being caused by WOKR's new radio antenna recently added at the 80-foot level on an American Tower Corporation tower adjoining the rear of his property on Soule Road. He said for 20 years he never had a problem, but the recent FM antenna installation has deteriorated his family's health.
Lloyd contacted Mid-State Communications & Electronics, Inc. out of Oriskany and the company said that radio frequency in his home exceeded safe levels, according to Lloyd, who declined to share the report.
A spokesperson for Mid-State, however, said his firm provided readings only and did not provide a report as described by the local press. He stated that the readings did not come close to any thresholds that would be a concern to the Federal Communications Commission.
FM flu caught by neighbors, politicians and media
Lloyd's arresting ailments caught the attention of other area residents and the FM flu quickly spread amongst them as well as the media and government representatives.
One area homeowner said he found it difficult to get out of bed lately and when he stayed at a different location, he woke right up in the morning.
Another neighbor said she had to call out sick from work, saying that the excessive radiation made her ill.
Other residents, who also believed they had been overexposed to electromagnetic radiation, began to witness similar symptoms.
U.S. Rep. Michael A. Arcuri called on the FCC to put forward an immediate plan of action regarding WKOR emitting harmful radiation causing health problems for local residents in the town of 3,800 people.
Last week, the FCC said it had found no problems with the tower's broadcasting tenants or the collective RF on the site.
FCC workers investigated the tower, said Bruce Romano, associate chief of the FCC Office of Engineering and Technology in Washington, D.C. The height and strength of the antennas were the way that their license requires them to be, he said.

"They didn't find anything out of the ordinary," he said. "There's no apparent reason for concerns with health problems."
Lawrence Behr, Chief Executive Officer of LBA Group, said safe RF exposure standards are well documented and the results of many years of scientific investigation.
"These standards, incorporated in FCC rules, establish a maximum permissible exposure (MPE) for the general public. FM stations are prohibited from radiating this power density anywhere accessible to the public," Behr said
The power is easily measured and the MPE is set at 10 times any known health effect to people, according to Behr.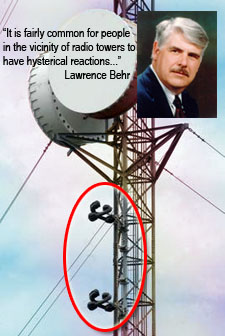 "In this case, the MPE power limit would be about 50 feet from the antenna, and would never reach the ground. So, even immediately around the tower, the public would be safe. Undoubtedly, the FCC's measurements confirmed this."
"It is fairly common for people in the vicinity of radio towers to have hysterical reactions, reporting medical problems, failed electronic equipment, and plummeting property values, often related to one local opinion leader," Behr said.
He recalled a case where a farmer's kids had rashes and his cows stopped giving milk when a cell tower went up on his neighbor's farm.
"It was amazing how much their milk output increased, and the kids' skins cleared up, when the cell company leased a new right-of-way over his land. We have encountered this phenomenon many times, and engineering investigation always confirmed the lack of hazardous RF," he said.
However, Floyd Town Supervisor John Buczek said residents had noticed work being done at the tower at night just before the FCC's testing.

Buczek said he fears modifications were made to the tower before the FCC investigated it, and he worries people might not find out the truth about whether anything was wrong.

"There's something they're hiding, and there's a lot of truth to the illnesses some of the people in the geographical area are experiencing," he said. "I believe those people," Buczek told the Utica Observer-Dispatch.

One woman who lives across the street from the guyed tower says she spotted crews working past midnight at least twice just before the FCC arrived. She also claims she is suffering bouts of fatigue and diarrhea recently - similar to what Lloyd and his family have reported.
Verizon Wireless would not return a call for confirmation, but a tower maintenance company supervisor said that the crews that Floyd residents believe were conspiratorially reconfiguring the antennas into MPE compliance were actually providing routine maintenance for Verizon during the late night window typically used by all carriers.
WOKR's owner, Educational Media Foundation of Rocklin, Calif. stated it had cooperated with the FCC, and it was confident the station would not be at fault. 
Earlier this year, the FCC licensed EMF to broadcast a low-power FM radio signal (3,000 watts), from the Floyd tower.
As it does with all broadcast applications, the FCC analyzed the RF radiation that would be produced by the operation of WOKR from this tower to ensure that it would not create a hazard to persons living, working or visiting areas near the tower site.
The FCC's approval of the application confirmed the analysis that the operations from that site would not be of concern under any applicable safety limits.

EMF said they constructed their station according to the specifications approved by the FCC.
According to EMF's own testing after its construction of WOKR, its Floyd-area signal was functioning properly and meeting all FCC requirements, including those involving public safety.

EMF has been in communication with the FCC about the Floyd residents' concerns, and it fully cooperated with the FCC in its review.
On June 23, the FCC performed an on-site inspection, and their measurements, like EMF's, indicated that WOKR was operating within the FCC's rules for RF in publicly-accessible locations, with RF radiation at the site only a fraction of the FCC's limits for publicly-accessible locations.

EMF said it has made arrangements for additional independent testing and will make the results public once those measurements have been completed.

EMF President Mike Novak stated, "EMF always makes every effort to follow all FCC requirements for safe broadcasting and will continue to do so."
He expressed concern for the health of the Floyd residents and said that he hopes they will soon discover the true cause of their problems.
One Floyd resident still believes that WOKR's antennas and/or equipment were faulty and caused area residents to become ill prior to engineers finding the problem and fixing it.
However, Behr disagrees. "If it is safe 50 feet away, there is no possibility of a fault causing unsafe exposure at 1,000 feet. To do so, the power would have to increase about 500 times. You would have to go from 3 KW to 1500 KW - 10 times the power of the most powerful FM station in the US. That's a physical and practical impossibility. Besides, the antenna would melt into a copper blob in seconds," Behr said.

EMF CEO Mike Novak said this week that the Christian radio group will keep adding stations, although at a somewhat slower pace. While much of the radio industry is feeling the pain of the recession, EMF continues to weather the economic storm with minimal impact. It just can't make true believers out of some Floyd residents.

FCC bulletin provides compliance guidelines
The FCC's Office of Engineering and Technology (OET) Bulletin 65 "Evaluating Compliance with FCC Guidelines for Human Exposure to Radio Frequency Electromagnetic Fields" is available to provide assistance in determining whether proposed and existing transmitting facilities, operations and devices comply with limits for human
exposure to RF fields. OET Bulletin 65 provides examples and explains how to perform evaluations. Exposure zones on towers must be addressed.
The FCC has established Maximum Permissible Exposure (MPE) limits for the general public (uncontrolled environment) in addition to individuals hired to work in an RF environment (controlled).   In areas that have less than 100% MPE a trained employee can spend an unlimited amount of time. When there is more than 20% MPE the general public may have unrestricted access. When these levels are exceeded, the FCC and OSHA require employers to ensure safe working environments for their employees.
Although Bulletin 65 offers guidelines and suggestions for evaluating compliance, it is not intended to establish mandatory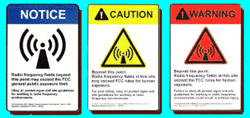 procedures. Other methods and procedures may be acceptable if based upon sound engineering practices. Documentation of the RF environment is required for each new and established site. If a licensee contributes 5% of their MPE to an area that is not in compliance then fines can be levied and an immediate corrective active will be required. If a tenant is 5% of the problem they will be enjoined in the fine and remediation action.

The Federal Communications Commission (FCC) and its Local and State Government Advisory Committee (LSGAC) have prepared a voluntary guide to assist state and local governments in devising efficient procedures for ensuring that the antenna facilities located in their communities comply with the FCC's limits for human exposure to radiofrequency (RF) electromagnetic fields. State and local government officials, carriers and citizens frequently consult this guide when addressing issues of facilities siting within their communities. The guide contains basic information, in a form accessible that will alleviate misunderstandings in the complex area of RF emissions safety. This guide is not intended to replace OET Bulletin 65, which contains detailed technical information regarding RF issues, and should continue to be used and consulted for complex sites.