Tower devastation from Katrina identified as carriers restore Gulf Coast communications
September 10, 2005 -- The tower still stands, but a Maypole skirt of coax drapes ov
er a concrete monument that once supported an equipment shelter; a transceiver cabinet lies face up, incapable of spreading the news of its demise. Another structure that once supported cell antennas lies on it side drinking toxic wastewater through its tubular legs as its shelter weaves drunkenly alongside on an elevated platform that begs for failure.
These are becoming frequent images as communications companies and service contractors are able to move into Gulf Coast communities to inventory severely damaged and decimated structures.
Although communications have improved in many areas after Hurricane Katrina dealt a massive blow to the infrastructure, full restoration is expected to take many months; New Orleans may not be completed for at least a year.

Recovery on the way
The structure above in Long Beach, Misssissippi remained standing, but multiple colocation tenants had their equipment buildings and enclosures destroyed.(Photo: Data Cell Systems)

Wireless carriers are making headway restoring service to areas hard hit by the category four hurricane.Sprint Nextel as of yesterday in a news release stated that they had restored nearly all service in Alabama, more than 80% in Mississippi and more than 60% in Louisiana.
Verizon Wireless said it has restored 300 of the 400 cell sites put out of service by the storm. Biloxi and Gulfport, Mississippi still had limited service, but the company says it has installed cell sites on wheels (COWs) to boost coverage at Keesler Air Force Base in Biloxi and at FEMA's (Federal Emergency Management Agency) relief distribution center in Gulfport.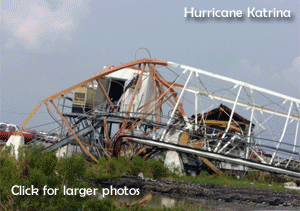 T-Mobile announced service is running at nearly all of its sites, while Cingular Wireless said it has 75% service in the region. More than 800 network technicians were deployed across the Gulf States so that full service can be restored.
Cingular also is using microwave and satellite connections to restore service in parts of New Orleans, and the company is rerouting calls outside of New Orleans as needed. Supporting Cingular's service restoration efforts are more than 500 generators, 800,000 gallons of fuel, and more than 30 COWs.

SouthernLINC Wireless, a unit of electricity distributor Southern Co., yesterday said its operations have been completely restored following Hurricane Katrina.
The Atlanta-based regional wireless carrier said all of its sites are on air, along with two additional sites, to provide service in Alabama, Georgia, Florida and Mississippi.
"Prior to Hurricane Katrina hitting the Gulf Coast and then moving through Alabama,
SouthernLINC Wireless prepared for the worst by ensuring that generators at our sites were topped off with fuel, and additional generators were available to be mobilized to sites that were operating on batteries due to power outages," explained Bob Dawson, SouthernLINC president and chief executive, in a statement.
Cellular South, Mississippi's largest cell phone company, had all but one of its 54 tower transceivers on the coast knocked out during the hurricane. The company says 40 are back up. They stationed technicians along the coast before the storm and began repairs almost immediately.
Although many carriers have brought back service to affected areas, it was accomplished by the use of COWs; traditional structures will have to be built or repaired to accommodate customers.
Radio and TV broadcasters as well as government services will also require new structures and repairs to existing facilities.