South Dakota 

South Dakota certifies or licenses only asbestos abatement, electrical and plumbing contractors. Check, however, to see if there are any local jurisdictional licenses or requirements before proceeding with a wireless construction contract.

The state of South Dakota has one of the lowest concentrations of communications structures per square mile in the nation. So why did the National Association of Tower Erectors establish its headquarters there?  We've been told that it was the quick, easy and inexpensive airline access to any place in the world; the business home of some of the founding directors; and the available talent pool of friendly and dedicated administrators and employees. We'll disagree with the first suggestion after discovering in January that the airport shuttle is an Iditarod dog sled team because everything else freezes up until spring.

To find out if an electrician is licensed in South Dakota, call (605) 773-3573.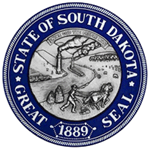 Out-of-State Corporations
If your company isn't incorporated under the laws of South Dakota, you have to get a Certificate of Authority from the Secretary of State to do business in the state. For additional information, contact the Secretary of State.