Second manufacturer warns of possible injuries or death to climbers through use of safety sleeve
March 21, 2007 - Antenna Products Corporation has found that a reported defect in another manufacturer's safety sleeve could possibly occur with their SCE-2 safety
 sleeve and cause serious injuries or death when the tubular rail safety climb unit allows the climber to fall without immediately arresting his descent. Their system is designed to absorb the impact load of 500 pounds in a 12-inch free fall and to support a minimum static load of 1,000 pounds.
APC said they have tested their equipment and will modify the sleeves returned to them to ensure that they meet industry safety standards. Some units might be replaced, said a company spokesperson who said his firm wanted to get the message out to climbers that their safety is APC's highest priority. Although they have had no reported incidents of equipment failure, they are requesting that climbers should only use the existing sleeve when it is supplemented with their Y lanyard procedure .
Many tower owners are unaware of the type of safety climb system their structures are equipped with. In addition, the SCE-2 sleeves have been resold through government surplus auctions as well as on e-Bay and the current owners are not known by APC.

North Safety Products first to identify problem
Late last year North Safety Products issued a safety alert, warning of the dangers some of its fall protection equipment presents to users under specific conditions. They too instructed climbers to tie off with a shock absorbing Y lanyard, no longer
than six feet, that is ANSI Z359.1 compliant, in addition to using their Saf-T-Climb fall prevention system. They also cautioned climbers not to use the Saf-T-Lok sleeve for their aluminum rail system.
The Cranston, RI-based company provided a safety alert regarding the possibility of a system failure. They said that they had identified certain conditions where their Saf-T-Lok Sleeves or Rail may not perform properly during a fall. Under those conditions, a climber may fall farther than intended.
North Safety Products provided several slides  in their safety notice which illustrate the operation of the sleeve and notched rail system, and failure modes described by North. The company contends that the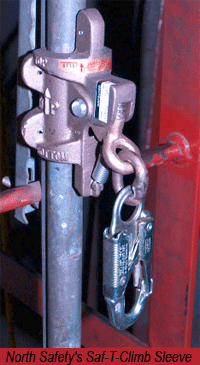 failure modes apply to this entire class of fall protection devices, not just those manufactured by them.
North Safety said they are continuing to investigate this issue and is currently designing an appropriate remedy. Once testing and production has been completed, North Safety will provide this remedy at no cost to existing customers of the Saf-T-Climb system who register their Saf-T-Climb systems or Saf-T-Loksleeves with North Safety in response to their notice.
The company had identified certain conditions where Saf-T-Lok Sleeves or Rail may not perform properly during a fall.
When descending past a rail notch, the climber must apply an outward or upward force on the snap hook link to rotate the pawl away from the notch. They must then release the force after passing the notch to re-engage the system. If the climber falls away from the ladder rather than straight down, the pawl may not engage a notch for a distance of several feet, rather than the intended 6-inches. This could result in severe user injury.
If the notch or pawl becomes damaged or worn during use, the pawl may not catch in the notch. This would increase the fall distance and may result in severe user injury.
Similar sleeves are manufactured by Air Space Devices, Inc. and Safety Ladder Co. It is not known whether they have provided safety alerts about their products.