Silence of the Lamm tower death impels others to speak out to prevent future fatalities

March 8, 2005 -- A 24-year-old North Carolina tower erector fell to his death on February 25, and 11 hours later a 35-year-old Colorado tower technician became another fatality when he fell 180'. No recorded tower-related deaths over the years have shown two on the same day in two separate states. Sadly, industry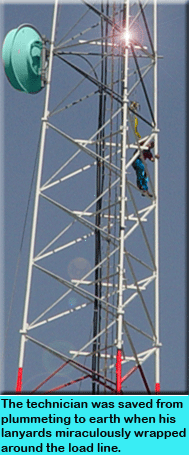 casualties follow a similar thread: The death becomes a short-lived media sensation; OSHA announces an investigation, results of which oftentimes end in obscurity, and the accident becomes buried in bureaucratic statistics as the deceased's family's loss and suffering lives forever.
John Paul Regan was the first fatality of 2005. He fell from a tower consolidator's 160' self supporting tower in North Carolina named "Silence of the Lamm" due to its proximity to Lamm Rd. in Wilson. However, it has been anything but quiet as his and Stephan Ballasch's deaths have provided a valuable industry legacy by inspiring riggers and company owners to publicly discuss accidents so that others will be alerted to their susceptibility of having a catastrophe of a similar nature.
Following the North Carolina accident, a company associate, not at the scene, said that Regan fell after wrapping his positioning lanyard to the antenna pipe and was leaning back. The pipe had only one attachment point and was lose. He said that Regan's weight caused the pipe to roll back. Apparently, a provided fall arrest lanyard was not in use, the employee said. The fellow erector stated that publishing this information might prevent another fellow steeplejack from making the same mistake. OSHA is currently investigating the accident, but it could be months before a report is issued.
Near misses can play vital role in accident prevention
"It's important to analyze why the accident took place," emphasized one company owner whose business employs numerous erection crews, "and I applaud every effort to educate the industry. However, I believe that it is essential that we discuss the near misses as well so that we don't allow history to repeat itself."
Active in industry safety groups, the veteran contractor has provided a harrowing account of a recent near fatality that occurred when one of his employees fell forty feet from a self supporting tower and was miraculously saved when his lanyards wrapped around the load line, precariously stabilizing him for a few minutes until his co-worker could assist him. Please view: Airborne erector cheats death twice!
OSHA and NATE have jointly improved tower safety through education and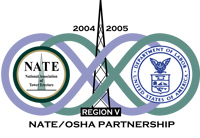 partnership programs. Construction on tower sites is becoming safer, explained Rob Medlock, Region 5 area director during the National Association of Tower Erectors' February conference. He believes that past fatalities have received a high profile, bringing awareness and improvements to the industry. To date, 53 tower companies are participating in a NATE/OSHA partnership program where they receive focused jobsite inspections. No citations are issued when violations are corrected during the inspection, except for serious violations. A national set of guidelines is being proposed for both federal and state use.
Many contractors and safety training companies agree that there has been an extensive education process that has reshaped the industry during the past ten years. They also concur that low bid pressure by national management groups, tower owners and carriers, creates an environment that invites accidents as companies ignore safety training and equipment when they're under pressure to complete the job with a marginal profit, if any.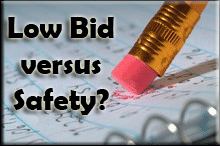 Other erectors don't fully subscribe to the low bidder causation for industry deaths. No matter how much training is provided to the employee and regardless of how much safety equipment and supervision is available, fatalities have also occurred in companies that are known for their unrelenting dedication to worker safety, they point out.
"More often than not, a tower hand hits the ground with a full complement of safety gear," explained Todd Thorin, Chairman of the NATE Safety & Education Committee and Director of Safety and Training for Sioux Falls Tower. Thorin believes that many of the fatalities would have been prevented if tower erectors had practiced what they had been trained to do when working on a structure. He also regards accident and near-miss information as being extremely important in reducing tower deaths.
"I've read near-miss stories and I would think, 'I would never do anything so stupid,' and yet I've accidentally done some pretty foolish things myself in the past," Thorin said, emphasizing the need to continuously discuss near misses and accidents with tower crews. A Sioux Falls Tower tailgate safety meeting last week focused upon the February 25 tragedies.
The National Institute for Occupational Safety and Health (NIOSH) conducts research and makes recommendations for the prevention of work related injuries and deaths and has provided detailed investigative reports of fatalities. State and Federal OSHA will also provide accident summaries many months later, but there is no single repository to obtain this information.
"I'm sure that some of the government's information may be helpful, but it's typically a follow-up to a death that had no witnesses," explained a Northeast erector who requested that his name be withheld. "The fact remains, the only person that can truly tell us what happened so that we can know whether it was an equipment failure or mistake on the climber's part, is the one person that has left our brotherhood," he said.
Following a death, serious injury or even a non-injury occurrence, many company owners are advised by their counsel not to publicly discuss the event. Attorney Mark Lies of Seyfarth Shaw, an international firm that maintains a strong presence in the tower industry, believes that sharing lessons learned is an excellent approach to educating the industry. He cautions, however, that a company should carefully weigh what information they are going to release prior to any final determination by an investigative authority. He has observed numerous incidents where incorrect information released immediately following an accident should have been held until such time as the investigation was completed. "Creating misinformation is worse than not giving any information at all," he said.
Forum introduced to assist in near miss effort
WirelessEstimator.com has introduced a "Near Misses" area in its Discussion Forum where tower technicians can add to posts about near catastrophes or fatalities or present their stories about life threatening incidents that ended with

serious or minor injuries…hopefully, none. To foster the need to share these near misses or fatalities, if requested, the author's name will be withheld.
Copyright © Wireless Estimator, Inc. Please request reprint permission.