New tower construction standard gets considerable airing from NAB
May 18, 2009 - The National Association of Broadcasters says that towers can be magnificent structures and are a vital part of the broadcast industry infrastructure. The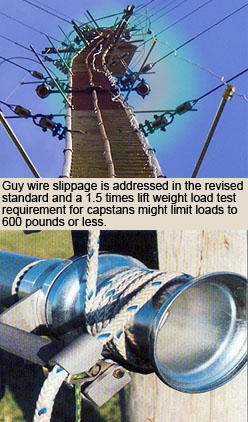 trade group accepts the fact that the construction and maintenance of tall towers is at times perilous and they're embracing a new Telecommunications Industry Association construction standard in the works.
In its newsletter last week, the NAB reported that the topic was discussed during the Broadcast Engineering Conference on April 22, but the association wanted to again focus upon the need for the new standard and, following compliance, reaching a goal of lowering construction accidents and structure collapses.
Don Doty, CEO of Stainless LLC, and Ernie Jones, Senior Engineer, ERI, presented an educational session on the Structural Standards for Installation, Alteration and Maintenance of Antenna Supporting Structures, ANSI/TIA-1019 Standard. Their detailed slide presentation can be seen here .
Jones is co-chairman of the TR-14.7 Subcommittee developing the standard along with Gordon Lyman of WesTower Communications. Brian Reese of AeroSolutions, LLC is Chairman of the TIA TR14.7 Committee.
The National Association of Tower Erectors collaborated on the tower construction and rigging protocol and procedures in the standard.
Major tower failures have happened while crews were performing an erection, maintenance or retrofitting. Although wireless carriers' towers are not immune to these accidents, broadcast tower failures seem to occur at a greater degree of frequency.
Tall towers require special rigging and there are a limited number of available crews to erect and service them.
The most recent collapse occurred on May 8 when a 1,056-foot guyed tower in Joplin, MO fell when high winds buffeted the area.
A tower crew from Precision Communications, Inc., of Grove, OK, had been working on the KSNF-TV structure prior to the storm upgrading the antenna so that the station could become fully digital. A gin pole had been attached to the top of the tower creating additional loading as winds, said to be as high as 100-miles per hour at the top, swept through the site.
Loads on structure considered during construction
Although the committee was hoping to get the standard out prior to the DTV conversion deadline, the new standard isn't expected to be released until later this year. It addresses non-operational weather related conditions using winds from 45 mph to 90 mph, based on the construction duration period. These are the loads on a structure when lifting is not performed and will typically govern the strength requirements for the structure under construction.

Operational conditions during lifts
Non-Operational Duration Wind
"Wind Loads During Construction Period"

Construction Period
Minimum Factor
Continuous Work Period
0.50 (0.5 x 90 mph = 45 mph)
Less than 24 hours
(Overnight Conditions)
0.60 (54 mph)
24 hours to 1 week
0.67 (60 mph)
1 week to 6 weeks
0.75 (67.5 mph
6 weeks to 6 months
0.80 (72.0 mph)
Greater than 6 months
1.00 (90 mph)
require an uniform effective 30 mph 3 second gust wind speed consideration. Operational loading conditions of a structure during the actual lifting sequence governs the strength requirements for lifting devices such as gin poles and their associated rigging.

The standard also states that local weather forecast data may require higher non-operational design wind speeds. However, it notes that the data shall not be used to justify a lower non-operational wind speed.

For structures in hurricane regions, the non-operational design wind speed need not be greater than 90 mph (3-second gust) when appropriate plans to provide additional bracing to meet the full design wind speed for the site have been prepared and can be implemented before the onset of an announced hurricane.

Hurricane season is from June 1 through November 30. Tornadoes were not addressed in the standard since there is no start and end date that can be applied. If the conditions are right for a tornado, they can occur anytime throughout the year and no construction preparations can accommodate the destructive damage of some tornadoes that can have winds registering as high as 300 mph.

Guy wire slippage addressed

Another issue that is addressed in the new standard, according to Jones, is that of guy wire slippage.
Many times during construction, guys are pulled out and temporarily connected until they can be adequately secured in their final connection devices, sometimes with unfortunate results.
Sometimes connections that can slip must be used for efficient construction methods. In the event this is the case, guidelines are provided in the Standard for the following:
-- Methods to analyze the structure for a slippage event including impact factors to apply for either continuous slippage or instantaneous release are provided;
-- In the event a structure cannot safely handle the potential of guy slippage or other unequal structure forces guidelines on how and where to provide temporary backup guys is fully covered;
-- Annex E of the Standard, entitled "Wire Rope End Connections," will provide specific data on connections typically used in our industry that have been known slip as well as non-slip type connections. Acceptable methods of end termination of connections are covered;
-- An option to the use of temporary guy lines is given by adding in a backup system if slippage, that can be detrimental to the tower, can occur during a construction procedure.
Additional areas covered by the new standard include suggested methods of providing temporary bracing when replacing tower members, deteriorating analysis for existing structures, load testing requirements and options prior to making lifts, monitoring of loads and gin pole deflection during lifts, and special engineered lift provisions.
The capstan hoist and the use of synthetic rope is also covered, requiring a factor of safety for rope at 10 to 1. The standard requires that a 1.5 times lift weight load test is required for capstans. It is believed that this might limit loads lifted with capstans to 600 pounds or less.
The standard addresses safe hoist anchorage for equipment anchored to dead-man anchors and foundation tops. It identifies that a hoist on a trailer anchored with a vehicle will require load testing.
The ANSI/TIA-1019 Standard, released in 2004, used to be entitled Structural Standards for Steel Gin Poles Used for Installation of Antenna Towers and Antenna Supporting Structures, and only provided minimum design criteria for the design and use of steel gin poles.
Additional content in the revised standard has been added to the vertical gin pole information as well as details on a tilted gin pole. However, the standard requires that before using a vertical gin pole outside of it design capabilities that the contractor must verify load angles through the services of a professional engineer.