LA death provides focus upon ensuring accuracy in climber fatality count and lessons learned
March 15, 2007 - Assistant Secretary of Labor for Occupational Safety and Health Edwin Foulke cautioned attendees at the National Association of Tower Erectors' conference in Orlando on February 14, "This is a dangerous industry and we have to do whatever we can to develop a program and get people trained, to ensure that they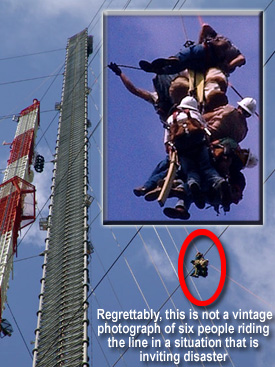 get to go home safe and sound, every day." His impassioned teleconference concern wasn't motivated by a tower technician's death the previous week because he wasn't aware of the fatality.
OSHA officials who closely monitor the industry handed out toolbox review literature in the exhibition hall the following day and discussed how pleased they were that there were no reported deaths from falling from a communications structure in 2007, the last one occurring more than four months earlier. They too didn't know that a Texas resident died after falling 125' while working on a retrofitting project.
A record number of NATE members left the conference that evening sharing a communal pride that education, a national partnership program and a renewed dedication to safety enforcement was helping to usher in a better year than 2006's 18 fatalities as reported by Foulkes. They also weren't aware that one of their fellow-member companies lost an employee on February 7 when he fell from a 330' self supporting tower in Golden Meadows, LA.
The 29-year-old tower technician's death in a community of 2,193 residents came close to becoming one of the industry fatalities each year that might not be reported in mainstream media, bulletin boards or through a nonexistent auditing process of OSHA to alert managers charged with monitoring high risk industries and partnership programs to be able to assess positive progress.
It was simply another fatality under Special Trade Contractors, Not Elsewhere Classified, an OSHA Standard Industrial Classification (SIC) that covers 53 professions from bath tub refinishers to window shade installers.
Tech's death investigated
Brandon Dale Driggers, of Nocona, TX, married to Ashlee, and a loving father of four young children, wasn't able to fulfill Assistant Secretary Foulke's wishes to return home safely to his family after falling while installing new bracing. He was 2007's first known fatality of a worker falling from a communications structure.

According to those people knowledgeable about the accident, Driggers had the proper fall protection equipment, was a trained competent climber and also had training in tower rescue procedures.
Established in 1979, Driggers' Goliad, Texas-based employer, Gritz Towers, has been known for actively supporting OSHA partnerships and providing excellent safety training for all of its employees. The OSHA investigation by the Baton Rouge office was closed on February 26 and Gritz Towers was not cited for any workplace safety violations.
Driggers' relatively new fall protection lanyard was found to be hooked to his D-ring when he hit the ground. He might have been hooked off to a step bolt with his positioning lanyard, according to people close to the investigation since the lanyard's pelican hook's gate was damaged and sprung, possibly from the extreme side loading pressure it received following his sudden fall.
An OSHA officer also considered whether the pelican hook might have been damaged when it hit multiple braces when the technician fell, but was unable to conclusively state how the hook's destruction occurred. The tower was equipped with a safety climb device.
Lessons learned difficult to come by
The young Texas worker's death appears to have been caused by employee error, according to the investigating compliance officer, and the obvious lesson learned is the need to maintain 100% fall protection at all times.
However, many climber deaths are not as straightforward and information is oftentimes unavailable regarding the possible cause of a fatality. Lawyers caution employers to prohibit their employees from talking to the media or anyone else regarding a fatality. Insurance company agents offer the same advice.
Also, OSHA representatives cannot discuss an open case and they have up to six months from the accident date to issue citations. A lot of factual information on an accident is uncovered years later in civil cases related to the accidents, but much of the information becomes confidential due to the requirements of the proceedings. One company owner correctly categorized civil cases as "a stage where truth is touted, but perception rules and huge settlements are the goal, not the truth."
Tower construction professionals believe that the National Institute for Safety and Health's (NIOSH) FACE Reports provide the most effective analysis of tower accidents and ways to avoid them. Unfortunately, the last report was three years ago and NIOSH representatives recently said that they were not going to focus upon the tower construction industry in the near future.
During a NATE educational session on riding the line, some panelists were hesitant to share industry information regarding their knowledge of fatalities and how they had occurred, citing litigation that might arise based upon their opinions. NATE Chairman Don Doty was able to provide some guidance as to what might have caused some recent fatalities.
Safety professionals say that training and the proper equipment is being provided by many companies that employ climbers, but 100% tie off at all times is not being practiced due to many climbers' self imposed expediency requirements, carelessness or their callous disregard for safety. In addition, major tower owners are understaffed and their frequency of site safety inspections is limited.
Plus OSHA is severely understaffed as well. "We only have 2,200 employees total and there are112 million employees and 7.2 million worksites. We can't get to everybody," said Foulke whose prepared remarks for the conference can be viewed here .
He said his agency is still going to have strong enforcement, "Because to tell you the truth, there are still employers out there that think that injuring people or having fatalities is just a cost of doing business." The Secretary cautioned that enforcement is going to be more aggressive than ever for those who have this mindset.
Like many industry professionals, Safety Manager Wayne Bowyer is concerned about climbers that do not appreciate the need to tie off 100% of the time. The Shenandoah Tower Service employee often observes other companies who allow their workers to free climb. Last week he said he observed two different companies' crews free climbing and numerous workers not wearing hard hats. He said he spoke with the crew members and they explained that they always climb safely and what he saw was not typical of their safe working practices. Bowyers didn't buy it.
"Working safely is not something you do once in a while or just when you happen to think about it. It's not something that you do only when you think someone is watching. It's a habit that you have to foster and encourage," said Bowyer.
"If I make someone angry because I point out an unsafe act, I can live with that. I couldn't live with myself if I just ignored their unsafe act and it killed them," he said.
National partnership lauded by Foulke
Foulke told NATE members that fall protection is a critical issue with OSHA and they are constantly looking at how to improve upon it. "And no one has the monopoly on how to deal with these particular issues," he said.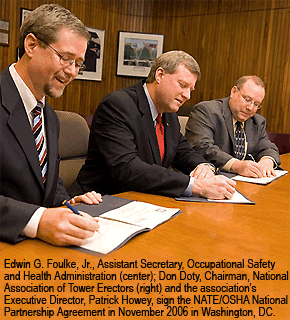 He was extremely enthusiastic about the OSHA Strategic Partnership between NATE and OSHA's Region V and the expansion of the program to encompass the entire nation. "The thing that you should know about this partnership, which is a little bit different than anything we have, is that it is also offered to State plan agencies ," Foulke said.
Based upon the statistics he had been given, Foulke said, "Partnering with OSHA is starting to pay off. We have nearly 1,800 cell site audits that have been conducted and I understand that there has been a significant reduction in all of the hazards associated with those partnership companies. In fact, I understand that the companies that have been partnered with us average 50% below the non-partnered companies in their insurance rates, so we've impacted the bottom line."
Well, not quite 50%, says Sarah Barton of Arthur J. Gallagher who manages the NATE Insurance Program, but a 10% discount can be very helpful for companies in the program whose premiums range from $25,000 to $1,000,000,
Barton said that the membership requirements for the NATE/OSHA National Partnership are synonymous with what makes a good insurance risk: a good safety program, climber training, site safety audits and other safety-focused procedures.
"While membership in NATE gives contractors access to these valuable safety tools, they are not required to use them. Membership in the NATE/OSHA Partnership goes one step further to mandate implementation. NATE/OSHA Partnership members who participate in the NATE Insurance Program are given up to 10% credit on their workers' compensation premium to reward them for the additional checks and balances they impose upon themselves," Barton said.