Washington board asked to interpret legislation that would halt tower design work by P.E.s
February 6, 2008 - Professional engineers that currently design communications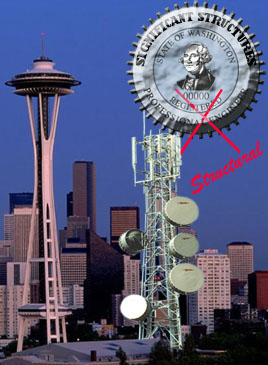 structures in Washington may be prohibited from providing those services after June, or at the latest, December 31, 2010.

During the Washington State 2007 Legislative Session, Substitute Senate Bill 5984, allowing only structural engineers to provide engineering services for "significant structures", was passed by the House 98 to 0 and signed by Gov. Christine Gegoire on April 21.

The provisions of the bill, effective July 1, detailed many structures that were deemed to be significant such as buildings housing explosives, hospitals, fire and police stations, and government communications centers. Among others, it also listed "Structures exceeding 100 feet in height above average ground level."

Tower standard group objects
Many monopoles, lattice towers, stadium lighting and other communications towers exceeding 100 feet in height are structures, but an eleventh hour drive by members of the formulating committee for the ANSI-TIA-222-G tower structural standard is requesting that they be exempted from the "significant structures" category when they are non-occupied and are designed in accordance with TIA, ASCE, or AASHTO standards.
Brian Reese, a professional engineer and Chairman of the TR14 & TR-14.7 TIA Committees, informed the State's Board of Registration that the communications industry's structures, "are not occupied, not sensitive to seismic loading , and are not complex to design due to concise, detailed Industry Standards in existence."
He further stated in his correspondence that requiring specialized board certification for these types of structures would be an unnecessary burden on the businesses and industries involved.
"The public would not be better served with this requirement, as there would be no effect on the design of the structures. The structures would be designed to the same Industry Standards regardless of their classification."
"It should be acceptable for a registered professional engineer experienced with these types of structures to perform their design when an approved national Industry Standard is applicable to their proposed use," Reese said.
It is not clear whether the Board of Registration can rule whether or not communications towers are exempt from the legislation because they are not occupied or if the industry missed its opportunity to register its collective concern following the bill's review by the Senate Labor, Commerce, Research and Development Committee last February.
While the bill primarily dealt with defining what were "significant structures" and who was ultimately required to perform such designs, it contained a provision that enabled the Board of Registration to create a limited waiver of the licensing requirements until December 31, 2010.
The Board presented a draft licensing waiver during two late January workshops that said that applicants must:
1. Be licensed as a professional engineer in Washington State as of January 1, 2007,
2. Submit an application for waiver that is postmarked on or before January 1, 2009,
3. Provide the names of at least three references who are licensed in structural engineering and who have direct knowledge and familiarity of the applicant's competency in structural design.
4. Provide verification, as approved by the Board, of six years of progressive structural engineering experience performing analysis and design of seismic forces of "significant structures". Said experience shall be under the direct supervision of a professional structural engineer and be gained since his or her date of initial licensure as a professional engineer.
Reese informed the Board that if communications structures were to be considered as "significant structures," then consideration should be given to grandfathering in professional engineers that are experienced in the design of these structures.
Comments in writing were required to be sent to the Board of Registration last Friday.