Climbers to get their day in the sun
NBC's "Dateline" to explore the perilous world of tower dogs on July 21
July 16, 2008 - NBC's "Dateline Presents" says it will take "a never-before-seen journey into the hazardous world of the tower climbers who work on the frontlines of America's high-tech communications system."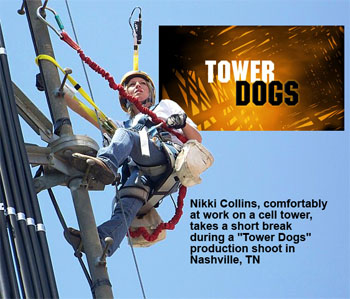 The program, "Tower Dogs," will air on Monday, July 21 at 10:00 PM/ET.

The hour-long broadcast is expected to give an up close and personal no-holds-barred look at tower dogs' lives - up in the air and on the ground.
"We experience their on-the-job tension and watch them work hard, play hard, and mourn when they lose one of their own," NBC said in a press release.
In a twist on all the dangerous-job programs that solely feature males, typically narrated with muscular prose, "Tower Dogs" follows an unusual tower crew boss: a woman named Nikki Collins, a single mom, former cheerleader, and the person keeping her tough-guy charges in one piece.
Although there has been a noted increase in tower construction company owners and climbers that are women, they are in a small minority in a predominately male profession.

The "Dateline" team worked for four months documenting this group of tower climbers as they worked their way through 40 towns and cities in 24 states. During this time there were seven fatalities nationwide, including five deaths in a 12-day period in April.

National exposure long overdue, say many
Millions of people are expected to view the upcoming "Dateline" program on tower climbers, who have proudly adopted the moniker, "Tower Dogs". Monday's "Dateline" - "You Might Be Rich!" - had 6.31 million viewers.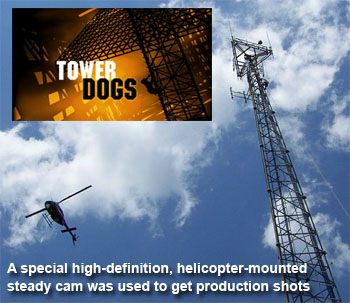 It has long been suggested on industry blogs and bulletin boards that the tower climbing industry would be an excellent subject for specials or reality programming.
And interest is high. A recent RCR News story on the high fatality rate among climbers on Yahoo Tech on July 8 was the day's most visited post with over 1,000 viewers commenting upon the article, many of them suggesting that a reality show featuring tower dogs would be of interest.


NBC would not say whether they were considering turning the experiential piece into a series, but cable channels have embraced their well viewed macho, work hard, play hard in a dangerous profession series that have become popular and profitable due to their universal appeal and lower production costs.
The History Channel follows logging crews in Oregon in their "Ax Men" show and titillates those viewers wanting to observe life on the edge with "Ice Road Truckers" - where Canadian big-rig drivers on unmarked, frozen-over highways brave skeletal ice, whiteouts and sub-zero temperatures to haul equipment and food staples north of the Arctic Circle.
The Discovery Channel's "Deadliest Catch" braves stormy waters to follow the crews of several crab boats in turbulent waters off Alaska.
In a prepared statement to the National Association of Tower Erectors last February, fishing workers were identified by Edwin Foulke Jr., head of the Occupational, Safety and Health Administration, as the second most dangerous job in America, trailing considerably behind the nation's most perilous profession, tower climbers.
On TruTV's "Black Gold," Texas oil rig crewmen are the embodiment of workers partying hard at the end of a long day, nursing a beer if they're not nursing a smashed finger from a seemingly unsafe handling of drilling machinery and chains.
Ten of the mega hit blue collar workplace shows running on seven different cable channels are produced by the king of reality television, Thom Beers. In addition, for its Fall season, NBC has ordered 30 hours of programming of Beers's newest adrenaline-pumping series, "America's Toughest Jobs," premiering Sept. 12.
If NBC were to spin "Tower Dogs" into a series, it might prove to be a formidable major testosterone -TV entry into the high risk series competition of people putting themselves out in places people wouldn't normally go, such as climbing 2,000 feet on a broadcast tower.
Top NBC talent dedicated to the production of "Tower Dogs"
NBC's senior national producer for NBC News, Tim Uehlinger, has been at the helm of the "Tower Dogs" production since last October as supervising producer when he was asked to look at the project by "Dateline's" executive producer, David Corvo.
No stranger to dangerous jobs, Uehlinger has covered both Gulf Wars for NBC. In 1991 he spent three months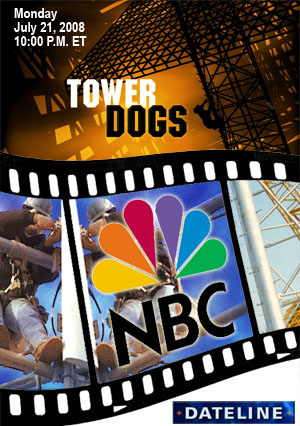 in Saudi Arabia and Kuwait for NBC, and in 2003 he worked two months in Kuwait and Iraq for Dateline NBC.
Uehlinger, a native New Yorker based in Los Angeles, also covered Bosnia in 1998, the Balkans/Kosovo crisis in 1999 and Somalia in 1992. He spent weeks in New Orleans immediately following Hurricane Katrina in 2005, and covered the tsunami in Banda Aceh, Indonesia in 2004-2005.

The Emmy Award winner has produced numerous "Dateline" specials, from crime investigations to setting up a mobile earthquake lab to show an earthquake's destructive power.
Working with Uehlinger most days in the field was Doug Delaney, a special field producer for NBC and former tower dog. Delaney, who originally pitched the idea of a special about tower climbers to NBC, was born in New York and now lives near Lawrence, Kansas. He is also a screenwriter and this Fall is expecting the release of his first major feature film entitled "All Roads Lead Home."
For almost ten years Delaney worked as a top hand for numerous tower service companies as well as a "floater" to fill in for workers while they went on break.
Assisting in the production of the segment was Emmy-nominated editor/producer Paul Venus, who has edited and produced more than 50 primetime hours for NBC, including news and entertainment specials and the 2006 Winter Olympic Games in Torino. Following the airing of "Tower Dogs," Venus will be heading to Beijing to assume his duties as editor/producer for the 2008 Olympic Summer Games.

Also instrumental in the production about tower technicians and erectors was producer Aliza Nadi of Dateline NBC, who spent week after week in the field, covering tower climbers in more
than 30 cities in 20 states.
Although more than 200 hours worth of filming was undertaken in the production, the one hour special has been distilled to 43 minutes of a tower dog's life on the road.

On July 22, WirelessEstimator.com will provide viewer comments regarding the "Tower Dogs" special from other climbers and professionals in the industry. You can send your comments following the broadcast to: info@wirelessestimator.com