"Dogs" diminished on Dateline say some; others believe it's a mirror image of some crews
July 24, 2008 - Some viewers said Monday's NBC Dateline 's "Tower Dogs" was a slice of life program that was very accurate in portraying life on the road of a number of tower crews. Others said it rendered a poor image of the tower maintenance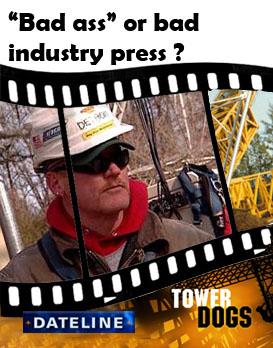 and construction industry, revealed nothing positive, and wasn't reflective of professional crews.
And there were many industry folks who maintained the convictions that they held, prior to the broadcast, that it would be a show that pandered to a larger audience with an insatiable appetite for reality programming that relies heavily upon danger, drama and employee conflict peppered with deleted expletives.
They were correct. "Tower Dogs" delivered that and more, and came in number two in its time period behind CSI, with approximately 5,120,000 viewers.
The opening narration set the stage: Tonight, take a never before journey into their perilous world where one false move can cost a life, and change everything.
They spend long days and nights on the road. A family, whose bonds are forged in blood, sweat and steel.
They live their lives in the air for their loved ones on the ground. And tonight, somebody won't make it down alive.
The common thread holding "Tower Dogs" together was Assistant Secretary of Labor Edwin Foulke, Jr.'s February statement to members of the National Association of Towers Erectors: "Tower climbing remains the most dangerous job in America."
And the producers took advantage of it. Some viewers felt that the tower crew members overemphasized the inherent perils of the job, as if the general public observing the high altitude working conditions were incapable of discerning the dangers involved in the profession.
Intertwined throughout the 42 minutes were numerous conversations regarding safety. There was a tailgate meeting, an equipment inspection, a classroom session and frequent comments from the narrator, crewmembers and others in the program about the need for 100% tie-off and the requirement to observe proper safety procedures.
"Tower Dogs" also had a short segment where Kevin Hayden of NATE reminded viewers to become acutely aware of their environment and to be tied off 100% of the time. "Talk the job out before you start. Constant reminder is a very important aspect of safety," Hayden said.
However, NATE said in a press statement that it was disappointed with the approach that Dateline took with its special, and was concerned that the program did not present an accurate view of the professionalism and work habits of most tower crews.
Viewers surgically dissected each frame
Emphasis in the show about the pressures of ambitious project timelines caused multiple viewers to state that it is a commonplace concern and should be addressed.
NATE said that they too are troubled about the impact that unrealistic timelines and budgets have on safety, and said that the "Tower Dogs" presentation has provided the opportunity for the industry to explore that concern.
"There is an inherent pressure in our industry to work to the clock rather than to the safety needs of the task at hand. It is our hope that this opens a dialogue with tower owners and operators to show the worth of an investment of safety and the importance of taking the time needed to complete the job properly the first time," said Patrick Howey, the association's executive director.
Unintentionally, Verizon Wireless, Sprint Nextel and AT&T Wireless were sponsors of the show.
Thirty two viewers were anxious to point out what they believed were safety violations during the filming of the special. The one most frequently observed was when a line was dropped out of a tower and it hit a worker below. They noted that he was not wearing a hard hat.
A producer observing the mishap, however, said that the worker was wearing one, but after he fell once the rope hit him, it flew off his head.
It was also pointed out that a subcontractor had safety equipment that had to be removed from service, which although commendable, should not have to have been discovered by the general contractor they were working for.
In one scene, says a viewer, the tower tech was incorrectly tied off to a step bolt, even though he acknowledged that 100% fall protection was observed in addition to the lanyard on the step bolt.
One Michigan estimator said he felt that there were some very careless decisions while workers were on the tower, citing a worker standing on top of T-Arms on a monopole, when there were work platforms on the arms.
Most of the comments were on these issues, and a Crown Castle International field worker said he anticipated them.
"I think the tower workers in 'Tower Dogs' should be commended for doing it even though they knew they would be watched by millions of people."
"I don't care how safe companies think their workers are. Put any crew from any company under a microscope and you will find errors, even the ones who tell you how safe they are," he said.
For months, Dateline 's producers followed crew leader Nikki Collins, a subcontractor to Phoenix of Tennessee, a company headed by industry veteran Kyle Waites. During the filming, one of the tower workers, 25-year-old Jonathon Guilford, was the nation's sixth fatality after he fell from a structure in Indiana.
The opening narration alerted its audience to expect a fatality, but it was delayed to the end of the program to pique viewer interest and have them wonder whether it was Jonathon or Cody Pond, a 21-year-old that seasoned climber Sue Paulk said, "had it together and appeared to be a responsible young man who saved his money instead of drinking/drugging it away like some hands do."
"Bad ass" tower worker?
In "Tower Dogs," Nikki's top hand, Ernie Hart, is a cocky climber who is not afraid to tell all takers, "I'm a bad ass tower worker. I've never found nobody better."
Sam Sharpe, Safety Manager, of Excel Tower Services, said there are a lot more capable men out there and it was unfortunate that Dateline found one of the wilder tower hands to follow around on his time off.
"It leaves the impression that we go out drinking, and show up for work just sober enough to function. This job is too dangerous for that type of behavior. For a little more money per hour you can replace that man with someone more responsible, dependable, and I hate to say, knowledgeable. Ernie is far from the best tower hand in the business," he said.
Industry worker Glenn Parnier agrees that Ernie didn't exemplify the best traits in tower climbers, but he knows Ernie well. Well, not Dateline 's Ernie, but people like him.
"There are so many Ernies across the country, you wouldn't believe it. I'm glad they were able to show what oftentimes happens with crews. By the way, this crew was somewhat tame. You'd be surprised as to what happens out there," Parnier said.
Sharpe added that as a safety manager, he found that "Tower Dogs" was an accurate depiction of the "safety first" attitude that is essential in this line of work.
"To reduce, hopefully eliminate, injuries and deaths it has to be an environment that safety is supported from the upper management on down to the newest climber. Our job is unforgiving and this program showed that," Sharpe said.
Gary Tavel didn't appreciate how others might assess the industry after viewing the special.
"There are a lot of companies and people that have been successful and follow or exceed the OSHA rules that are being made to look like a bunch of losers by this ridiculous show and crew," Tavel said.
$14.00 per hour hits a nerve
Jim Miller, President of EasTex Tower Inc. took umbrage with the term 'Tower Dogs' and said he does not refer to any of his personnel as "Dogs". He said that the show does not reflect his and other companies who have struggled to provide customers with safe and qualified personnel, and proper management.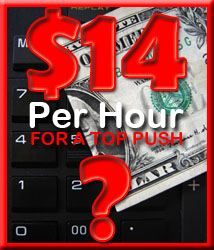 He also questioned why Nikki is paying her top-hand only $14.00 per hour as was reported in the program.
Tower worker Clay Henshle said that the amount was considerably low for the position, but stated, "Since his work ethic is to come and go at will, why in the world would you want to compensate him at the going rate?"
Alice Wolf thought the special was excellent and said she was pleased to see that a show was finally created to give some recognition to the hard work tower hands, both male and female, perform every day.
"Unlike logging and fishing, two other very dangerous jobs, tower work always seemed to fall behind the scenes and I don't think the majority of the public knew the occupation even existed. I hope that the general public walked away from the show last night with a little more appreciation and understanding for the great sacrifices and risks that we all take for the simple convenience of making someone's cell phone ring."
The climber, who is currently sidelined due to pregnancy, said "I think the show fairly represented the lives of tower hands, from the cussing and screaming to the family-like bonds that are created in the wake of spending nearly every moment together. Hopefully, the show conveyed to the public an answer to one of the most common questions - why? Why do we do what we do? Just like anything else, the answer isn't complicated - because we love what we do."
"How many cell crews who watched the TV presentation felt like they were looking into a mirror?" said one company owner.
"My experience interfacing with other crews gave me the impression that the producer, aside from the dramatics, really captured the essence of an itinerant cell crew," he said.
"Dogs" get their day
Joe Davis of TESSCO thought the show could have dealt more with the technical aspects of tower construction and antenna and line installations.
"Being involved in the industry, it was great to see the 'Dogs' get their recognition. The show was well photographed, but didn't really deal with the technical aspects of climbing and climbing safety as those of us in the industry would like to see. It actually was more focused on the entertainment value of the personalities involved. This is not a bad thing; hopefully, more people will have an understanding and appreciation for what climbers do. We depend on them every day for our communications," Davis said.
Deceased's family ended the broadcast in tears
Following the broadcast, a sister of one of the tower technicians that died in 2008 had a greater understanding of what the tower technician's job truly entails.
However, Laura Foster cautioned, "there are too many young people nowadays looking for that next extreme adventure and I think that this portrayal may encourage those with questionable outlooks to try this as a career. Her additional comments as well as other opinions can be seen here .
She said that after watching the show, many family members ended the evening in tears, but left with a greater understanding of what the job truly entails. Her brother, William Bernard, Jr., fell to his death on April 17 from a tower in Frisco, NC. He had been in the industry for over 20 years and was proud of his work.

M.J. Mozak said he has been in the tower industry for nearly three decades and expected a lot more from the program. "I thought that this show would present more information about the industry. Instead it came across like a soap opera or a pilot to a new reality show," Mozak said.
Shenandoah Tower Service Ltd safety manager Wayne Bowyer said, "While the special may be somewhat accurate in their depiction of some tower crews, I stress 'some,' it is not accurate of all. Many of us are not the 'drinking and partying' sort that are depicted in the crew shown. Nor are crews as seemingly unprofessional as that shown. It looks to me like another 'reality show' is in the making."
Bowyer and Mozak may be correct and Nikki might already have an attorney reviewing a number of proposals.
At the end of the show, Field Producer Doug Delaney says: They'll belt up tomorrow and they'll go back up. It's a traveling road show and it's going to continue. This show is going to roll on, and on, and on.