Arizona wireless group to discuss eminent domain at March 1 Tempe luncheon
The Arizona Wireless Association will discuss Arizona's Proposition 207, a recently passed initiative to stop politicians and special interests from seizing homes, businesses to boost tax revenues at their first quarterly luncheon March 1 at the Buttes Resort in Tempe at noon.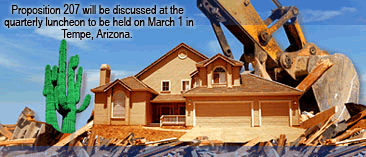 Registration for the event begins at 11:30 a.m. According to Karla Richards, early signup and payment is essential in order for the association to provide an accurate count of attendees.
The state wireless group's launch was attended by 150 people and the goal for this event has been set for at least 200. Reservations can be made at the association's web site: www.azwa.org .
A meet and greet social hosted by the Lyle Company will be held on February 28 at the Butte's Tequila Bar from 5:00 p.m. to 8:00 p.m. The Pappas School has been selected to benefit from proceeds of the luncheon.
Endorsed by the Arizona Chamber of Commerce, Proposition 207 requires just compensation for owners when the government takes the value of their property, encouraging fair transactions between local government and taxpayers. It doesn't affect eminent domain used for things like roads, utilities and schools and doesn't strip the government of their ability to eradicate slums and blight.