Top four tower titans see a robust future fueled by data and AWS spectrum auction
September 25, 2006 - Last year's state of the tower industry report offered an extended level of comfort. Last week's PCIA production of enthusiasm almost required a cautionary forward-looking statement as the big four CEOs presented an overly upbeat financial forecast through 2010 during the wireless infrastructure show's keynote address in Nashville.
"We have seen over the last couple of years what appears to be a settling in of steady carrier improvements to their networks obviously fueled by a great uptake by consumers' wireless devices as we move to data. And we really see the next several years playing out much like the last year, which I think, speaking for all of us, we've enjoyed quite a bit in the wireless industry," said Jeffrey Stoops, President and CEO of SBA Communications Corporation.
Another event that further underscored Stoop's optimism was the AWS auction that was recently concluded where $13.7 billion was spent on spectrum. "When you put it to use over time that is only going to help to fuel that continued investment by our customers in their infrastructure," said Stoops who serves as the advocacy association's chairman.

Data is driving development
John Kelly, President and CEO of Crown Castle International, cited carrier reports that indicated another 25 million subscribers had been added during the first six months of the year and a total of 850 billion minutes of use has been detailed during the same period, up 27% from a year ago.
"Data services were up 70% year over year. They are now a full 11% of the revenues; they were six and a half billion dollars for the first six months of 2006," Kelly said, emphasizing the effect data is having on industry growth.
James Taiclet, Chairman, President and CEO of American Tower Corporation, characterized the tower industry's health in two words: stability and continuity.
"From a stability point of view, all four of the companies represented here got larger last year. AAT was acquired by SBA. Crown Castle made two sizable acquisitions over the past year or so. We merged with SpectraSite and Jerry's company (Jerry Elliot, CEO of Global Signal, Inc.) bought the Sprint towers," Taiclet said.
"And our ability to get and keep business has also stabilized. Our churn rates as an industry are lower than ever. I will actually argue at the end of the day that Sprint/Nextel and Cingular/AT&T mergers are good for the tower industry in the long run and short run," said Taiclet.
On the continuity side, Taiclet said the industry represents a continuity of growth, identifying growth rates among the top four companies as being within a couple of percentage points quarter to quarter, north of 10 percent year after year.
Global Signal's President and CEO, Jerry Elliott provided a fresh perspective to the state of the tower industry. Elliott was appointed to his leadership position at the Sarasota, Florida-based company three months ago.
"The industry is interesting because five years ago it was fairly volatile; it went up and down and I think that outsiders thought it was kind of a little bit unstable. I've seen it as an outsider enter a new phase of stability again and I believe it is extremely healthy going forward, but we are seeing secular macro trends really continue to be very strong facts on our way, whether it is the benefits of the AWS auction, Sprint's 4G build-out that is coming up or the 700 megahertz auctions coming up in a year or two," Elliott said.
Don't build it and they will come - annoyed
Kelly cautioned the capacity crowd to be proactive in educating zoning and planning officials as to community benefits that may be unavailable to businesses and residents due to restrictive siting requirements.
"There are some communities and some states, specifically California, where it is entirely possible that services will be attempted, but they just simply will not be reliable enough so that the user experience is not going to be what it could be if we were otherwise enabled to build the requisite infrastructure to support some of these new services. To get into the data and video applications it takes a different network architecture to what was just a pure voice architecture," Kelly said.
 
Modeo, a subsidiary of Crown Castle, is building out its own DVB-H mobile TV network in the US.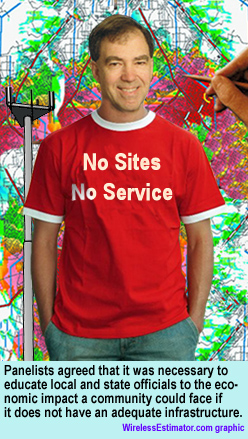 PCIA President and CEO Michael Fitch said it was incumbent upon the industry to continue to appeal to and educate local and state officials to the quality of service and safety communications problems that will be affected if a reliable wireless service can not be built. He also emphasized the need to alert them to the economic disadvantage it could have upon the community.
"It is interesting how little understanding they have that the sites are what gets the signal to the wireless device. I've always thought that we ought to have t-shirts that said 'No Sites, No Service'. I feel like from the association's standpoint we are making some headway with education, and it's a long haul process, but the prospect is more positive if you can educate people before the specific controversy rather than if you are already in the midst of heated controversy at the local level," Fitch commented.
Touching upon industry risks, Stoops said, "I really don't feel that there is any big risk out there. I don't think we're going to be eight track tape recorders in five years. It's really hard to see something that will attack the fundamental stability of our business. We watch carefully for technology changes, something that could obsolete our industry as a distribution channel for wireless implementations - and we certainly don't see anything out there that comes close to that."
Alltel/Verizon and T-Mobile/Cingular consolidations?
Taiclet said that he wasn't sure initially whether recent carrier mergers were going to be beneficial or not to the tower industry. He said there is going to be some decommissioning from the Cingular/AT&T merger and possibly from the Sprint/Nextel marriage, "but what it enabled those two new companies to do was to launch 3G networks at a pace that the four original companies could never have done," he said.
"There may be further consolidations and I guess less likely than in prior years. The two candidates people could consider would be Alltel maybe linking up in some way with Verizon ultimately, or T-Mobile ultimately linking up in some way with Cingular," he ventured.
Taiclet agreed that on both of those fronts there may be regulatory concerns from an anti-trust perspective and it may in fact not be what the companies themselves want to do.
Report: Towers held their own in catastrophes
The panelists echoed an extensive report presented Tuesday on the findings and recommendations of the FCC's Hurricane Katrina panel on the impact on communications networks.
Nancy Victory, the Katrina panel's chair, said that infrastructure weathered the storm incredibly well and the problems were primarily flooding, backup power issues and after storm priority access conflicts.
Kelly said that a lot of positive steps have been taken by the industry towards hardening sites that will make them more reliable in natural disasters. He noted power and backhaul as two major problems. He also stated that raising generators above ground level should be a primary focus.
Only one tower was lost by SBA in Biloxi, Mississippi, Stoops said; however, he said that as a result of the hurricanes his company's property and casualty insurance in general has "shot to the moon".
American Tower had the most towers in the effected zone, over 400. Taiclet said that less than 15 of those were damaged to the extent where customers were interrupted or where American Tower had to rebuild or significantly repair the tower. "It plays to the stability of the tower industry," he said.
Elliott said that only a handful of sites at Global Signal were significantly damaged.
Advanced wireless services auction to add years of work
The AWS auction is being viewed by all tower owners as a healthy revenue generating event, but they're not sure as to when they might be able to begin booking the annualized free cash flow contribution said by some analysts to be approximately 14%, an amount that the panelists say is debatable until the spectrum winners start providing implementation plans.
"Clearly, it's directionally a good thing for the industry. It is, I think, for the first time since maybe the mid 90s, a big enough chunk of spectrum that we now know - we just know it, we can't quantify it, we can't tell you how many sites - this is going to add years of work," Stoops said.

Much of the spending will come from three players. Top bidder T-Mobile USA, which spent $4.18 billion on the auction, is expected to take advantage of the new spectrum licenses to build out a third-generation, or 3G, network to offer high-speed wireless services. In order to do that, the Deutsche Telekom AG unit will need to lease out more space for new network equipment and radios on cellular towers.
Meanwhile, two regional carriers, Leap Wireless International Inc. and privately held MetroPCS Communications Inc., are expected to greatly expand their respective territories. MetroPCS spent $1.39 billion in the auction, while Leap spent $710.2 million.
"Together, Leap and Metro got coverage of more than 80 percent of the country out of this auction alone when they weren't even close before," said Gregory Rosston, deputy director at the Stanford Institute for Economic Policy Research. "The tower companies are going to benefit clearly from Metro and Leap."

The tower company CEOs do not believe the auction will start manifesting itself in revenue until 2007 and beyond.
"It certainly is exciting because you have players that are very interested in doing something with their billion dollar investments. T-Mobile certainly was well known to have been interested in expanding their spectrum position.  This is going to allow them to do new things and bring in new applications and expand their reach to their customers," Kelly said.