Tower tech tats take on a wide spectrum
of excellent art and industry pride
October 17, 2013 – After Thomas Edison invented the perforating pen which was later redesigned for tattoos in the late 1800s, the nation became divided into two groups: those who had tattoos and those who were afraid of people with tattoos or thought they had a deviant personality.

But inking has gone from aberrant to acceptable to a 21st century must-have body fashion statement with over 25% of Americans under the age of 30 inking their skin.
The tower construction industry has a unique and proud culture of art that is not found in other professions. And it makes sense, especially when you can proudly proclaim that you're a Tower Dog, as seen on many workers' tattoos.
What other crafts are as closely knit and clearly defined as Tower Dogs?

Sheetrock Shelties, Fed-Ex Felines, Landscaping Labradors, Pug Pipefitters and Wind Power Whippets just don't have the panache and pride of Tower Dog; someone who has to climb hundreds of feet straight up with maybe sixty or more pounds of tools and equipment.  
Reasons for getting industry-related tattoos vary as much as pricing. They are oftentimes a work in progress and a chronology of experiences, sometimes tragic memorials.
Industry veteran Chas Wagner, a project manager for Morrison Hershfield, had been erecting towers for a number of years for another firm when he decided to get a tattoo in 1993, at a time when it wasn't de rigueur for riggers to sport large inkings.

A co-worker, Stan Krasnodebski, had a tattoo which appeared to be close to a Rohn 90, and in a bit of one-upmanship on detail and product appearance, Wagner settled upon a Rohn SSMW structure.
Over the years he complemented it with the sun and clouds, and thought that a recoloring would be the last of any more body art.
But on September 15, 1995, Wagner and his close friend and co-worker, 25-year-old Dalton Lynn Hunsacker, were installing a Bogner antenna for Bell South Mobility in Key West, Fla. on a 280-foot-tall tower when Hunsacker fell 130 feet, landing on a 12-foot dish's supporting brackets at the 150-foot level.
Wagner said that Hunsacker, who suffered serious trauma injuries, died in his arms during the rescue as the crew was ready to lower him to emergency services personnel.
"Shortly thereafter, I went to the closest tattoo shop in Key West and I had his name added to my tower tattoo," said Wagner. "I don't think I have ever come to peace with his loss, but that day assured me that honoring him as I did was something necessary for me. Maybe it's my way of thanking him for being who he was."

Roy Lozano, employed by The Hooker Company based out of Dallas, Tex., wears his resume on his sleeve – well sort of. He says that the broad-head bull pin which was inked a couple of years ago represents his experience in stacking towers, a dying art form as the majority of LTE installations are on existing structures. Lozano says his walking billboard Site Master logo on his leg is to show his proficiency in the RF side of the tower industry as well. One would think that Anritsu would want to send Lozano a bottle of Tattinger champagne for his tat this New Year's or at least a gift card to Texas Roadhouse as a thank you.
Climber Richard Carrigan has a self-supporting tower and clouds emblazoned along the length of his back. If he ever has a back sprain he can easily inform his chiropractor that it's on the west side X-bracing at the 80-foot level instead of trying to figure out if it's the third or fourth vertebrae above the lumbar curve. It makes sense to us, although we've always wondered whether incorrectly inked stitch bolts or PAL nuts will cause any real or imagined discomfort. 
Tower tech Hector Marquez aptly inked that being a tower dog allows you to be one step closer to heaven. But hoisting a tall cool one after a hard day's work could cause his two climbers to get vertigo as they become one step closer to the chair rail. In addition, a simple flex of his forearm could put the guyed tower twist and sway seriously out of ANSI/TIA 222-G alignment compliance. We'll bet his ink guy never considered that serious structural violation.
Pride in his industry provided the impetus for this excellent ink that tower tech Joe Birge had tattooed about a year ago. It took approximately 2-1/2 hours to complete; about the same amount of time it takes some warehouse personnel to provide crews with a simple list of shorted materials. Birge says the two skulls represent "laugh now, cry later," which may also epitomize a verbal change order for $6,000 that ends up coming through at $500.
At a quick first glance one could possibly think that the base of this structure was a foundation reinforcement designed by a committee of structural engineers, but with a closer look it's obvious that the self-supporting tower's four legs are rooted to the ground, a tattoo tower design Frank DeLorenzo had inked to represent that he is a proud second generation climber of a family that has strong roots in the industry.
Tony Strenke, President of Advanced Tower Components of Salem, Ore., side-mounted this work in progress a few months ago. So far, he has completed one four-hour session and he has another three sessions left. Although he's now busy running his business, he climbed until the late 1990s. As detailed as this is, we presume that once he has added the color, catalog numbers, lengthy descriptions and graduated pricing for all of the safety components illustrated, it will be quite interesting. 

Crew lead Chris Kosinski started this tattoo in April and has approximately 12 hours into the inking and will require at least another three to five hours to finish the color. The artist's charge for the tattoo is around $1,400. "My motivation is simple, I am a tower dog and I want people to know it," said Kosinski. The fierce looking feral tower dog makes no qualms about the fact if provoked it will rip up your monopole in a New York minute, versus those lazy canines content with flipping lit Zippos into a porthole and dropping ribbons of saliva as they watch the structure burn to the point of destruction, requiring a drop and swap.
.

Alabama Crimson Tide and tower dog pride (above, left) was tattooed on Tim McCord's leg in memory of climbers Barry Sloan and Jonce Hubble who died in 2010 after another company's bucket truck collapsed the guyed tower they were on. McCord employed both men and had the tattoo done "In Memory of My Brothers". Hubble's brother, Jason, had a tattoo of Hubble, a rabid Alabama fan, inked on his leg. The tattoo, with laugh lines and great detail is a wonderful portrait and remembrance. Jason says he keeps the hair on his leg shaved, but leaves some for Hubble's goatee.
Tower lead Jason Earl, like many tower technicians, is in excellent physical shape, and his large developed bicep provides an expansive canvas for his original art "May our brothers watch over us" tattoo. Unlike Earl, on occasion you will see a project manager or other industry worker so rotund that they could tattoo San Francisco's Sutro tower sideways on their stomach at a drawing scale of 1:6.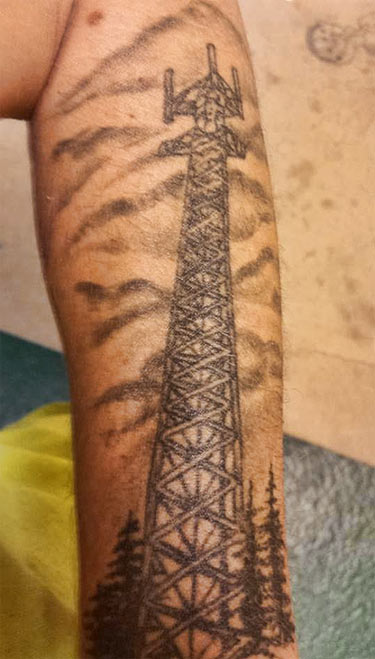 Climber Joe McGraw is rightfully proud of his over one-foot-tall self-supporting tower in a field of evergreens, although he receives no income as the landlord for the two-carrier co-located tower.
Tattooing has been practiced in Japan for thousands of years, but unlike in America where it has become fully accepted, tattooing is considered taboo because many of the Yakuz, the Japanese mafia, wear tattoos.

So do the Asian Boyz, the South Brooklyn Boys and tens of thousands of gang members in America, but it's not a badge of dishonor in this country.

Actually, If you have a tattoo, consider yourself to be walking in the footsteps of greatness.

Thomas Edison, George Orwell, and Presidents James A. Polk and Teddy Roosevelt had tattoos.

Sadly, another Commander in Chief, Andrew Jackson, who was accused of ethnic cleansing of Native Americans, had a tomahawk tattooed on his inner thigh.

Had the Seminoles held a lottery at the time to allow the winner to remove Jackson's tattoo in any manner they desired, they could have easily bought the 1829 Presidential election and paid off the national debt.

Hollywood celebrities love to show off their new tat during their red carpet walks, but oftentimes you wonder, what were they thinking?

Angelina Jolie has a large tattoo on her arm of the coordinates of her children's birth locations. It just doesn't appear to be too outrageously avant-garde and sexy, although geocoding gurus might disagree.


Hopefully, we will not see a tower tech trying to eclipse her creativity by inking gate combinations and transmission line color codes on his or her forearm alongside an obstruction lighting wiring schematic.

Or a crib sheet inked in the palm of a greenhorn's hands: "Lefty loosey, righty tighty."