FCC ruling releases backlog of 1,200 new tower builds held up in tribal review process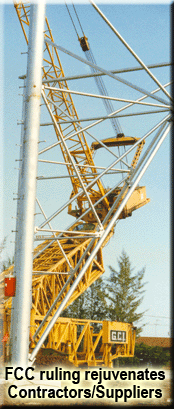 October 7, 2005 -- There was collective industry applause yesterday evening following news that the Federal Communications Commission had issued a ruling that will allow approximately 1,200 new communications towers to be built throughout the nation.
The FCC's Declaratory Ruling brings a deadline to bear on a previously open-ended tribal consultation process that allows American Indian tribes to review proposed construction of towers that might be located on sites of historic or cultural significance. The ruling clarified situations in which tribes have not responded or objected to construction of cell towers.
The ruling is expected to promote a flurry of construction and manufacturing activity throughout the country as carriers quickly move forward to build their long-delayed sites.
In some areas the construction window for new sites is narrowing as winter sets in.South Dakota and North Dakota each have approximately 20 towers that will be able to be built based upon the ruling. A snowstorm struck much of North Dakota earlier this week.
Prior procedure had no deadline
Under the prior system, a tower company or wireless carrier would escalate a siting request to the FCC if, after two attempts, a Tribe does not respond to notification of tower deployment in an area of potential interest to the Tribe. This escalation request would trigger a government-to-government consultation period between the Tribe and the FCC. Unfortunately, no deadline to the government-to-government consultation period existed until yesterday's ruling, leaving almost 1,200 tower siting requests in limbo awaiting finality to a process without a foreseeable end.
PCIA had been working with the FCC Chairman and Commissioners daily during the last several weeks to encourage a swift and definitive resolution to this urgent need.
Essentially, the Declaratory Ruling provides Tribes a 20-day window for response to Commission notification, which could be completed either by letter or email. If there is no response within 20 days of the date of this letter or email, "the Applicant's pre-construction obligations under the Nationwide Programmatic Agreement are discharged with respect to that Indian tribe," according to the Ruling.
Within this 20-day period, Commission staff will also attempt to contact the potentially affected tribes by telephone. Requests pending prior to September 10, 2005, may now proceed with deployment as the Commission deemed their Section IV requirements under the NPA complete.
"We are encouraged that the Commission took yesterday's action to resolve the backlog of tower siting requests and put procedures in place that would establish a definite 20-day deadline for any future requests that require tribal consultation," stated Michael Fitch, President and CEO, of PCIA.
"This ruling provides much needed regulatory certainty upon which tower companies and carriers can implement their infrastructure deployment plans," he said.
Fitch adds, "We are also encouraged by Chairman Martin's and Commissioner Abernathy's statement that tower siting is not a federal undertaking. PCIA concurs with this statement."