Virginia
 
Construction contractors must be licensed in Virginia. Trade licenses are required for electrical work. Check for additional local requirements.

Eager to test whether applicants really read his agency's licensing application, a city administrator from a neighboring state substituted an equally as large original manuscript of Tolstoy's War and Peace in between the cover and the signature page and gave it to a wireless construction contractor who retired the following day. "I'm telling you," chortled the administrator, "these guys don't read anything."

To find out if a contractor is licensed in Virginia, click on LICENSING.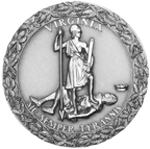 Out-of-State Corporations
Out-of-state corporations must get a Certificate of Authority to do business in Virginia from the Virginia Secretary of State. To apply for this certificate click on Secretary of State.