Talley takes its wireless products to Georgia
December 3, 2013 - Talley Inc. announces the opening of its new facility in Atlanta, GA on Dec. 9, 2013. This new sales and distribution facility will be Talley's

tenth location and second facility to open in 2013. Talley opened its Denver, CO facility on June 3, 2013.
Talley Inc. is a leading distributor of wireless communications infrastructure and mobile products. Talley has served the market for over 30 years and stocks more than 300 top manufacturers.

Headquartered in Los Angeles, Talley now offers 10 distribution centers nationwide.
"Talley is very excited about opening a new facility in Atlanta. This facility increases Talley's footprint in the U.S and allows us to continue to deliver our Best–In-Class service to our Southeast customers," said Mark Talley, President and CEO of Talley Inc.
Talley's newest facility is located at 3100 Shawnee Industrial Way, Ste. 100, Suwanee, GA.
To contact Talley's Atlanta facility, call 678 318-5566 or email sales@talleycom.com.
Talley Inc., founded in 1983, is one of the nation's leading distributors of wireless communications infrastructure and mobile products. Talley's corporate office is in Los Angeles, with stocking and processing facilities in Dallas, Denver, Kansas City, Los Angeles, Minneapolis, New Jersey, Phoenix, Sacramento, Seattle and now Atlanta. It is a privately held family owned company. For more information visit: www.talleycom.com
FCC's freeze contributed to the closing of Stainless' Pennsylvania fabrication plant
October 1, 2013 – Stainless, the U.S.'s largest and most prominent tall tower fabricator, has closed its fabrication shop, and its equipment as well as its buildings and land will go on the auction
block Oct. 10.
According to Gregg Fehrman, president and chief engineer, on a web site announcement, the 66-year-old business is closing its plant in Pine Forge, Pa., due to "reduced demand for tall tower fabrication."
However, according to CEO Don Doty, the company will continue to do engineering, detailing, farmed out fabrication and installation.
Although Stainless and other fabricators weathered cyclical downturns in the broadcast industry, they rallied during the DTV transition, but saw business drop following the transition's completion in 2009.
In April of 2010, a new growth opportunity was announced by the FCC when the agency proposed reassigning 40 percent of the remaining broadcast TV spectrum for wireless broadband which would have provided considerable revenues for tower modifications or new structures.
But it proved to be a double-edged sword.
Last April, the FCC stymied ongoing and new business for Stainless when it put a freeze on all new full-power and Class A TV station modification applications in anticipation of the incentive auction so that it could provide "a stable database" for analyzing repacking.
Stations that had been preparing modification applications to improve service to their viewers and that had completed, the required and costly engineering had nothing to show for their time and expense, and weren't able to commit to tower fabrication or antenna and equipment purchases.
Congress gave the FCC $1.75 billion and three years to compensate broadcasters who change channels, switch from UHF to VHF assignments and make other adjustments as part of a spectrum auction to reorganize or repack the broadcast television bands in order to make available additional licensed and unlicensed spectrum, tentatively scheduled for June of 2014, unless it is impacted by the government shutdown.
At the TV Broadcast Relocation Fund Reimbursement and Related Issues workshop yesterday, broadcasters told FCC officials that they needed to know how stations were going to be re-allotted before they could calculate all of their costs.
Among the reimbursement expenses the FCC is considering covering are new towers, retrofitting, antennas, transmission lines, backup equipment, attorneys and engineering fees and a host of other expenses.

Panelists offering their suggestions and comments regarding reimbursements were: Jane Mago, Executive Vice President and General Counsel, National Association of Broadcasters; Peter Starke, Vice President, Broadcast, American Tower; and Joe Zuba, National Sales Manager, Dielectric.
The FCC said at the meeting it is considering either bulk buying or competitive bidding to assist in staying within their $1.75 billion budget.
They might not be aware of the interesting dichotomy they might have created.
When the FCC froze modification applications, less than two weeks later Dielectric, the broadcast industry's largest supplier of transmission antennas and a major supplier of TV transmission lines, filters, combiners and associated equipment, announced that it was going out of business.
Although Dielectic, owned by SPX, had been reducing its staff prior to the freeze, industry insiders stated the government's suspension would reduce their income considerably and forced them to close their doors.
It might have also been the primary reason that Stainless opted to close their asset-laden, underutilized fabrication plant, which could cause the FCC's broadcasters' reimbursement costs to increase.
In addition, although Sinclair Broadcast Group purchased Dielectric for $4.65 million in June, the company may not be staffed to provide the necessary broadcast products needed to meet the FCC's ambitious 3-year-window for completion, a deadline some consultants say will be impossible to accomplish.
The number of broadcasters that will be moved to new frequencies remains unknown, because the auction is designed so stations can participate anonymously.

Stainless estimates that it has supplied more than 7,500 towers in 100 countries, including more than half of those in use for broadcasting in the U.S.
Fehrman said that their engineering and constructions services divisions remain strong and healthy, "providing all the services we did prior to the shop closure."
" I am confident these changes will pave the way for Stainless' involvement in the broadcast tower industry for many decades to come," he said.
Auction details are available here.
Talley's new Denver location is an instant hit
September 10, 2013 - Just three months after its opening, Talley Inc.'s new Denver facility has outpaced company projections, according to Mark Talley, President and
CEO.
The new facility is Talley's ninth location and was the third new location opened since 2010. Talley opened in New York on July 6, 2010 and in Minneapolis on April 25, 2011.
"Talley is very excited about opening the facility in Denver and its excellent growth. We look forward to continue to bring our first class service model to this market to the benefit of our existing and new customers. It's been a great territory for us over the years and this location has helped us to solidify our position in the market," Talley said.
Their newest facility is located at 14200 E. 33rd Pl., Unit A-1, Aurora, Colo., near the intersection of Sable Blvd. and E. 33rd Pl. For more information, email: sales@talleycom.com.

Talley Inc., was founded in 1983, and is one of the nation's leading distributors of wireless communications infrastructure and mobile products. Talley's corporate office is in Los Angeles, with stocking and processing facilities in Dallas, Denver, Kansas City, Los Angeles, Minneapolis, New Jersey, Phoenix, Sacramento and Seattle. It is a privately held family owned company.
For more information visit: www.talleycom.com
GTP rumored to have put the for sale sign out
Update: September 6, 2013 - American Tower announced this morning that it has agreed to pay approximately $4.8 billion to acquire Global Tower Partners' parent company, MIP Tower Holdings LLC.
- - - - - - - - - - -
August 8, 2013 - Global Tower Partners of Boca Raton, Fla., the largest privately held operator of cell towers in the nation, is being shopped to its larger rivals,
according to The Wall Street Journal and other media. The price tag could be over $4 billion.
GTP CEO Marc Ganzi, who founded the firm in 2003, said that his company does not respond to industry rumors.
Macquarie Infrastructure Partners LP, acquired Global Tower in 2007, paying Blackstone Group approximately $1.43 billion, including company debt. Its portfolio at that time included about 2,500 towers and 4,600 rooftop sites in the U.S. and Puerto Rico.

According to their web site, GTP owns, operates or leases 16,000 wireless sites, including some 6,400 cell towers in the U.S., Mexico and Costa Rica.
Although it is expected that Crown Castle International, American Tower Corp. and SBA Communications will be key bidders, TowerCo CEO Richard Byrne has said that a transaction of this size isn't a right fit for his company right now, according to the Triangle Business Journal.
Byrne, who sold TowerCo's 3,250 structures to SBA last year for $1.45 billion, said he has private investors that could fund the acquisition, but at this time he didn't want to handle a deal so big, especially since the cost to bid the towers might be in excess of $1 million.
Byrne, as expected, is back in the business of acquiring towers and has approximately 164 in the U.S.
If there is a deal the announcement could possibly coincide with the opening of the PCIA 2013 Wireless Infrastructure Show in Hollywood, Fla. Oct. 7-10.
Sabre acquires MUTI, positioning itself as a turnkey infrastructure solution
July 11, 2013 - Sabre Industries, Inc. announced today that it has completed the acquisition of Midwest Underground Technology, Inc. (MUTI), a leading provider of
infrastructure services to the telecommunications industry.
As a result of Sabre's acquisition of MUTI, Sabre is now the only integrated provider capable of offering a single, turn-key infrastructure solution with both products and services to telecommunications customers across the United States, according to Peter J. Sandore, Chief Executive Officer of Sabre.
"The acquisition of MUTI will allow Sabre to better serve our customers by providing a full range of services including installation, maintenance, inspection, and technology upgrades to complement our existing position as the number one producer of wireless communications towers and shelters," noted Sandore.
"MUTI's self-perform business model, focus on safety and quality, and best-in-class service capabilities will serve as key differentiators in the marketplace. Together, we will become the leader in products, services and maintenance in the telecommunications sector," Sandore added.
MUTI will retain its name, facilities and executive staff and operate as the services division of Sabre.
Darrin Peters, President of MUTI, said, "We are excited to become part of the Sabre team and enhance our ability to serve customers. We feel confident that as one company we can offer our customers the finest products and services available on a national scale."
MasTec's Data Cell Systems acquisition swells their LTE install capabilities
April 29, 2013 – Today's LTE crew demands not only mirror, but eclipse the inability for the nation's service companies to obtain a complement of employees to complete carrier project needs that were seen during the heady days of the PCS b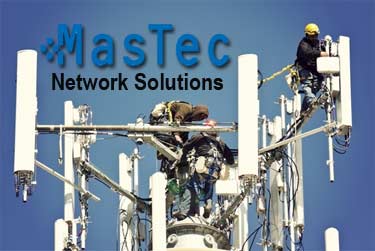 uild-out during the late 1990's.

The answer for successful companies then -- and now to accommodate LTE – appears to be immediate growth through acquisition, as seen last week by the purchase of a major infrastructure contractor, Louisiana-based Data Cell Systems, by key industry player MasTec Network Solutions.

Although the acquisition doesn't assist in fulfilling the workforce shortage, for MasTec it could result in higher profit margins as carriers continue to offer considerable bonuses for site completions.

It will also assist MasTec in additional implementation for its largest wireless carrier client, AT&T.

Data Cell, with approximately 200 employees, most of them in the field, and a strong management team headed by founders Bruce Budagher and Darold Parker, has five regional offices.

MasTec flirted with buying a number of wireless service companies in the mid to late 1990s, but it wasn't until 2008 when it became a major player by purchasing infrastructure construction and maintenance company Nsoro for $17.5 million plus the assumption of $12 million in indebtedness.

At the time, Nsoro's primary customer was AT&T and as it was handed more turfing contracts MasTec's wireless revenue grew from about $70 million in 2008 to approximately $350 million two years later.

Nsoro also benefited from a revised purchase agreement based upon its earnings before taxes which provided a one-time $40 million cash payment plus 1,875,000 shares of MasTec common stock.

Buoyed by Nsoro's success, MasTec then bought in 2011 Optima Network Services, Inc., a wireless infrastructure services company headquartered in Calif., for $5.1 million in cash, plus the assumption of $2.2 million in debt. Optima was also given the opportunity to receive an additional one-time cash payment of up to approximately $5 million if the company's EBITDA exceeded $3 million in the first 12 months following the date of acquisition.

The next acquisition for Mastec occurred in 2012 when it purchased Louisiana-based Dynamic Tower Services, Inc., a self-perform wireless construction contractor, which further increased MasTec's capability to vertically integrate their wireless infrastructure construction services.

DTS opened an additional office and warehouse in Pelham, Ala.

Although exact numbers are not available from MasTec, it appears that they are now equal in wireless service employee count to the nation's largest contractor, WesTower Communications.

A number of industry insiders believe that with the addition of Data Cell their wireless crew and service capabilities are considerably larger.

MasTec did not provide the purchase amount they paid for DTS and it is expected that they will not provide that information for Data Cell.

It is possible that there is an arrangement with both companies that will provide the owners with additional compensation in stock and/or cash based upon a percentage of EBITDA after they've reached a set amount.

Neither Data Cell nor MasTec would comment upon the acquisition.

Data Cell was first founded in 1991 by Parker. The company was sold to Specialty Constructors, Inc, co-founded by Budagher, in 1996. Specialty was later acquired by OmniAmerica which merged with American Tower Corp. in 1998.

Parker and Budagher reestablished Data Cell in 2001.

MasTec is phasing out individual company branding in its wireless division and is providing those services under a single organization known as MasTec Network Solutions.

The company with over $3.6 billion in revenue was founded by Jorge Mas Canosa, father of current CEO Jose Mas. MasTec is the second largest Hispanic-owned company in the U.S., and has over 13,000 employees in North America.

Prior to buying out shares of Church & Tower in 1971 and renaming it MasTec, Mas Canosa turned around the failing business by climbing down into ditches, manholes and trenches to observe workers' construction methods, and working with telephone companies to meet their exacting standards.

It paid off and Bell South Telecommunications awarded him long-term contracts

Mas Canosa died in 1997.

Jose Mas, 40, the company's trim, athletic executive continues to follow his father's business principals of understanding the most efficient and newest construction technologies for continued success.

He appeared in CBS's "Undercover Boss" where the producers bleached his hair and shaved his goatee.

In one segment he was put on a civil crew and the foreman gave him a handled ground rod beater tube to drive the rods. The foreman, not knowing it was the CEO, told him to hit it a little harder, saying: "That will make a man out of you."

It could be conceivable that he might show up on a wireless job site, possibly on a tower if he were to take competent climber training.

But it might be obvious without additional training and expertise that he wasn't cut out for the rigors of tower work. In the "Undercover Boss" video one civil foreman, Hugh, said after a day's work he wouldn't hire him.
SPX takes the industry by surprise with its
decision to close history-steeped Dielectric
April 22, 2013 – Eleven days ago Dielectric salespeople were courting clients in their booth at the NAB convention in Las Vegas, a presence they've maintained for many dozens of years since their founding in 1942.
Today, the well-known innovator and manufacturer of broadcast products, and once a leader in tall tower manufacturing, has closed its doors and has cut off customer contact with the firm until after April 29 as management focuses upon how to handle the shuttering of their unprofitable business.
In a statement, parent SPX Corporation blames "extremely difficult global economic conditions in the broadcast marketplace, and SPX's ongoing efforts to further focus its future growth strategy on its Flow Technology business" for the decision. The move impacts 57 employees in Raymond, Maine where SPX says it is providing outplacement services to help Dielectric staffers find new jobs.
Dielectric was bought by the industrials conglomerate SPX in 2001.
Dielectric General Manager Mark Fichter said, "While you are likely anxious to understand more specifics in how the discontinuation of Dielectric's broadcast and wireless antenna operations may impact your company, we respectfully request your patience and understanding over the coming weeks as we work through the many complex steps associated with this decision."
Since it installed it first digital broadcast antenna in 1994, Dielectric helped lead the U.S. transition to DTV, having provided over 1,300 broadcasters with DTV solutions.
Dielectric used to be a leader in manufacturing broadcast towers. In 2001 it purchased Central Tower and then in 2004 Dielectric purchased Kline Towers, a subsidiary of American Tower Corporation.
It later sold the businesses in 2006 to Liberty Industries' newly formed company, Tower Innovations of Newburgh, Ind.
Dielectric said it would continue to operate in a limited capacity through the end of June. Their primary focus will be on completing outstanding orders.
"We will continue to accept orders on a limited basis for in stock inventory items. However, orders for such items may only be accepted if payment is received up front and in full and delivery is taken on or before May 31," Fichter said.
It is expected that SPX's counsel will be assessing current warranties and agreements.
Dielectric is currently being sued by New Hampshire Insurance Company as subrogee of WHYY, Inc. for a breach of contract claim that says Dielectric was required by a clause in their agreement to provide replacement parts for a period of 15 years.
In 2003, SPX had a short flirtation with Rohn Industries, Inc., inking an agreement to buy the tower manufacturer's assets. However; a month later they were purchased by Radian Communications Services Corporation for $2.45 million more, minus a $175,000 breakup fee.
In 2008, O'Brien Steel acquired the assets related to the tower and pole manufacturing operations of Rohn Products from Radian.
Another company purchase made by SPX in 2003 was Flash Technology from American Tower Corp. for net cash proceeds of approximately $35.5 million. At that time Flash generated an annual revenue of approximately $25 million.
SPX, with more than $5 billion in annual income, and over 15,000 employees, doesn't break out revenues for its companies.
Andrew Systems trims its field employee count
to advance its PartnerPRO mission
February 28, 2013 - Andrew Systems, Inc. (ASI), CommScope's program management and field installation services organization for North American wireless customers, has made a number of employee reductions in an effort to bolster their PartnerPRO Network mission,
according to spokesperson Bill Walter.

"ASI has made the difficult decision to decrease resources whose primary focus is on standalone installation business. ASI believes that these organizational changes are necessary for delivering comprehensive solutions from a global, major initiatives vantage point. ASI is confident that current customers will not be negatively impacted by these changes," Walter said.

Andrew's services group's biggest growth spurt occurred in 2004 when it acquired American Tower Corporation's services arm, ATC Tower Services, for $10 million, adding more than 300 employees.

At that time, ATC Tower Services' annual sales exceeded $60 million and the acquisition provided Andrew with an immediate national construction services presence and additional channel distribution opportunities for their products.

Whereas the nation's troubled financial sector could see another 100,000 jobs cut, employees let go by Andrew can probably bank on being able to find employment at a time when qualified workers are highly sought after.

The shortage of tower technicians and other wireless industry positions more than rivals the scarcity of workers required to build out PCS projects in the late 1990s.

TelForce Group, a wireless staffing firm, has aptly coined the phrase: Human Capital is the New Currency.
How concealment companies and preservationists can strike a balance in wireless siting
January 16, 2013 - What makes good art? Most people will say they can't define art, but they know it when they see it.

That's not so dissimilar from the world of wireless concealment, except in that case, people know good concealment when
they don't see it.
The highly subjective nature of individual reactions to concealment plans can make the approval process challenging. Wireless professionals have become all-too-familiar with the NIMBYism that faces most traditional projects.
When it comes to an installation in a historic district, a protected habitat or an otherwise "beloved" locale, the complications increase.
Concealment became a novel siting approach in the early build-out years of PCS, and the first company to study, innovate and target the industry was STEALTH® Concealment Solutions, Inc., founded in 1992.
From concept to completion, they've worked on storied college campuses, in blazing hot deserts, and on politically-fraught projects, and their CEO Sean McLernon offers these guidelines:
All politics are local
Community associations, boards of architectural review, and preservation groups all share a common trait: they are run by people who want to be liked by their neighbors. So while the federal law may side with a carrier's ability to build a cell site if certain guidelines are met, and state historic preservation departments think a project is in keeping with preserving an existing structure, that's nothing compared to Mr. Smith's desire to be invited to play golf. His neighbors are also willing and more than likely to show up at meetings protesting against the site.
Therefore, McLernon says, "Success relies not always on a rational argument, but on some emotional intelligence. Determine what it will take to get to 'yes' and reverse engineer a solution."
Patience prevails
Concealment companies can work for years on a project, and amass dozens of variations of the design that satisfy all the local review boards.
STEALTH recently completed one two-year project that involved approvals from seven different associations. Success required that designers and the carrier took a long view and let the process unfold. Of course, that can be problematic when, for example, material prices can significantly increase during a lengthy approval process.
"And, while most communities are still managing wireless installations with decades-old codes, progressive municipalities are adopting new guidelines that help ease the approval process," said McLernon.
Water towers prove to be popular
Earlier this year, STEALTH completed an 80-foot high water tower with a 30-inch diameter water pipe to conceal the transmission lines for the four-carrier structure. It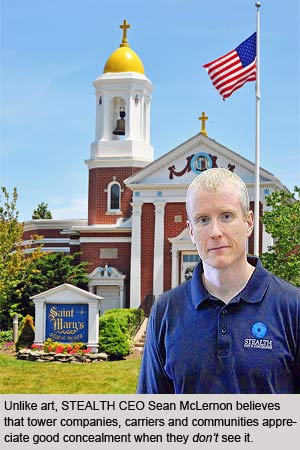 was unanimously approved by the San Dimas, Calif. Development Plan Review Board in 2010, but as with most siting negotiations there were some additional, but easily resolved requests. The planners requested that the tower legs be tapered and the tank should have two citrus packing label designs on the tank barrel.
According to city documents, the planners also wanted a trellis around the supporting structure, but the developer's representative convinced the seven board members that adding a trellis would create an additional expense and he did not feel that it was necessary as visibility from an adjacent freeway was minimal to none. The board agreed.
Water towers can also have some unique requests by planners such as making them look like rusted period pieces, as was the case with a recent installation of a STEALTH-designed structure in coastal Tex. In order to satisfy local preservationists, numerous paint samples had to be created so that the faux rust looked realistic on the RF-transparent materials that won't rust.
Study history
"Designers will have more appreciation for the nuance of a preservation job if they 'get' the importance of history. An installation we did at the nation's oldest college building – the Christopher Wren Building at the College of William and Mary – was a very lengthy process but in the end it was approved for one simple reason: designers studied the structure, the period in which it was built (1695-1700) and didn't even try to 'add on' a wireless structure," said McLernon.
Rather, they replaced the original handmade windows with new RF-transparent hand made windows. Translation: they made it easy for everyone to say "yes," he said.
Rohn Products taps Mark Allen for VP position
December 26, 2012 - Rohn Products, LLC has appointed 40-year wireless industry veteran Mark Allen to a newly created position of Vice President. In his new capacity
Allen will be responsible for global sales, marketing and distribution activity, encompassing both an in-house sales team as well as a worldwide representative network.
"This is an exciting turning point in my wireless career. The chance to join Rohn, the clear leader in tower systems worldwide, just doesn't come along every day," Allen said.
"I have also been a long-time user of Rohn products and actually have admired the company and its products for decades; after all, Rohn is the industry standard. It is a unique opportunity and I appreciate the confidence Rohn senior management has placed in me. I will be working hard, along with a great team, to keep Rohn in the forefront of the tower industry as a new product innovator," Allen said.
Allen, a well known industry public speaker and proponent, will be based at Rohn's corporate headquarters in Peoria, Ill.
Elena Timko joins Talley as Sales Manager of Infrastructure for Eastern Region
September 26, 2012 - Talley Inc. has announced that Elena Timko has joined the
company as Sales Manager of Infrastructure.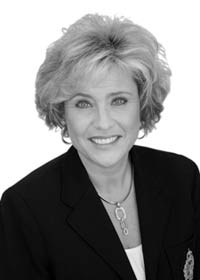 A wireless industry veteran for over 15 years, Timko, who will be based in Sugarloaf, Pennsylvania, will be responsible for driving profitable growth for the company in the contractor and carrier customer segments for the Eastern Region.

"The expansion of our sales team further strengthens our ability to meet the needs of our customers,"noted Talley Vice President of Infrastructure Scott Wenk. "Elena Timko's comprehensive experience will greatly benefit Talley's sales network and clients."

Timko most recently served as Director of Distribution at CommScope where she partnered with wireless distributors to direct inventory management, new product launches and product training. In 2008, she received the Outstanding Achievement Award for Excellence.

Prior to joining CommScope, Timko was the Vice President of Sales for MTS Wireless Components LLC and Summit Manufacturing LLC.

Timko has a BA in Communications from Pennsylvania State University and is certified by Dunn and Bradstreet in Effective Customer Service.
ATC assists in providing better communication services at the Democratic National Convention
September 7, 2012 - President Obama acknowledged last night that times have changed since he first spoke to the Democratic National Convention four years ago.
American Tower agrees in regards to the better wireless communications services available, in part, due to their efforts.
Prior to the Charlotte, N.C. convention, American tower deployed a network optimization project for leading telecommunications service providers which supported the increased communication and data needs of the more than 35,000 delegates, visitors and members of the media who attended the event.

The projects allowed carriers to expand their existing network capacity in efforts to meet the surge in subscriber demand resulting from attendance at the convention. The project consisted of three solutions: an outdoor Wi-Fi network, an In-Building Distributed Antenna System (IDAS) network and an Outdoor Distributed Antenna System (ODAS) network.
"All three of these solutions required a significant amount of orchestration and coordination. We were pleased to be able to deliver these solutions in time for such a high-profile, communication-driven event," said Gerard Ainsztein, American Tower's Senior Vice President, Managed Networks.
"This has been a very exciting project, and it couldn't have come together without the assistance of the customers, local utilities and the City of Charlotte, N.C."
American Tower deployed 20 Wi-Fi access points, 45 ODAS nodes that were installed upon existing street lights and structures and an IDAS network located in a major Charlotte hotel. While this equipment is leased for the use of the existing customers, the core infrastructure is capable of supporting additional services, such as small cell deployments or additional carriers' heterogeneous networks.
Top towerco CFOs to present at Bank of America Merrill Lynch media confab

September 6, 2012 - SBA Communications Corporation's CFO Brendan Cavanagh and Crown Castle International Corp. CFO Jay Brown will present at the 2012 Bank of America Merrill Lynch Media, Communications & Entertainment Conference in Los Angeles, Calif. on Wednesday, Sept. 12, 2012 A live audio webcast link will be available on their company's website.
American Tower Corporation CFO Tom Bartlett is scheduled to provide his presentation on September 13. The audio webcast will also be available on the website.
Cavanagh sold 93,639 shares of SBAC stock on Aug.29, 2012 at the average price of $60.08 for $5,625,831, reducing his shares held to approximately 3,100.
One throws in her hat, another his support,
and another the towel
June 18, 2012 - While the head of PCIA was at the White House supporting the signing of an executive order aimed at accelerating the nation's broadband build-out, an executive of Radio Safety International announced that she will be running for the Kansas Senate, and a long-established gin pole fabricator, Tower Equipment Co.,
Inc., said it will be closing its doors.
Marc Ganzi, CEO of Global Tower Partners and Chairman of the PCIA Board of Directors, joined several industry leaders at the White House last Thursday to mark the signing of an executive order aimed at accelerating broadband, and the launch of the US Ignite Partnership.
Ganzi, along with Federal Communications Commission Chairman Julius Genachowski, representatives from the White House Office of Science and Technology Policy and a host of other industry leaders, participated in the event designed to highlight the challenges and opportunities associated with accelerating broadband build-out.
"I applaud the Administration, I applaud Congress and the FCC for taking action to streamline new infrastructure deployment," Ganzi stated. "Today's Executive Order is an important step toward making government land and government buildings available for the 'pipes and the plumbing' that we talk about as an industry."
Ganzi noted the recently-passed Middle Class Tax Relief and Jobs Creation Act of 2012 has already begun enabling more efficient use of existing infrastructure and enhancing mobile access.

Allen files for Kansas Senate
In filing for the Kansas Senate, Miranda Allen announced on Thursday that she had thrown her hat into the political ring and, when elected, would bring small business experience, education focus and fiscal responsibility to the Legislature.

Republican Allen filed for election to the 32nd District seat in the Kansas Senate.
Allen is vice president of Radiofrequency Safety International (RSI), and has run day-to-day operations of the company for the past five years.
RSI is an environmental health and safety consulting firm, which Allen helped grow into one of South Barber County's largest private sector employers. The company focuses on the telecommunications, industrial, agriculture, oil & gas and wind energy industries, and it has a Virtual University.
For several years, Allen has focused her problem-solving skills on creating jobs and generating economic growth in South Central Kansas. As president of Barber County Economic Development Inc., Allen helped organize the county to take advantage of growth in the oil and gas industry.
She also worked with a team to attract the V Plan transmission line that would enable Flat Ridge Wind Farm, which is slated to be the state's largest wind farm, to sell the energy it produces and has allowed for expansion within Barber, Harper, and Kingman counties.
Allen earned a bachelor's degree from Northwestern Oklahoma State University and an MBA from the University of Colorado.

Paulding pulls out of the gin pole business
Mark Paulding, President of Tower Equipment Co., Inc. announced last Friday that he was closing the doors of his business that he established in 1977.
TEC was well-known for its gin poles designed and fabricated by Paulding.
Ironically, it wasn't a competitive marketplace that caused TEC to cease operations; in fact, said Paulding, he doesn't believe that there is another company in the nation that is presently fabricating the erection equipment.
Paulding said it was over-regulation that forced him to make the decision after the TIA-1019 standard became effective in February, requiring Class B or larger gin poles to be manufactured by an AISC certified fabricator, and he was not going to be able to get that certification.
Class B is a gin pole that uses a steel wire load line size of 5/16" and less than 7/16".
Originally entitled "Structural Standards for Steel Gin Poles Used for Installation of Antenna Towers and Antenna Supporting Structures," the TIA-1019 standard was introduced in 2004.
The March 2011 draft copy and the February TIA-1019-A, "Standard for Installation, Alteration and Maintenance of Antenna Supporting Structures and Antennas," included the need for AISC certification.
Paulding said he has manufactured over 300 poles in the past 35 years and is looking to sell his jigs and fabrication drawings.
The standard was first introduced to assist in the proper operation of a gin pole, but eight years later became an expansive installation standard that also included a required Job Hazard Analysis form.
All gin poles must be permanently marked with an identification number that has reference to a specific load chart. Depending upon the type of pole, engineers will charge between $1,000 to $2,500 or more to provide the load chart.
One structural engineer informed Wireless Estimator that unless he had adequate fabrication drawings and was able to personally inspect the system, he would not provide a load chart.
Sprint inks with Goodman, Overland, Pyramid and WesTower to decommission iDEN network
June 13, 2012 – Sprint announced yesterday that it has signed agreements with Goodman Networks, Overland Contracting, Inc., a construction affiliate of Black &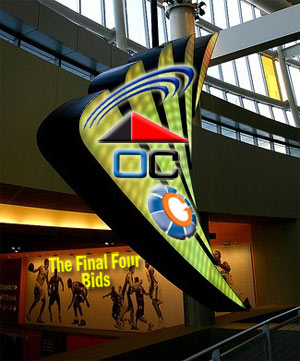 Veatch, Pyramid Network Services LLC and WesTower Communications Inc. to decommission the company's iDEN network. Under the terms of the deals, these suppliers will negotiate lease termination agreements, restore cell site compounds and remove Sprint network equipment for re-use or recycling.
Although the project will provide short term revenues for construction contractors, the decommissioning will affect incomes of the major tower companies. An anticipated hit to Crown Castle International's tower revenues will be approximately 2-3%. However, Sprint is still obligated to pay the tower rent until 2014.
Sprint recently announced that it plans to cease service on the iDEN Nextel National Network as early as June 30, 2013, which marks another major milestone on the path to completing the Sprint Network Vision plan. Network Vision is a multiyear initiative to provide an enhanced network experience by improving voice quality and providing faster data speeds, while creating network flexibility and reducing operating costs.

Network Vision also improves environmental sustainability by reducing electricity use and driving down greenhouse gas emissions. Today's announcement underscores Sprint's commitment to decommissioning the iDEN network swiftly and efficiently. To begin preparing for the more robust network consolidation, the company expects to shut down a total of 9,600 iDEN sites before the end of the third quarter 2012.

"After a thorough RFP process, Sprint has selected the best suppliers to cost-effectively hit our milestones for site shutdown, enabling the company to exit from those locations at a minimum cost," said John Harrison, vice president-Network Supplier Performance Management. "In addition, we have taken extra care in selecting these suppliers to ensure our industry-leading green standards are maintained."
Customers using the legacy push-to-talk service are being moved to Sprint's Direct Connect service, a CDMA-based push-to-talk service launched last October.
MUTI and SBS join forces to better serve the
wireless construction industry
April 25, 2012 - In a move to expand their customer base and client offerings the owners of Midwest Underground Technology, Inc. and Southern Broadcast Services, Inc. have created a separate partnership, Southern Broadcast Services, LLC.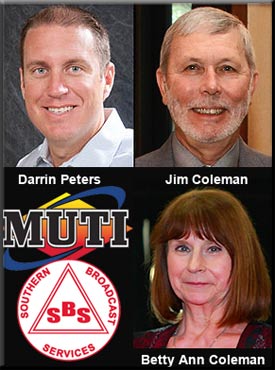 SBS's owners, Jim and Betty Ann Coleman, have joined forces with MUTI's president, Darrin Peters, to collectively employ over 180 seasoned employees spread throughout the Midwest and Southeastern U.S.
Peters will be the manager of the new corporation; Coleman will be the president and Betty Ann Coleman will serve as the company's southeastern area director.
Founded by Peters in 2000, MUTI began specializing in horizontal directional drilling and utility construction. Later that year MUTI entered into the communications tower industry by performing multi-site maintenance and full site construction utilizing its in-house service crews.
Today, MUTI is still growing and is recognized for its quality of work in a safe, efficient and economical manner in the telecommunication industry.
Through four office locations in Ill. and Mo., MUTI employs over 160 employees, performing work on a national level for Fortune 500 companies.
MUTI's SITE software is recognized by many tower owners as a premier tool for the management of their communications sites and maintenance budget. MUTI's commitment to quality is reflected in the equipment that they utilize, their work history, and the company's dedication to the wireless communications industry through their involvement with the National Association of Tower Erectors and OSHA, according to Peters.
Peters has been a strong voice for the standards set within in the communications industry. Additional information about MUTI is available at www.mutionline.com.
Established in 1973 by Jim and Betty Ann Coleman, SBS has years of experience with which to meet all facets of communications needs specializing in the installation and maintenance of broadcast structures.
SBS emphasizes integrity, honest principles and best practices; they pride themselves on being trustworthy, loyal and passionate about serving their customers' needs, said Coleman.
With more than 39 years in business and over 125 years combined employee experience in the communication industry, the Pelham, Al. company provides its customers with regularly trained crews in the latest broadcast, PCS, cellular and microwave markets who are focused on safety and quality.
Coleman is the Chairman of the Board of Directors of NATE and also serves on the NATE STAR Initiative Management Team and the OSHA relations committee.
In addition, he is an active member of the Society of Broadcast Engineers, a Professional Member of the American Society of Safety Engineers and a founding member of the Alabama Wireless Association. Find out more about SBS at www.southernbroadcastservices.com.
Cox couldn't grow in wireless, but sees
an opportunity in the tower biz
April 23, 2012 - Cox Communications has said that it will contribute approximately 150 towers as part of an even greater investment by its parent, Cox Enterprises, Inc., in InSite Wireless Group LLC of Alexandria, Va.
The deal makes InSite the 17th largest tower owner in the nation, raising their tower count to 583, according to Wireless Estimator.


The investment marks an end to Cox's deserted wireless strategy. In 2008, Cox began developing its own wireless network but determined in 2011 that it was a fated venture and agreed to sell its wireless spectrum to Verizon Wireless for $315 million.
Terms of the investment were not released, but the value of the towers alone exceeds $60 million.

Jamie Kennedy, vice president of Corporate Development for CEI, describes the new partnership as an example of Cox's strategy of helping build growth businesses within the technology, media and telecommunications sectors.

"The investment we're announcing is not only in InSite's business, but also its people. The wireless tower industry continues to see significant opportunities for growth, and InSite's experienced management team has a successful history of capitalizing on these opportunities. Not only do they share our outlook on growing the business, but they also share similar values and goals with our other Cox companies. We look forward to working with them in the years to come," Kennedy said.

"InSite, its investors, and its employees are enthusiastic about this new relationship with Cox," said David E. Weisman, president and CEO of InSite. "We view this as a unique opportunity not only to add to our current tower portfolio, but also to continue the strong growth of both our tower and DAS divisions as we benefit from Cox's equity investment, as well as their knowledge and expertise in the communications sector."

MSO Comcast Corp. took a different approach last Sept. when it created a separate unit, called CTI Towers Inc., to manage and lease space on 800-plus towers that were previously handled by individual Comcast cable systems.

CTI owns approximately 154 towers.
Connect-It Wireless welcomes in 2012
with a new facility and catalog
February 3, 2012 - Connect-It Wireless Inc.'s business plan since 2003 has been to offer mounting hardware built to uncompromising quality standards to satisfy a wide variety of wireless site installations.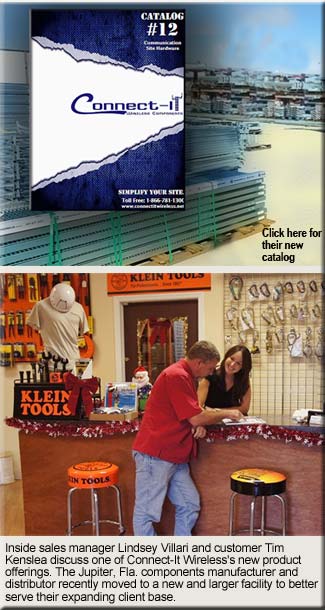 The concept won out with carriers and contractors, and to meet their customers' increasing needs, the Jupiter, Fla. manufacturer and distributor recently moved into its new facilities with a greatly expanded warehouse, fabrication plant and outside storage facilities.

Connect-It also has a spacious will-call desk and inside sales facility featuring many of their new products.
"We're truly excited about our ability to continue to meet the ever-expanding components and product needs of our clients and provide them with hundreds of new offerings," said Alisa Rumore, Vice President of Sales and Marketing.
RFS and Andrew jumpers and connectors are just a few additions to their product line which are now in Connect-It's new catalog which is available by emailing Rumore.

The new catalog is also available for download on the company's web site.

During the past ten years, owners Jim and Faith Schultz have established an excellent reputation for providing quality products and reliable service.
"They understand the need to provide low cost, high quality products to the fast paced wireless industry and it's just one of a number of reasons we have become one of the leading suppliers of installation products, equipment and supplies," said Rumore.
Connect-It also offers custom fabrications. The new Jupiter, Fla. facility is located at 210 Commerce Way.
-
FWT announces expansion into Ohio
January 27, 2012 - FWT LLC, one the leading manufacturers in the design and fabrication of custom steel structures for the utility and telecommunications industry,
has announced its expansion into Ohio through the purchase of a plant in the Village of Hicksville last month.
The facility will allow FWT to be able to serve its existing and new customers in the new plant with over 320,000 square feet on approximately 94 acres.
It is expected that in excess of 200 jobs will be added to support this manufacturing and office facility.
The expansion supports FWT's strategic initiatives to serve the growing demands and needs of our customers in the utility and telecommunications industries.
"This expansion marks a milestone in the company's history and allows the Company to support our customers with an improved geographic presence with a full operational plant facility. We are committed to meeting our customer product needs," said Fred Moore, CEO.
FWT expects to start production in the spring and is working with Ohio state and local governments to plan necessary staffing, training and skill set development.
"FWT not only has grown with our customers since the inception of our company but has laid a legacy that exceeds 50 years," Moore said.
The company's core focus revolves around customer service, innovation, quality and a commitment to excellence. FWT has locations in Fort Worth, Tex. and Hicksville, Ohio.
-
American Tower's $175 million deal will position the company as the largest Ugandan tower owner
December 8, 2011 - American Tower Corporation and MTN Group Limited today announced that they have entered into a definitive agreement to establish a new joint
venture tower company in Uganda, which will acquire all of the existing tower sites from MTN Group's operating subsidiary in Uganda, numbering approximately 1,000, for an agreed upon purchase price of up to approximately $175 million.
ATC Uganda will be managed by American Tower, and will be controlled by a holding company of which American Tower will hold a 51% stake and MTN Group will hold a 49% stake.
American Tower will pay approximately $89 million for its stake in the new holding company. MTN Uganda will be the anchor tenant, on commercial terms, on each of the towers being purchased. American Tower also expects that ATC Uganda will build approximately 280 tower sites for MTN Uganda over the next three years, as well as pursue opportunities to build tower sites for other wireless operators in Uganda.
The transaction is expected to close in the first half of 2012, subject to customary closing conditions. Upon the close of the transaction, ATC Uganda will be the largest owner and operator of tower sites in Uganda.

"We are pleased to announce the launch of our operations in Uganda, again in partnership with MTN, Africa's largest mobile operator," said Jim Taiclet, Chairman, President and Chief Executive Officer of American Tower.

"Our strategy is to invest in select African markets with strong wireless growth potential and a positive investment climate. Our investment in Uganda is further evidence of our execution of this strategy. In addition, we are building upon our successful partnership with MTN in Ghana where our tower expertise, operational excellence and a focus on delivering growth and value from the asset portfolio, are highly complemented by MTN's regional operational experience."

Group President and CEO of MTN Group, Sifiso Dabengwa, added: "Infrastructure sharing makes absolute sense for MTN and we expect it to play a significant role in reducing our long-term infrastructure costs. The Ugandan market has presented us with an opportunity to continue to build on our strong working relationship with the experienced team at American Tower". MTN owns approximately 33,000 towers across its 22 operations in Africa and the Middle East.

"Because market conditions in each of the markets are unique, we will continue to evaluate infrastructure sharing opportunities on a market by market basis going forward," Dabengwa said.
-
FiberTower falls apart at the seams
November 16, 2011 - What appears to be a perfect storm of distressing news has put FiberTower's stock into a tailspin today, plummeting the backhaul provider's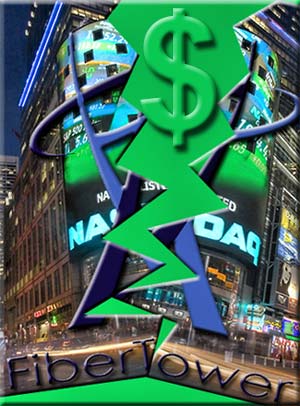 noontime trades to a 60% loss.
Whereas missed earnings can cause a considerable drop, FiberTower announced some serious problems in addition to a wholesale bailout of directors as well as its Chairman of the Board, John Kelly.
Kelly, the former President and CEO of Crown Castle International, joined Phil Kelley, Crown Castle's Senior Vice President and Randall Hack, President and Chief Executive Officer of Capstone Capital L.L.C. in announcing their resignation from FiberTower's board of directors earlier this week.
In a statement today, the mobile services backhaul provider said it has missed an interest payment on its convertible senior notes due 2012. The company has 30 days to find a way to restructure its debt before it's declared officially in default.
FiberTower, a component of Wireless Estimator's Sector Watch, also said it has missed a Nasdaq deadline to file its Q3 report as it is still working on finalizing the amount of impairment charges it needs to take. As a result of continued customer early service terminations experienced in the quarter, its decision to limit investment in its legacy network, and expected future cash flows lower than its network's carrying value.

The company said that it has reduced its workforce approximately 40%, and has halted all capital and project related spending in an effort to conserve existing liquidity.

FiberTower also said it plans to write down the value of its network equipment and construction in progress. The total charges are expected to be in the range of $150-$170 million for the third quarter.
It also plans to impair its FCC licenses by $158-$170 million, reducing their value to $87- $129 million.
Adding to FiberTower's problems, yesterday the company said that it received a letter from the Nasdaq Stock Market stating that it no longer complies with the rules required for continued listing on Nasdaq.
The company has 60 days during which to submit a plan to regain compliance.
Two months ago, FiberTower saw a 15 percent increase in one day after Ted Weschler, who has been newly appointed to oversee a piece of Berkshire Hathaway's investment portfolio, said he has interests in the company.
The newest member of Warren Buffet's investment arm was previously acting as a managing partner at Peninsula Capital Advisors where he had accumulated 7 million shares of FiberTower.
Hack and John Kelly are advisory directors for Berkshire Partners, a Boston-based private equity firm not affiliated with Warren Buffet's Berkshire Hathaway.
Berkshire owns Tower Development Corporation, a group that pursues new tower builds and acquisitions in close partnership with Crown Castle.

Berkshire assisted Crown Castle in its transition to public ownership through its 1998 IPO and subsequent sales of equity securities.
An early investor in FiberTower, Crown Castle was stung by the company's poor performance and reported that it had reduced the value of its FiberTower investment by taking a $75.6 million write-down during Q4 2007.
American Tower Corporation also invested in FibreTower, providing about 13% of the company's seed money.
Please see: Shining star tarnished
-
GTP enters Central America with Costa Rica deal
November 11, 2011 - Global Tower Partners has closed a deal under a stock purchase agreement to purchase Centennial Towers CR, SRL, which includes over
250 towers currently constructed and occupied by the major wireless telecommunications operators in Costa Rica as well as a significant pipeline of additional towers in various stages of permitting and construction still to be developed.

"This transaction represents a strategic decision by GTP to invest in the Costa Rican tower sector and establish ourselves as the largest provider of tower sites in Costa Rica," said Marc C. Ganzi, Chief Executive Officer, Global Tower Partners. "Costa Rica's wireless spectrum is dominated by investment grade wireless carriers who are deploying and will continue to deploy significant capex over the coming years as Costa Rica implements the privatization of its wireless spectrum."

"GTP is very excited to be part of this vibrant wireless market," said Jose Sola, Senior Vice President, Corporate Development for Latin America. "The founders of Centennial have an excellent reputation in Costa Rica and the region for developing towers. We look forward to furthering this reputation over the coming years with our wireless customers and business partners."

"We went through a lengthy process to find the right acquirer of this business both to maximize shareholder value and continue growing the business professionally with the major wireless operators in Costa Rica in the next few critical years" said Jonathan Bettsak, Director, C.R. Transmission Holding Corp. "We chose GTP given their reputation for closing transactions quickly and fairly as well as their reputation for operational excellence among the major carriers, both in the United States and Latin America. Today, we are extremely happy with the choice we made and look forward to a great working relationship in the future with GTP to maximize customer satisfaction."

Terms of the transaction remain confidential between the parties.
-
Colorado tech wins Anritsu's "tough site" Harley
November 9, 2011 - Anritsu Company has announced that Matthew Myers of Union Wireless is the winner of Anritsu's Toughest Site Competition, held to honor and acknowledge the challenges field engineers and technicians face as they deploy,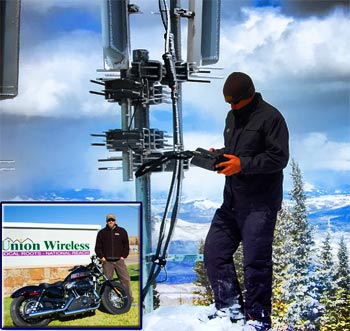 install, and maintain wireless networks.

Myers, who maintains nearly 40 different cell sites in Colorado, must overcome significant weather and environmental obstacles on an almost daily basis, and has been awarded a Harley-Davidson motorcycle for having the "toughest site."

"The professionals who install and maintain wireless networks have extreme jobs. They must deal with intense technical issues, not to mention snakes, scorpions, bears, desert-like heat, and freezing cold to keep a network live for their customers. We created the Toughest Site Competition to see some of our customers' challenges, and thank them for their excellent work and dedication, even under the most difficult conditions," said Donn Mulder, Vice President and General Manager, Anritsu Company.

"Selecting Matthew was very difficult, as every submission showed us just how challenging it is to make sure wireless networks operate properly."

Myers uses the BTS Master™, and S331C and S820D Site Master™ analyzers when he is deploying, installing and maintaining the towers, which are located as high as 13,000 feet above sea level. Many of the sites can only be accessed using a snow cat from October to August and temperatures can be as low as -50°.

A particular tower that poses one of his greatest challenges is on Baker Peak. Winds can reach 110 MPH and the 11,942-foot mountain peak is so steep the antenna pipe mounts have been driven directly into the rock.

"I can't afford to make mistakes. My team and I have to trust our vehicles, clothing, and each other," said Myers. "My test gear is no exception. The results have to be accurate. I trust the results of all my Anritsu test gear."

To learn more about the toughest site finalists along with their videos and photographs, click here.
-
GTP goes green with its first solar system
October 21, 2011 - Global Tower Partners has announced that it has deployed its first solar system solution, in partnership with Design Energy Alliance, at one of its fully generator-powered cell tower sites located in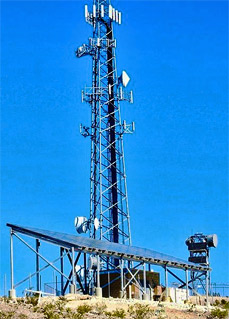 Sleeping Beauty, Calif.

This solution provides an environmentally-sound energy alternative while reducing the operational expenses associated with continuous maintenance and operations of primary generators. It enables GTP to lower its generator use and fuel consumption by 45% on a site located at an environmentally-sensitive location protected by the Bureau of Land Management.

"GTP views alternative energy solutions as an opportunity to deploy eco-friendly power to its sites where traditional grid power is not available," stated Marc Ganzi, Global Tower Partners Chief Executive Officer.

"Sleeping Beauty is a pristine and scenic land area, and we are pleased with the opportunity to reduce greenhouse gas emissions in this picturesque part of the country," said Ganzi.

"We are excited about this accomplishment and will take the lessons learned from this project to provide similar efficient and environmentally-friendly solutions at our other locations that meet the needs and requirements of these types of energy solutions," added Bernard Borghei, Senior Vice President of Operations.
-
Industry sees acquisitions, agreements
and one carrier name change
October 3, 2011 - A number of acquisitions and agreements have recently been announced by wireless infrastructure companies as well as a carrier name change.
Cellular South changes its name, but sues AT&T under its old one
The ninth-largest wireless carrier by customers, Cellular South, has changed its

name to C Spire Wireless, but is letting its contractors and subscribers know that it's just a corporate makeover and will not affect any agreements in place.
They said it's all about offering a personalized customer experience in which customers will see "services that anticipate their needs, and rewards they'll get just for using their phone in new ways."
However, one thing they're not about to change is their adamancy about their belief that the AT&T / T-Mobile merger is not good for the nation.
Cellular South, in a recent complaint filed in federal court in Washington, said the merger "threatens to substantially lessen competition" and cause it significant losses and damages.

"The merger of AT&T and T-Mobile is anticompetitive, and will result in consumers facing higher prices, less innovation, fewer choices and reduced competition," Cellular South said in its complaint.
AT&T has asked a judge to dismiss Cellular South's lawsuit as well as one from Sprint.
C Spire owns approximately 114 communications towers.

Tower engineering firm IETS acquired by NB&C
Network Building & Consulting LLC of Hanover, MD has acquired IETS Engineering

Services of Charlotte, NC. The new entity will be named NB&C Engineering Services.
Founded in 1997, IETS has become known as an industry leader in tower engineering, structural analysis and tower modification design under the leadership of Bill Griswold.
"This acquisition will allow NB&C to broaden its service offerings to its diverse list of wireless service provider and communications infrastructure clients," said Thomas Kane, NB&C's President.
Founded in 1984, NB&C is one of the longest-standing site development firms in the United States, and serves some of the leaders in wireless communications and infrastructure including Verizon Wireless, AT&T Mobility, T-Mobile, Sprint, Comcast, Crown Castle, and American Tower.

Wireless EDGE awarded statewide ODOT tower contract
The Ohio Department of Transportation has
partnered with Wireless EDGE to offering wireless telecommunications siting opportunities throughout the state.
The program includes antenna site management of ODOT's 45 existing towers and development rights for new towers on ODOT properties and right-of-ways.
"This program will streamline and expand opportunities for commercial carriers to provide wireless telecommunications services along Ohio's right-of-ways", said John Arthur, Wireless EDGE's President and CEO. "Our plan is to turn the perception upside-down that governmental properties are last resort for wireless carriers. Over the next couple of months, we will be working closely with ODOT to completely overhaul the process and introduce the new program to the wireless carriers in the market."
Last year, Wireless EDGE entered into an agreement with Peppertree Capital Management, Inc. to provide an equity commitment for tower funding for the company's development of wireless tower facilities.
The New Rochelle, NY-based company specializes in site acquisition, program management, construction management and in the development and permitting of antenna facilities on landmark buildings and in historic districts.

LiteWorks and LKC partnership will expand capabilities
Two industry companies, LKC Systems, Inc. of Gaithersburg, MD and LiteWorks,

Inc. of Chincoteague Island, VA became aware of each other's capabilities while working on government projects and recently announced a partnership to offer numerous expanded and upgraded services to their numerous clients.
LKC has an ISO 17025:2005 accredited calibration and testing laboratory on Wallops Island, VA.
In addition to supporting the NASA Wallops Flight Facility, LKC supports governmental and commercial customers nationwide from that location.
Complementing LKC's services, LiteWorks, has specifically supported clients at the NASA Wallops Flight Facility and the Surface Combat System Center.
Founded by Scott Edwards in 2003, LiteWorks, a service disabled veteran company, provides telecommunications services for installation, repair, and maintenance of fiber optic systems and communication towers.
George Barstis, a retired Army officer, is President of LKC, a firm that has been providing engineering, testing, repair and calibration services for electronic and electronic test equipment for over 35 years.
Atlantic Risk Management acquired by BB&T
Well-known telecom insurer Atlantic Risk Management Corporation of Columbia,
Md. has been acquired by the nation's sixth largest insurance broker, BB&T Insurance Services.

The insurance unit of Branch Banking & Trust Company said the deal will provide an "attractive foothold" in the metropolitan Baltimore area, and broader reach in the Washington DC region.
Atlantic Risk will operate as BB&T-Atlantic Risk Management. Mary Ann Marbury, Atlantic Risk president, will continue to oversee the operation. BB&T Insurance Services operates an existing Maryland agency in Frederick, BB&T-Frederick Underwriters.
In 1995, Atlantic Risk Management Corporation established its Telecommunications Insurance Division, providing coverage for independent cellular tower owners, paging companies, and associated firms. This program, which is endorsed by PCIA, the Wireless Infrastructure Association, now provides coverage to numerous tower companies located throughout the U.S.
David J. Saul, a partner of Atlantic Risk Management, presently oversees the Telecommunications Insurance Department.
-
Comcast jumps into the tower business with former ATC VPs at the helm
September 28, 2011 - Comcast Ventures, the venture capital affiliate of Comcast
Corporation, announced that it has formed a new portfolio company, CTI Towers, Inc., which will own, operate, and develop telecommunications towers throughout the United States.

CTI Towers is launching with a portfolio of almost 800 towers. Approximately 154 are owned by CTI and the remainder, owned by Comcast Cable subsidiaries, will be managed by CTI.

CTI-owned towers, primarily located in the Northeast, include: CT, 14; DE, 3; MA, 31; MD, 23; NH, 10; NJ, 31; PA, 29; and VT, 13.

Headquartered in Boston, CTI Towers will actively lease tower space to wireless operators and other tenants, creating additional tower capacity for rapidly evolving businesses and technologies across the U.S.

Comcast Ventures also announced it has named Anthony "Tony" Peduto CEO of CTI Towers.
Peduto previously served as the Chief Operating Officer of Optasite, a company that engaged in the acquisition and development of telecommunications tower sites. It was acquired by SBA Communications.
Prior to his employment at Optasite, he was Vice President of the West and Northeast regions of American Tower Corporation, a leading provider of wireless and broadcast towers worldwide.

"As a new entrant with an extensive portfolio of un-leased tower space, CTI Towers will offer a coherent solution for mobile operators that are looking for suppliers offering an extensive regional portfolio of sites to improve their coverage," said Peduto. "CTI Towers will expeditiously cater to customer requirements with an experienced team of dedicated tower professionals."
As Sr. Vice President of Sales, John "Sonny" Peterman will be responsible for all sales and leasing activity at CTI.
Peterman was formerly a Sr. VP of Sales and Marketing at iPCS Wireless, one of Sprint's largest network affiliate companies operating in 15 states.
Prior to his work with the wireless carrier, Peterman was Regional Vice President at American Tower for the Midwest and Central Regions from 1998 until 2003.

With 154 towers under ownership, CTI is currently the 28th largest tower company in the U.S.

Sprint, one of CTI's collocators, has been speaking to Comcast recently, according to published reports, to purchase Clearwire outright. Comcast has invested over $1 billion in Clearwire.
-
Valmont Site Pro 1 expands;
Talley forms new products group
September 12, 2011 - Valmont Site Pro 1 has announced the opening of their newest fully stocked distribution center near Dallas. With six locations the company says it can now reach 96% of the USA with its products in 1-2 Days.

The Dallas warehouse is located at 2045 Westgate Dr., Suite 110, Carrollton, Texas. The distributor, which manufactures many of its cell tower
components, has additional locations in New York, Georgia, California, Indiana and Oregon.

- - - -

Talley Inc. announced the formation of their Technical Products Group (TPG) which will be responsible for training, inventory and sales for what they refer to as active products.

The products included initially will be microwave radios and in-building repeaters.

"Talley understands our world is becoming more complex and the creation of this team will ease the transition from both the education and execution standpoint. Our goal is to provide the best in class products and the addition of the TPG will insure we will continue to deliver the best in class service as well." said Hal Wooden, Vice President of Sales.

Rhys Fernandez has been promoted to Director and will take over full responsibility for the TPG. The team supporting Rhys will include Ernie Soto as Sales Manager and Talley's Sales Engineering Group.
-
Skyway Towers announces $65 million growth financing to expand its portfolio
July 15, 2011 - Skyway Towers, LLC announced today that it has completed a $65,000,000 debt facility with Goldman Sachs Specialty Lending Group.


The senior credit facility will allow Skyway Towers to continue the growth of its tower portfolio throughout the country.

Currently the 24th largest tower company in the U.S., Skyway owns more than 250 multi-tenant broadband towers nationwide, from Maine to Hawaii, including recently constructed suburban and urban towers in the Washington DC/Baltimore/Virginia, Philadelphia, New York, Los Angeles, Dallas, Houston, Atlanta, Tampa/Orlando and Detroit metropolitan markets.

Skyway's Senior Vice President Eric P. Bondurant stated, "We are pleased to obtain this financing commitment from Goldman Sachs, which will support our mission to continue to offer the highest quality customer service and speed to market for our national wireless carrier partners."

The company has an additional 100 towers in development, Bondurant said.

Skyway Towers, LLC is a Delaware Limited Liability Company headquartered in Tampa, Fla.
-
Safety LMS offers new on-site and classroom training for workers at height
July 13, 2011 - Safety LMS founder and President Gordon Lyman has chosen John Paul "JP" Jones to lead the company's new training division offering on-site/classroom and open enrollment courses for the telecommunications and
wind energy industries.
Jones has over 34 years in the telecommunications tower construction industry and has been a senior fall protection and rescue instructor for over 15 years.
"JP brings a new dedication to the safety of the workers. He is truly committed to making the vertical world as safe as possible for all occupations that require climbers to be exposed to the ever present danger of a fall," Lyman said.

"The days of the old school ways of teaching and using outdated equipment and methods are over. You have to constantly evolve to stay ahead of the curve in order to keep these folks safe and coming home to their loved one," said Jones.

Lyman and Jones are active members of the National Association of the Tower Erectors' OSHA relations committee and the ANSI10.48 telecommunications standard subcommittee. Lyman also holds active positions on the ANSI Z359 fall protection committee and the ANSI TIA/EIA 1019 gin pole standard for telecommunications structures.

The company is committed to being current and up to date on all of our course modules and will update its curriculum annually or sooner if a new standard dictates such, said Lyman.

All of the Safety LMS courses are designed around the ANSI 490.1 standard for the "Criteria for the Accepted Practices for Safety, Health and Environmental Training."

"Safety LMS takes great pride in the fact that all of their instructors are seasoned tower builders and bring real world knowledge to the training arena," explained Jones.

Safety LMS can bring the training to your facility or you can enroll in a regularly scheduled class held in Austin, Texas.

The training company has the following courses available for on-line and/or on-site training: Authorized Climber, Competent Climber Refresher, Authorized Climber/ Rescuer, Competent Climber/ Rescuer, OSHA 10 hour for Towers, First Aid /CPR/ Blood Borne Pathogen, Base Mounted Hoists and Gin Poles, Capstan operations and Hoisting, Basic Rigging for Towers, Fundamentals of RF, and Crane Spotter & Signal Person.

For more information please visit their website at www.safetylms.com or check out the nation's only Training Resource Calendar provided by Wireless Estimator.
-
Industry marketer Lisa Ogden passes
June 17, 2011 - Well-known industry marketing manager Lisa E. Ogden, 48, of
Harrisburg, Penn. passed away unexpectedly on Thursday.

The Business Development Manager for Nello Corporation had been active at State Wireless Association meetings and wireless trade conferences.

Previous to joining Nello in 2004, she was the national sales manager at Penn Summit Tubular, LLC.

Ogden was a consultant to various companies and marketed 112 towers as the owner of Ryan Consulting from 1998 through 2002.

Prior to that she was Traverse Bay Group's marketing director.

"Ms. Ogden was instrumental in helping establish Nello as a premier tower manufacturer in the communications industry. She was a valued teammate and she will be dearly missed. On behalf of everyone at Nello Corporation, I would like to extend our deepest sympathy to her family and friends," said Nello President Dan Ianello.

Ogden was a graduate of Ferris State University.

Born July 19, 1962, in Northport, Mich., she was the daughter of Bruce W. and Betsey (Seaman) Price.

Survivors include her son, Ryan, of Harrisburg, Penn.; her parents; brother, Rodney Price of Hastings, Mich.; sister, Naomi Price of Lansing, Mich.; nieces, Katelyn and Adelyn Price; one uncle and several aunts and cousins.

She is preceded in death by her brother Bruce Floyd Price and both sets of grandparents.

Cremation has taken place and a memorial service will be held on Friday, June 24, 2011 at 11:00 am with a luncheon immediately following the service at Redeemer Presbyterian Church, 402 West Ninth Street, Traverse City, Mich. The Rev. Daniel Millward will be officiating.
-
GTP picks up all of Cricket's towers
May 4, 2011 - Although Global Tower Partners announced today that it has purchased all of Cricket Communications, Inc.'s 130 towers, it neither detailed the price nor identified whether it would still employ a core group of goats.
Last year Cricket hired a herd of goats to dine upon troublesome growth at some of
its Oregon cell sites to clear brambles covered with tiny black fruit that was blocking compound entrances.
Notwithstanding any mammal maintenance agreement, Marc C. Ganzi, CEO of GTP, said his company has had a long-standing partnership with Cricket that they were proud of, and the transaction represented another milestone in that relationship.
He said Cricket will remain a tenant on all of the towers.
"We are also very excited about the prospects of growth on this unique set of urban tower assets and the ability to supplement our presence in California, Arizona and Colorado, where many of these towers are located," Ganzi said.
"These locations will allow us to better serve our customers on the West Coast, especially in the urban core, as they continue to further build out their 4G networks. We are delighted to further strengthen our relationship with Cricket," said Alex Gellman, GTP's President and COO.
GTP owns or master leases more than 13,000 sites, including 3,800 owned towers throughout the U.S.
-
Talley announces the opening of its eighth facility

April 25, 2011 - Talley Inc., one of the nation's leading distributors of wireless communications and mobile products, has announced the opening of a new facility in the Minneapolis area.

It will be Talley's eighth location and will be the second warehouse within a year to be opened. Talley opened in New York on July 6, 2010.

"Talley is excited about opening our eighth warehouse nationally in Minneapolis. We look forward to providing another level of service to this territory by having the inventory locally to support our customers' immediate needs," said Mark Talley, President of the Santa Fe Springs, Calif.-based company.

Talley's newest facility is located at 1170 Eagan Industrial Rd., Suite # 5 in Egan, near the intersection of Egan Industrial Rd. and Service Rd. West.

For additional information, email sales@talleycom.com.
-
Anritsu to trade a Harley for the most challenging site
April 6, 2011 - Think you have the toughest job in the world?

Anritsu wants you to prove it by entering their Toughest Site Competition.

And for your troubles you could win something equally tough: a Harley-Davidson motorcycle.


Simply tell them how you and your Anritsu gear endured the toughest cell site project in America.

They want all of the gritty details: the blistering heat; the freezing cold; the vertical climbs and, of course, the technical challenges. Send them your pictures, video footage, or even a diagram of your site, to prove your point.

Twelve finalists will win a HD Flip Camera and each month they'll feature one of their stories on Facebook and YouTube.

Here's a case where the worst site will be appreciated and one grand prize winner will ride away with a Harley-Davidson XL 883L SuperLow motorcycle.
-
Valmont Structures assists in
analyzing nation's wireless towers
March 16, 2011 - AT&T and Verizon are frequently at odds in their advertising as to who has the most cell sites and coverage throughout the nation. The dispute even required a decision by a federal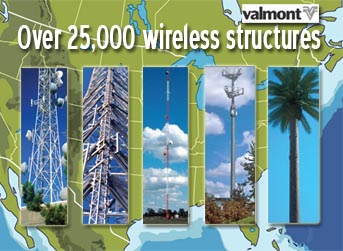 judge.
However, it's quite clear that Valmont Structures can state that their communications towers throughout the country represent one of the largest portfolios of structures in America, servicing AT&T, Verizon and all other wireless providers trying to capture market share.
Valmont's impressive 25,000-plus structures are a result of Valmont purchasing PiRod in 2001 and consolidating the Plymouth, Ind. plant with Microflect in Salem, Ore., to complement Valmont's towers throughout the nation.
With 4G and other high-data-intensive wireless networks expanding, tower owners are investing in a tower analysis to determine if their existing structures can safely carry additional loads.
With the original engineering drawings in hand, Valmont has become the provider of choice for many companies needing an analysis to current TIA/EIA standards and applicable codes.
Although Valmont says that certified documentation can be provided in approximately five business days, they realize the urgency of some projects and now provide an expedited tower analysis service that can be delivered in 24 to 48 hours.
If the existing structure cannot handle the planned load, the Valmont team can analyze and recommend tower reinforcement options which may enable the project to proceed.
Tower owners can count on the feedback received from Valmont as a Professional Engineer certification is included with all tower analysis services.
For additional information about Valmont's engineering services, call 800-547-2151 or visit their web site at www.valmont-towers.com.
-
MUTI opens technical services division
March 15, 2011 - Telecommunications general contractor Midwest Underground Technology, Inc. has announced the
opening of its technical services division, Telecom Services Company, LLC.
The division will be lead by MUTI's President/CEO Darrin Peters along with industry veterans Geoff Bennett and Scott Kisting, and further solidifies the company's commitment to provide its clients with a complete portfolio of quality turnkey telecommunications services.
TSC will be based out of MUTI's corporate headquarters in Champaign, Ill. and will provide a wide variety of new services including, full turnkey microwave installation and commissioning, cellular equipment upgrade/removal and testing, T1/T3 installation and testing, battery and power plant installation and testing as well as a number of other service disciplines.
Peters brings over 15 years of construction and telecommunications industry related experience to the division and will serve as the President and Chief Marketing Officer.
Kisting brings over 25 years experience in telecommunications and is a subject matter expert for the OSHA Training Institute. He has also consulted the FAA and FCC on various matters. Kisting has worked with the standards groups of several national carriers; he will serve as the Vice President of Consultation Services.
Bennett brings over 20 years experience in the telecommunications industry having worked in field operations as a lead tech and manager for a national cellular carrier for 14 of those years. Bennett has considerable experience in knowing what is required for network systems to provide the highest levels of customer satisfaction.

He will serve as the Vice President of Technical Services.

Founded in 2000, MUTI employs over 140 employees within four office locations in the Midwest, performing work on a national level for Fortune 500 companies across the nation.

For additional information, visit www.mutionline.com.
-
Talley announces three new Vice Presidents
March 10, 2011 - Talley Inc., one of the industry's largest wireless distributors, named Pat Flynn, Glenn Lee and Scott Wenk company Vice Presidents.


Flynn, who was named Vice President Market Development, most recently served as the Director of Technology. He is a five year Talley veteran, and brings 29 years of industry experience including positions with Bell Atlantic Mobile and AFL Telecommunications.

Flynn will be guiding Talley into the next stage of wireless networking.

Lee is now Vice President Information Technology, having previously served as Information Technology Department Manager.

A California State graduate, Lee has been with Talley for nearly 20 years. He will continue to maintain and grow the company's powerful network infrastructure and telecommunication system across the national network of seven separate facilities.

Wenk, is also a long-term Talley employee and has over 15 year of experience in the wireless industry including stints at Rohn Industries and Andrew. He is promoted from Director to Vice President, Infrastructure. Wenk will continue to expand and develop on new wireless infrastructure opportunities for Talley.

In commenting on the promotions, company President Mark Talley said "It's always a pleasure to see Talley employees grow and succeed. This is well-earned recognition for their accomplishments and their dedication to their customers, co-workers, and the company itself."

About Talley: Talley Inc., founded in 1983, is one of the nation's leading distributors of wireless communications infrastructure and mobile products. Talley's corporate office is in Los Angeles, with stocking and processing facilities in Dallas, Kansas City, Los Angeles, New York, Phoenix, Sacramento and Seattle. It is a privately held family owned company. For more information visit: www.talleycom.com
-
Industry veteran earns Talley Inc. award
March 7, 2011 - Hal Wooden, Vice President of Sales at Talley Inc. and a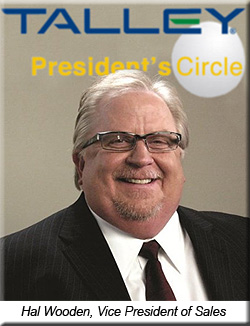 wireless industry veteran of over 20 years, was given the 2010 President's Circle Award.

Hal is one of only six people to have received this award.

Talley President Mark Talley, in commenting on the award noted, "Over the 10 years Hal has been part of our organization he has been an important part of developing and driving our sales organization. The Talley sales team is one of the most experienced and tenured in the industry: their focus on creating customer-centric solutions is the basis of our service model. Hal has built off of the strong industry service model of Talley and enhanced our reach into providing cost effective product solutions to our customers."

The President's Circle Award was presented at the company's sales meeting.

The citation reads: "In recognition of his exceptional performance, dedication, and contributions to the Talley team. For your time, dedication and willingness to achieve our corporate goals."

The award recipient is selected by the company president.

Talley Inc., founded in 1983, is one of the nation's leading distributors of wireless communications infrastructure and mobile products. Talley's corporate office is in Los Angeles, with stocking and processing facilities in Dallas, Kansas City, Los Angeles, New York, Phoenix, Sacramento and Seattle. It is a privately held family owned company. For more information, visit: www.talleycom.com
-
Sabre Industries' organizational change
promotes Peter Sandore to CEO
March 6, 2011- Sabre Industries, Inc. has announced that Peter J. Sandore, COO, will become the President and Chief Executive Officer, effective immediately, while
current President and CEO, James D. Mack, will become Executive Chairman of the Board of Directors.
Sabre Industries, Inc. designs and manufactures infrastructure products for the electric transmission and distribution and wireless communications industries.
Mack's leadership since 1992 has been instrumental in transforming Sabre from a family business into a market leader.

He will continue to play a key role in the future of Sabre Industries, Inc. by focusing on strategic direction and future growth of the company.
Sandore joined Sabre Industries in April of 2009 as an Advisor to the Board. He has over 30 years of experience in the wireless tower and components industry, including the position of President and CEO of American Tower Services.
"Pete Sandore brings exceptional strength to our leadership team," said Mack. "His extensive experience in the wireless communications industry, along with his ability to grow and expand a variety of businesses, provides Sabre with the focus and drive necessary to capitalize on the opportunities that lie ahead."
Sandore will work in partnership with Mack and Jim Tholey, CFO of Sabre Industries, to provide the direction necessary to meet the company's aggressive growth plans.
A leading manufacturer in the infrastructure industry, Sabre Industries, Inc. designs and manufactures towers, poles, shelters, tower accessories and utility structures.
Services include complete site construction and field maintenance. For further information on Sabre Industries, Inc. and its various divisions, visit their web site at: www.SabreIndustriesInc.com.
-
An innovative ComTrain emerges with new leadership, web site and corporate location
February 16, 2011 - Since 1996, ComTrain has been one of the nation's leading sources for telecommunications tower climbing, fall protection and rescue training. As the industry progresses in climber safety, things evolve and so has
ComTrain.
ComTrain announced today that it is operating under new ownership and management.

Zane Windham has stepped in as the ComTrain's new owner/president.

With the new ownership come some significant changes to the ComTrain program. One of which is the move of the ComTrain home office and training facility to Austin, Tex. from its original location in Monroe, Wis.
Over the next year or so ComTrain will be constructing a new high tech training facility with both indoor and outdoor training structures.
Another change is the introduction of the heightech-PMI TowerPackII as ComTrain's primary descent and rescue device as well as the introduction of the ComTrain equipment store and launch of the new logo and website.
ComTrain is also adding several new courses such as an OSHA 10 hour course for tower workers, First Aid/CPR for tower workers and a new 40-hour Tower Construction and Technology Course.
Comtrain's courses still include, Tower Climbing, Safety & Rescue, Advanced Tower Climbing, Safety & Rescue, ComTrain In-House Instructor, Non-Climber Rescue assist and Course refresher/re-certification classes.
Courses under development are; Rigging for tower construction, Helicopter construction for telecom sites, OSHA 30 Hour for tower workers, Welding Safety for telecommunications sites and Wind Turbine Climbing Safety & Rescue.
Winton Wilcox, Comtrain's founder still serves Comtrain in a consulting role and will continue to support the well-respected company throughout 2011.
"ComTrain is very fortunate to continue to have such a wonderfully diverse fleet of instructors with over 150 years worth of combined experience in the telecommunications, electronics, Fire/ EMS/ Rescue and general construction industries," said Windham.
He said that ComTrain is looking forward to better serving the telecommunications industry through growth, new ideas and innovative training techniques. For additional information, visit their website at www.comtrainusa.com for more information and class schedules. Their classes and schedules are also available on WirelessEstimator.com's training calendar.
-
New American Tower DAS Vegas network highlights Verizon's LTE capabilities
February11, 2011 - American Tower Corporation announced that it has deployed and is now operating its first 700 MHz Long Term Evolution Multiple In Multiple Out In-
Building Distributed Antenna System network at the Las Vegas Hilton in Las Vegas, Nev. in coordination with the launch of Verizon's 4G LTE network.

This represents American Tower's first in-building LTE MIMO network out of more than 200 DAS installations.

American Tower deployed the network to support Verizon CEO Ivan Seidenberg's keynote address highlighting the carrier's vision for LTE 4G wireless technology and the rollout of new 4G devices at the 2011 Consumer Electronics Show in Las Vegas last month.

Seidenberg took the opportunity to applaud the FCC's broadband plan to reclaim underutilized spectrum.

"Television broadcasters are unhappy, but they have borrowed spectrum from the government and have seen their public audience shrink from 100 percent of Americans to under ten percent. They are squatting on our broadband future. This spectrum needs to be repurposed and reused," Seidenberg said.


American Tower's project represents not only a milestone of new technology, but also of process and efficiency, as it required significant coordination and was completed in less than four weeks with minimal disruption to hotel operations.
This was achieved by implementing MobileAccessVE, a network solution which allowed American Tower to utilize existing cabling from the legacy DAS network.
"We were pleased to deliver this DAS network in time for an important industry event and 4G product debut," said Gerard Ainsztein, American Tower's Senior Vice President of DAS Solutions. "This has been a very exciting project, and we are proud to have played a part in helping a major national customer share their advanced 4G wireless network with the consumer electronics industry."
In addition to the 700 MHz LTE MIMO installation at the Hilton, American Tower recently completed another DAS installation in the Kansas City Convention Center in Kansas City, MO in December of 2010.
These installations add to the company's growing portfolio of over 200 in-building and outdoor DAS networks. For more information about American Tower LTE capabilities and DAS network solutions, please contact Harry Wolle, Director of Business Development, DAS, at harry.wolle@americantower.com.
-