AT&T construction and engineering chief reportedly taking Goodman Networks' COO job
Update: December 5, 2014 - Goodman Networks has announced that Ernie Carey will take the helm of the design, engineering, construction and deployment
firm's operations as its chief operating officer.

In a press release, Ron Hill, Goodman Networks' CEO said, "Throughout his long telecommunications industry career, Carey has successfully managed a variety of vast and complex systems and networks, including responsibility for all aspects of one of the nation's largest wireline and wireless infrastructures.I'm excited to have Ernie join us as our Chief Operating Officer, as he will bring industry knowledge and focus that will enhance Goodman's growth strategy, portfolio expansion and operational excellence."

He did not identify where Goodman's previous COO, Cari Shyiak, will transition to. AT&T has not named Carey's replacement.

Carey left AT&T at a time when the carrier is sharply cutting back on its infrastructure development. He had reportedly approved the development of AT&T's cell site of the future plans which were recently scrapped after the engineered loading of the antenna systems proved to be too much for existing towers, overloading the capacity of many structures.
- - - - - - - - - - - - - - - - - - - - - - - - - -
December 4, 2014 – Ernie Carey, Senior Vice President of Construction and Engineering for AT&T, has reportedly been hired by Plano, Tex.-based Goodman Networks, according to individuals familiar with the appointment.

Carey shepherded the carrier's $14 billion Project Velocity- IP to expand 4G LTE and increased its U-verse business as well as its fiber offerings.

In short, many infrastructure companies' profitability was based upon decisions made by Carey over the years.

Carey began his career with Southwestern Bell in 1974 and progressed through a series of operations, engineering and marketing jobs.

Since 2008, Carey was responsible for planning, design, construction and capital maintenance of the wireline and wireless network infrastructure across AT&T's national footprint, including Hawaii, Puerto Rico and the Virgin Island.

Goodman Networks is reportedly preparing a news release to be issued later this afternoon to announce Carey's new role in the company. The company did not immediately reply to a request for additional information.

Carey's leadership role will assist Goodman in meeting their ambitious goals following the opening last month of an office in Nuremberg, Germany to launch their expansion into Europe.

In an earlier release, Goodman Networks CEO Ron Hill said, "We plan to leverage our extensive experience with DAS and small cell network design and installation projects to assist carriers and businesses meet growing demand for mobile traffic in Europe. We are excited to begin the globalization of Goodman Networks, building on our strong foundation of success with leading U.S. carriers, businesses, and large public venues."

In April, Goodman Networks said that it had filed a registration statement with the Securities and Exchange Commission relating to a proposed initial public offering of its common stock. The number of shares to be offered and the price range for the proposed offering have not yet been determined.

Goodman Networks is not the first turfing contractor to hire a key AT&T executive. MasTec Network Solutions hired Rick Suarez who was AT&T's Southeast Vice President of Construction and Engineering. He currently serves as MasTec Network Solutions' President.

A Goodman Networks manager familiar with Carey's hiring said that he will begin his new role on Monday, Dec. 8, 2014.
Deadline's near to order shirts to benefit tech
September 23, 2014 - Friends and co-workers of Tommy Jeglum continue to reach out to the industry to seek donations to assist the seriously injured tower tech who currently suffers from brain injuries that impair his speech and mobility.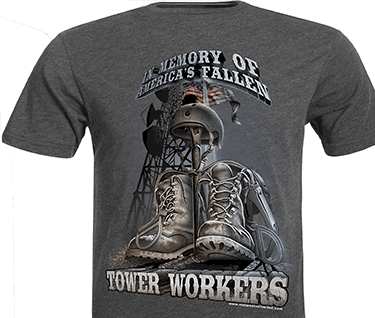 To assist Jeglum, a Sacramento, Calif. tech, who fell approximately 50 feet off of tower in June of 2013, Midwest Unlimited is offering a dedication shirt to all fallen tower workers that will benefit him in his recovery. The deadline for placing an order is Sept. 30, 2014.

After being in a coma for two months, Jeglum beat the odds of survival accorded similar accident victims his doctors said; 90% eventually die or remain in a vegetative state.
After Tommy was able to sit up and eat, and started to regain some control of his speech, he and his fiancée, Regina, were married on Christmas day.
But, with two children to raise, limited income and staggering medical expenses that may or may not be covered, these are trying times for the Jeglums.

To order your shirts, visit Midwest's tribute shirt page here. Sizes are available from small to 3X-Large at $24.95 each.
CITCA expands with another safety training facility near Indianapolis
September 23, 2014 - CITCA - the Communications Industry Training and Certification Academy in Bourbonnais, Ill., has announced the opening of a new regional training facility in Camby, Ind., near Indianapolis.
Developed in cooperation with Heartland Solutions Corp, the new facility features both indoor and outdoor training towers, allowing year-round training opportunities in the often challenging Midwest weather.
"We were excited from the first visit we had with the leadership team at Heartland Solutions," said Steve Wilder, President and CEO of CiTCA. "We immediately sensed that Mark Fisher, President of Heartland Solutions shared not only our passion for competency-based training, but the same commitment to safety that we have made since day one."

This new location represents the fourth regional training facility that CITCA has established. "We have formed some incredible partnerships and relationships" Wilder said.

"We have actually walked away from potential locations in the past; not because the location was bad, but because the company did not share our visions and values on safety and training. For a relationship like this to work, the synergy has to be strong."
In addition to the new location in Indiana, CITCA also has regional training facilities in Staunton, Va.; Alvarado, Tex; and Morgantown, W.Va.

"The use of regional training facilities has been an incredible money-saving resource to our customers," said Wilder.

For more information, or for class schedules, contact Sharon Allen from CITCA at 800-313-5159 or email sallen@citca4training.com . Class schedules can also be found on Wireless Estimator's training resource calendar.
ROHN™ appoints new regional sales directors
January 9, 2014 -Mark Allen, Vice President of ROHN™ Products in Peoria, Ill., has announced two key additions to ROHN's field sales and support group.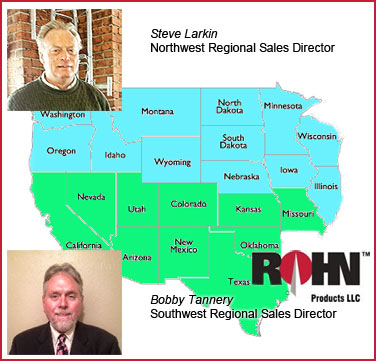 Bobby Tannery has joined the company and been appointed as Southwest Regional Sales Director, based in Arlington, Tex.
Tannery has 25 years of sales and tower experience, most notably with Hutton Communications Company of Dallas.
"We believe that Bobby's combination of professional sales experience and familiarity with ROHN™ product lines will be of significant benefit to ROHN's clients," said Allen.
The newly created sales territory consists of the states of; Tex., Okla., Mo., Kan., N.M., Colo., Ariz., Utah, Nev., and Calif.
Steve Larkin will lead the Northwest as the company's Regional Sales Director. He'll be based out of Bloomington, Ill.
Larkin has over 30 years of sales and tower experience as General Manager of Hill Radio Company / Communications Construction Inc. of Bloomington. Additionally, he has more than 25 years' experience in the field erection and construction of various towers, structures and sites, having supervised the erection and dismantling of many guyed and self-supporting structures.
Larkin's newly created sales territory consists of the states of; Ill., Wis., Iowa, Minn., N.D., S.D., Neb., Mont., Wyo., Idaho, Wash., and Ore.
Allen said, "The addition of Mr. Tannery and Mr. Larkin is a very positive statement about the company's commitment to manage and further develop client relationships in the central and western states. Clients in these regions will immediately enjoy an improved level of responsiveness from ROHN™ by virtue of these two professionals. Both of these gentlemen are well known wireless industry professionals both with significant levels of experience to assist customers with their tower requirements."
ROHN™ is a privately held tower and tubular products designer and manufacturer headquartered in Peoria, Ill. Founded in 1948, the company enjoys a global presence with products installed on every continent.