Cellular carrier will try to abate $115,000 in fines stemming from Colorado tower climber's death
September 6, 2005 - Viaero Wireless of Fort Morgan, CO will be seeking reductions in their Occupational Safety and Health Administration (OSHA) citation fines
totaling $115,000 resulting from an accident west of Yuma on February 25 that caused the death of 35-year-old Stephan Ballasch when he fell 180' while working on a cellular tower.
According to Christine Corrigan, Team Leader of the Denver OSHA office, an informal conference will be held today to discuss the citations. Reductions in the amount of penalties can be made for good faith on the part of the employer and if there is no previous history of violations, Christine said.
In some cases, penalties may be reduced in exchange for a company's prompt correction of problems in order to protect their employees at the site and avoid litigation, explained OSHA area director Herb Gibson who emphasized that "This accident could have been avoided by following recognized safe work practices for climbing communication towers."

One serious, two willful citations issued
Citations issued against Viaero Wireless by OSHA's Denver area office alleged one serious and two willful violations of OSHA standards.
Stephan Ballasch had been transitioning on an antenna mounting frame when a faulty snaphook on his lanyard failed, according to his mother, Linda Ballasch, who spoke
with her son's crew members following the accident. She said that they had informed her that Stephan was using two lanyards to climb and was correctly tied off. He suddenly fell 20' to another mounting frame which pushed him away from the tower.
OSHA inspected the equipment and identified the safety lanyard as being faulty, stating that "…the employer did not ensure that positioning device systems were inspected prior to each use for wear, damage, and other deterioration, and that defective components were removed from service. A damaged snaphook was used as a component of a positioning device system which was attached to the body harness of an employee climbing and working on a 180' tower. This damaged snaphook was not removed from service upon evidence of damage, thereby exposing this employee to fall hazards of up to 180'."
They also cited N. E. Colorado Cellular Inc., doing business as Viaero Wireless, in their willful violation for not protecting employees from falling by having a guardrail system, safety net system, or personal fall arrest system when working on a surface six feet or higher. The combined willful violations have a proposed penalty of $56,000.
A serious violation set at $3,500 detailed that Viaero Wireless "…did not ensure that employees were adequately trained on the requirements for adequate fall protection when working on communications towers."
Non-man-rated hoist used
A second willful violation, not involving Ballasch's death, but found during the investigation of the accident was set at $56,000 due to OSHA's belief that "…the employer did not comply with the manufacturer's specifications and limitations applicable to the operation of the hoist. The employer was hoisting personnel with a
hoist whose manufacturer's manual specifies, 'The drives described herein are neither designed nor intended for use or application to equipment used for the lifting or moving of persons.'"
Violations are classified as willful if OSHA has evidence that the employer intentionally and knowingly committed the violation. Violations are identified as serious if there is substantial probability that death or serious physical harm could result and that the employer knew, or should have known, of the hazard. Penalties may range as high as $70,000 for a willful violation or $7,000 for a serious violation
Viaero Wireless decided to request an informal conference with the OSHA area director rather than contest the citations and proposed penalties before the independent Occupational Safety and Health Review Commission.
Linda Ballasch said that when her son, a master electrician, had informed her that he had taken a job with Viaero Wireless and would be climbing towers, she cautioned him about the need to climb safely.
What would normally sound like an admonition from a concerned mother was taken seriously by Stephan who knew of his mom's background. Although Linda hasn't climbed in 17 years, she did when she was 40 years old as a manager associated with the construction of a then top secret shuttle launch facility at Vandenberg Air Force Base in California. She would oftentimes have to climb to the top of the 200' service arm of the world's largest mobile tower during its installation.
"Safety has always been a big concern for me," she explained, "and I would always talk to my people about it. We had several training programs that we would put our employees through constantly. So when Stephan said he wanted to climb, I had no problem with it, but I told him he had to be safe, safe, safe!"
"When I later asked him what type of safety training the company had, he said, 'Mom, there isn't any.' He said they have a safety coordinator who said, 'This is how you're supposed to do it, but don't do it that way because we don't have enough time.' "
Free climbing reportedly acceptable
Linda said that her son had told her that free climbing was acceptable and he was concerned about the company's lack of training, most of it being performed on the job. But she counseled him often and told him to inform his foreman that "you're not going to do it fast; you're going to do it safely."
Stephan had been working on a project in Nebraska and was to return there after going home. He was told to visit another jobsite in Colorado where he was to operate the hoist, Linda said. She explained that he was then told by his supervisor to assist with antenna installations on the tower.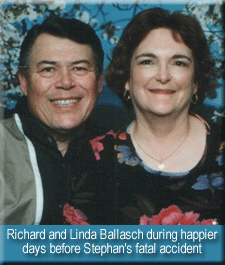 Linda said that she was informed by crewmembers that her son informed his supervisor that he didn't have his safety gear with him and didn't want to climb.

"I was told that his supervisor grabbed a belt out of the back of a truck and threw it at him and said, and these are his exact words, 'Get your ass up there!' ", Linda said.

Stephan acquiesced, harnessed up with the personal fall protection equipment and didn't notice that one lanyard had a faulty snaphook that should have been taken out of service, according to OSHA's findings. A fellow crewmember working next to Stephan testified that he was properly tied off before he fell.

Stephan called his wife Lori to let her know that he would be home that evening. Shortly thereafter at 2:12 p.m., he fell to his death after one last futile attempt to reach out to a panel antenna for support.

One of the key stages of grief is anger and it could be expected that a mother and father might feel a fire of rage ignited inside them after realizing that their son's death could have been preventable if proper safety standards were observed and enforced.

Linda and her husband Richard, however; appear to have channeled the sharp, ever present pain of grief into a productive drive to use Stephan's passing as a positive lesson as to how easily a fatality can occur when proper safety requirements are not followed.

Lose man-hours, not people
Linda has spoken with industry leaders to champion the need to get companies to discard the oftentimes prevalent and dangerous practice to get the job done as quickly as possible to stay within budget. "Let's lose man-hours, not people," she said.

Colorado State Representative Fran Coleman has been working with Linda and John to get Colorado more actively involved in tower climbing safety that is regulated by Federal OSHA. Representative Coleman sits on the Business Affairs and Labor committee.

Linda said that Viaero Wireless has expressed concern since the February accident. A crewman working with Stephan on the tower immediately called for emergency services from his cell phone. He then placed a call to his wife to go to Stephan's home to be with Lori who was at home because of an existing heart condition.

Viaero's general manager and crew members were shaken by the tragedy and offered support to the widow and her children. Viaero has paid for her health insurance and rent, but their support will end this month.

According to Linda who has spoken with the mother of another climber who fell to his death on the same day in North Carolina, Viaero's support for health and rent payments far exceeded anything that was provided following her son's death.

The rural wireless carrier is one of the few carriers that construct their own towers instead of hiring contractors. A member of the National Association of Tower Erectors, their home service area includes Nebraska and northeast Colorado. Their ambitions build-out plan on the company website says that if 200 residents pre-sign for service they'll build a tower and have it done within 180 days.

A current advertisement for a tower technician for their company, in part, requires the ability to "climb and work on communication towers in excess of 200 feet while following proper safety procedures." If OSHA decides today that they immediately corrected their safety problems to protect their employees, the fine might be lowered. Nothing, however, will ever reduce the ever-present pain of those who still suffer.

Viaero says citations not related to fatality
Spokesperson Laurie Cox of Viaero Wireless said that due to ongoing negotiations with OSHA the company would not comment on the accident, but she did provide a press release stating: "We cooperated with OSHA during the investigation and will continue to do so. The safety and health of our employees is our paramount interest and we believe that we had and continue to have programs to protect our employees against the hazards of falls in our operations. Viaero Wireless does not believe that these citations are related to the unfortunate fatality of our employee. We intend to meet with the agency to discuss our concerns in the near future and to work toward a resolution which is in the best interest of employee safety and health."

A mother of all tower techs
"Tower Dogs," as many of them are respectfully called by their peers, help build the communications infrastructure in an oftentimes difficult environment. Many of Hurricane Katrina's second responders will be from tower companies dedicated to restoring communications.

Linda agrees that it's a difficult and taxing profession, and believes that the vast majority of communications tower companies operate within compliance of safety standards, but she's impassioned with her advocacy to ensure that the industry gets safer through awareness.

"Let's keep those tower techs safe out there," Linda said.

Stephan had been with Viaero Wireless for 18 months and was the father of three teenage girls in Yuba City, California.

There is a Lesson Learned in the Discussion Forum where a tower technician

witnessed his webbing being ripped apart at the pelican hook while he was leaning out. Fortunately he was tied off with a positioning lanyard which prevented another fatality.Check your safety

equipment every day. You're invited to add a Lesson Learned to assist your fellow climbers.

Copyright © Wireless Estimator, Inc. Please request reprint permission.