Washington 

To do construction work in the Evergreen State, you must register with the Washington Department of Labor and Industries. Electricians must also be licensed.

In fairness to licensing officials everywhere, they sometimes have to deal with contractors that are proud of their continuing education efforts to learn as little as they can about an exceptionally wide variety of non-construction-related topics so that they can remain objective when they provide their opinions as to how the agency can better serve its applicants. Of course, that never happens in Washington.

To find out if a contractor or electrician is registered in Washington, click on  LICENSES.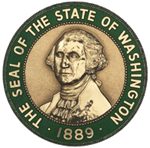 Out-of-State Corporations
Corporations doing business in Washington must register with the Washington Secretary of State. For information, click on  Secretary of State .