Penalties said to be low when companies are cited following fatal tower climber accidents
January 12, 2010 - A review of OSHA penalties during the past two years found that the average charge levied against a tower construction company cited after a climber died following a fall from an elevated structure was $6,100.
A number of industry professionals believe it's too low. See: 2009 and 20008 Fatality Violation Fines.
Former OSHA chief Jordan
Barab agrees. In his Confined Space web blog prior to being appointed to head the agency, Barab said, "...you'll never learn from the evening news that we have more fish and wildlife inspectors than OSHA inspectors, or that the penalties from a chemical release that kills fish is higher than a chemical release that kills a worker."
Dr. David Michaels, confirmed by the Senate as Assistant Secretary of Labor for Occupational Safety and Health last month, shares similar views.
Michaels testified to Congress in 2007 that the agency should be more aggressive in its efforts to issue and enforce additional regulations in the workplace.
Although a number of companies were not cited following a fatality, primarily because it appeared to be climber error and they had an adequate safety program in place, such as Diamond K Tower Company, Inc., Wallen Communications Llc and Overland Contracting, OSHA fined as little as $600 to Emerald Wireless Communication and on the top end, $16,800 to Andrew Systems, Inc.
Andrew Systems' case, the first fatality in 2009, is still open and can receive a negotiated reduction from OSHA.
Fine of $20,000 reduced to $2,500 in Indiana fatality
OSHA offices can levy penalties based upon the company's ability to pay, their previous safety record, and their plan to abate violations and mitigate future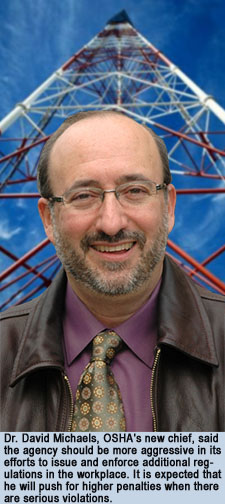 occurrences.
In 2008 the highest fine was issued to Phoenix of Tennessee, dba All Around Tower, in the amount of $20,000 and reduced to $10,000 due to the firm's size and history.
However, three of their violations were negotiated and the company was only required to pay $2,500 for a rigging equipment for material handling violation.

On May 16, 2008, All Around Tower employee Jonathan Joe Guilford, age 23, fell approximately 150 feet and died.
Guilford had rigged up a load line using an open hook and a simple block and tackle on top of an SBA monopole. After shooting pre-job photographs he began to rappel down the load line with a Fisk Descender attached to the front D-Ring of his full-body harness.
As he descended, the open hook rolled out of the caribeener attached to the top of the antenna platform and he fell to the ground.
The open hook, block and tackle and rope landed right beside him. The caribeener remained hooked at the top of the pole.
The open hook was missing the safety latch.
Faulty equipment appeared to be prevalent
According to the OSHA report, a supervisor for the company said, "The day after Jay's fall, the company sent me to all of the other tower sites in this market area to check for and remove bad climbing and rigging equipment. I found several hooks with missing keepers."
Another co-worker said, "I know what happened. I bet he used the bad hook - you know, the one with the missing gate."
OSHA cited Phoenix because the open hook was missing the safety latch and the rigging equipment was not inspected before use; the block and tackle was rated at 1,250 pounds, and was intended for lifting equipment, not for life safety purposes, and the employee had not been properly trained in fall protection issues.
A representative of Phoenix of Tennessee at OSHA's closing conference said that he wanted to write-up the supervisor of the project for safety violations on the fatality jobsite, but he was unable to locate him since he did not return to work since the accident.
He also told OSHA officials that his company provided grief counseling to the deceased's co-workers, then they were fired. He stated that company officials were shocked that the tower hands "did not look after each other."
The OSHA report (available here) identified that All Around Tower, was hired by General Dynamics to complete an AT&T Wireless project on an SBA-owned tower in Haubstadt, Ind.
Lack of front end interest faulted
Celeste Monforton, a research associate and lecturer at the School of Public Health, George Washington University reviewed the report and questioned why corporate giant AT&T Wireless, which hired General Dynamics to oversee the upgrade of the tower equipment, didn't take "steps to ensure that Phoenix of Tennessee, dba All Around Towers, had an A+ fall protection program and a five-star H&S system."

"General Dynamics' lack of attention to safety on the front-end of this project was not repeated when it came to attention to the IOSHA investigation of Mr. Guilford's fatal fall," Monforton noted.
"During IOSHA CSHO's opening conference, there were four officials from General Dynamics as well as one rep from All Around Tower and the property owner. Likewise, General Dynamics' officials participated three months later in IOSHA's closing conference," she said.
Monforton previously worked at OSHA as a policy analyst and at the Mine Safety and Health Administration as special assistant to the Assistant Secretary of Labor.
Deceased appeared in Tower Dogs
NBC's Dateline followed Phoenix of Tennessee and its subcontractors for a period of four months and presented Tower Dogs, a one-hour special on July 21, 2008.
Guilford was profiled earlier in the broadcast along with Phoenix of Tennessee's owner, Kyle Waites, who championed his company's safety record, stating: "Knock on wood, we're doing fantastic; we've never had any fatal accidents."

On May 16 at 4:00 p.m., fantastic morphed into a fatality.

The effect of Guilford's death upon his coworkers was captured with scenes from the funeral service and numerous expressions of grief from Waites.
Dateline said that Waites suspected that if Guilford had been following industry standards the accident would not have happened.
"Any time a death happens the biggest thing you ask yourself is, why?"
"That's the hardest part to swallow when you get a death is when you find out the incident could have been prevented," Waites said.
OSHA's report indicates that if proper supervision and safe equipment was provided by Phoenix of Tennessee the accident might not have occurred.
"The competent person, the supervisor on the site, failed to perform required inspections and did not fulfill his duties to enforce safe work procedures on the jobsite. This failure on the part of the employer's agent may negate potential claims of employee misconduct," the OSHA report stated.
Fines lower than national average
Current penalties against employers that endanger workers' health and safety are
too low to deter future violations, witnesses informed the House Education and Labor Committee last April.
Margaret "Peg" Seminario, director of safety and health at the AFL-CIO said, "Our analysis found that the average penalty for a serious violation is less than $1,000 and the average penalty involving workers deaths is $11,300."
The average penalty during the past two years relating to workers deaths in the tower construction and maintenance industry was 46% less at $6,100. The average penalty for a serious violation when there was a climber fatality during the same period was $1,556. However, when there was no fatality, serious violations averaged $687 for 18 companies cited. Duty to have fall protection was a frequent violation, oftentimes being set at $400.
The maximum penalty for a serious violation – one which poses a substantial probability of death or serious physical harm to workers – is $7,000. For violations that are "willful," the maximum penalty is $70,000, with a minimum of $5,000.
The U.S. Department of Labor classifies on-the-job fatalities as misdemeanors, even if the employer was negligent by willfully failing to follow OSHA safety standards. The maximum prison sentence for a willful violation of a safety standard that leads to a worker's death is six months.

"Shocking as it may seem, the penalties imposed on those convicted of animal cruelty far exceed those penalties and fines belatedly imposed on the few employers who are ever found guilty by OSHA. In 2008 the average penalty levied on an employer by OSHA for a "serious" workplace safety violation was a mere $921," said Barab.

Reductions in the fines OSHA initially issues may change
The U.S. Department of Labor's Inspector General recently announced its audit targets for 2010. On the list: "Impact of OSHA's Penalty Reductions."

OSHA's penalty structure is designed to provide companies with an incentive to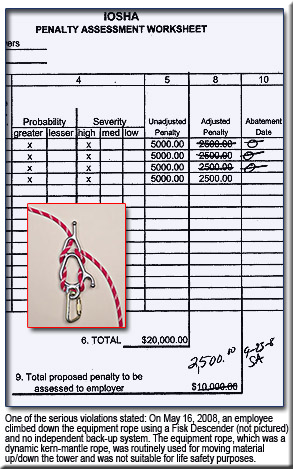 correct violations.

Reductions in fines can come from several sources. Inspectors can recommend discounts to the original fine amount; OSHA supervisors, including area directors, regional administrators and Department of Labor attorneys can further reduce the size of a penalty, which are often significantly less than statutory maximums.

One of the audit's objectives is to determine whether penalty reductions encouraged companies to correct violations.
"I'd rather see the stick instead of the carrot," said a Southwest tower construction company owner who has weathered three inspections in the last six years. "One was for an accident, and two were unannounced. We didn't receive any type of violation at all."
"Having to pay $2,500 is nothing. Think about it, it's just one month's per diem. When the cost of training and the right safety equipment far exceeds the fine, tell me where the incentive is? There is none," he said.
Patrick Shea, who heads Zurich's tower contractor insurance program, the largest in the nation, says company owners have considerably more to lose than the restrained fines OSHA issues.
"Fatalities from falls cause great emotional and economic pain to individual companies with experience modification increases, cancellation of their insurance or considerable rate increases. Or in some cases they'll be forced to use their state fund which limits the work that's available to them."
"Also insurance claims for fatalities are paid over long periods and the threat of litigation also lingers from a wrongful death suit," Shea said.