Product Information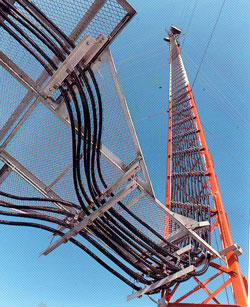 Waveguide Bridge
The waveguide bridge, also known as an ice bridge or transmission line bridge, is a hot-dipped galvanized support structure used to horizontally secure transmission lines from the tower to the equipment building or BTS cabinet. Typical widths are 12" and 24" with lengths of 10' or 12' with 2 or 4 support posts ranging in size from 3" to 4" OD. The bridge provides the basic support structure, but it requires trapeze kits to secure multiple transmission lines. Identify how many lines there will be to properly size the bridge's width and the number of trapeze kits that will be required. Some bridge kits include the trapeze kits. Manufacturers provide numerous options for mounting bridges to towers or other structures. Base plate pipe columns are also available. A typical foundation specified for the support column is 1' diameter by a 3'-6" depth with a 3" reveal.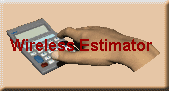 No freight charges or taxes have been included in the below bridge pricing. The cost is based upon an average list price from multiple manufacturers and distributors. For accurate estimating enter 20' if the project calls for 16' since you will have to purchase two bridges to complete the task.

| | |
| --- | --- |
|  12"x10' Waveguide Bridge (Solid or Grated) w/2 14' Posts | $460.00 |
|  24"x10' Waveguide Bridge (Solid or Grated) w/2 14' Posts | $585.00 |
|  24"x10' Waveguide Bridge (Solid or Grated) w/4 14' Posts | $750.00 |
We recommend that you contact our valued manufacturers and distributors for your site-specific waveguide bridge requirements. You'll find that they have designed a solution for every conceivable application.
Posts can be excluded, but check with the A&E firm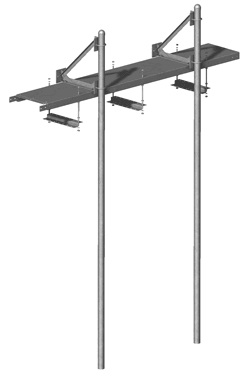 Don't assume that you can use any waveguide bridge to meet the A&E specifications. Some designs are site specific and must be adhered to in order to meet code or entryway requirements.
Many short span bridges do not require posts for support and the waveguide channels can be secured with attachment hardware on the tower and the building. However, do not weld the bridge to the tower. If the specification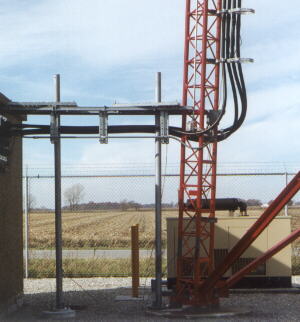 only calls for a "12' long waveguide bridge", consider using a grip strut section with 4 posts and attachment hardware. It's the most economical design and the materials are typically available from local suppliers.
Identify your shipping costs. Weights for a single 12' kit can run up to 800 lbs. and if shipped from a distant distribution point can exceed the cost of the materials. Identify what parts you can obtain locally such as galvanized support pipes.