Product Information
Monopole Platforms/Mounts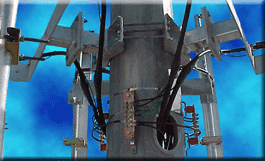 A collar mounting clamp is the primary bracket assembly for all types of antenna mounting systems for tapered and non-tapered monopoles as well as smooth wall and multi-sided structures.
The standard configuration for most clamps uses three solid weldments secured by heavy-duty threaded rod with all components hot-dip galvanized to provide maximum corrosion resistance.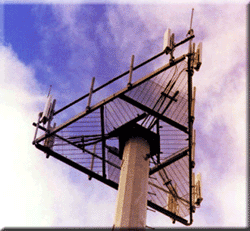 These assemblies when combined with multiple mounting systems are a perfect mounting solution. Some manufacturers' assemblies will provide a collar mount for poles from 12" to 60" by selecting one of three mounts. Other manufacturers break their selection down to smaller diameter ranges, allowing for the selection of one of eight offerings.
Capitalizing upon the clamp mount's potential, manufacturers can  provide 3-sided low-profile platform mounts with 12', 13' and 15' faces. Four-sided platforms are also available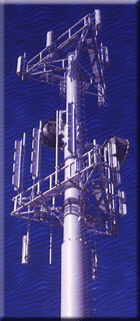 as well as circular platforms. Platform mounts are also designed to accommodate handrails.
Monopole pipe mounts are manufactured to support microwave dish antennas as well as adjustable standard arms for single or dual antennas. They attach to the mounting clamp system. There are also as many chain mount applications for every pipe mount configuration.
Check with your supplier to identify what other designs are available through a special order or through their catalog. You'll be surprised at the flexibility and convenience provided by the many monopole mounts that are obtainable for almost every application. One manufacturer's catalog has up to 16 pages just covering monopole mount offerings.
Check with the distributor or manufacturer to ensure that the mounting structure will meet your specific load capacities.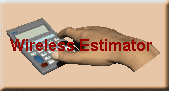 For most mounts you'll be required to purchase your antenna mounting pipes and u-bolts separately. The average cost from multiple manufacturers for a low profile platform, ring mount and a sector t-frame is provided below. Add tax and freight.
Monopole Platforms, Mounts

Description
Weight Lbs.
Price
Low Profile Colocation Monopole Platform (12'-6")
1,160
$2,217
Upper Support Rails (12'-6") for Monopole Platform
292
$630
Low Profile Colocation Monopole Platform (14'-6")
1,263
$2,487
Upper Support Rails (14'-6") for Monpole Platform
321
$692
Universal Ring Mount (10" to 30" OD) for Monopole
234
$734
Universal Ring Mount (30" to 60" OD) for Monopole
302
$1,064
Ring Mount Support Arm (4') (Ea.)
83
$193
Ring Mount Support Arm (6') (Ea.)
113
$224
T-Frame Sector Mount (12'-6")
220
$372
We recommend that you contact our valued monopole accessory manufacturers and distributors for your site-specific requirements.