Product Information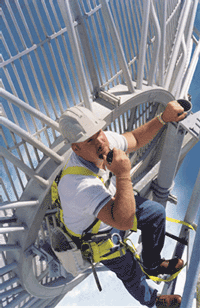 Standard and High Performance Microwave Antennas
There are several things to consider when choosing the proper antenna for a given microwave hop. Terrestrial antenna selection for point-to-point microwave systems will be chosen based upon the operating frequency band, the desired gain of the antenna to maintain system performance, wind loading considerations and sometimes the space available on the structure. The larger the diameter of the antenna is the higher the gain will be, but more space will be required on the tower or mounting wall.
Wind load can be reduced the most by using a molded, ABS plastic or fiberglass radome on a standard antenna which bolts directly to the reflector rim. The next lowest wind load is a high performance design shroud/radome that looks like a drum. These flexible planar radomes are made of a rubber-coated nylon and are used to protect the microwave antennas against accumulation of ice, snow, and dirt. The radome is streteched across the opening of the shield by using tensioning springs. Some smaller diameter high performance antennas are available with a pre-tensioned radome.
Most radomes for shielded antennas are white; standard antenna radomes are gray. However, aviation orange, gray and a few earth tone colors are available.
One or two side struts will be provided with some antennas. When one side strut is provided it typically is designed with one stainless steel threaded rod for a fine azimuth adjustment. When there are two side struts, the second rod is a fixed, but adjustable rod without fine azimuth adjustment capabilities.
Vertical mounting pipes are normally not included with the antenna and are required to be purchased separately. Standard survival rating designs are between 110 mph and 125 mph with 1" radial ice. High wind survival antennas can be designed up to 200 mph. Antennas designed for corrosive elements surrounding smokestacks, oil platforms and other environments are available.
Types of antennas include grid, standard, focal plane and shielded, consisting of three major components, the mount, reflector and feed. Side lobe and front to back levels are further reduced by focal plane antennas.
Grids are used as the lower end of the spectrum and where low wind loading is essential. They are only available in single polarized versions and contain coaxial inputs. Solid reflectors are used throughout the spectrum and, depending upon the antenna type, inputs can either be coaxial, rectangular or rectangular waveguide.
Doubling your system's capacity and providing a solution for
site coordination issues can be solved by using a dual polarized antenna. Multi-band antennas allow two different frequency bands, many with dual polarity, to be placed within one antenna, greatly reducing the occupied tower space and tower wind loading.
Most antennas up to 3.9 GHz can be fed by air-dielectric or foam  coaxial cable although some antennas are available with coaxial inputs above 3.9 GHz for spread spectrum and other unlicensed radio systems. Higher frequencies will use elliptical or round waveguide.
The most common waveguide is elliptical for connecting the antenna to the radio equipment. The transmission line's corrugated construction allows the technician to bend and twist it for routing during installation. Elliptical waveguide does not end with a default mating flange. Multiple choices are available depending upon the system's requirements.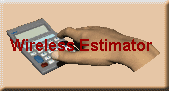 The following pricing is representative of the purchase price of some microwave antennas. Add freight and tax. Identify the freight pricing carefully.
We recommend that you contact our valued microwave antenna manufacturers and distributors for your site-specific requirements.
Microwave Antennas

Size
Description

Net Lbs.

Gross Lbs.

Pricing

4'

Grid Antenna, 2.3 to 2.5 GHz, Unpressurized Single Polarized
24

33

$1,035

6'

Grid Antenna, 2.3 to 2.5 GHz, Unpressurized Single Polarized
121

203

$1,872

8'

Grid Antenna, 2.3 to 2.5 GHz, Unpressurized Single Polarized
215

357

$2,664

10'

Grid Antenna, 2.3 to 2.5 GHz, Unpressurized Single Polarized
287

441

$3,420

13'

Grid Antenna, 2.3 to 2.5 GHz, Unpressurized Single Polarized
454

754

$5,184

4'

Standard Antenna, 5.925 to 6.425 SinglePolarized
150

335

$1,584

6'

Standard Antenna, 5.925 to 6.425 Single Polarized
180

468

$1,908

8'

Standard Antenna, 5.925 to 6.425 Single Polarized
275

745

$2,718

10'

Standard Antenna, 5.925 to 6.425 Single Polarized
354

877

$4,122

12'

Standard Antenna, 5.925 to 6.425 Single Polarized
554

1192

$7,461

4'

Standard Molded Radome
30

178

$536

6'

Standard Molded Radome
50

328

$738

8'

Standard Molded Radome
75

259

$1,166

10'

Standard Molded Radome
100

670

$1,710

12'

Standard Molded Radome
140

844

$3,110

4'

Shielded TEGLAR(r) Radome Cover
 
 
$720

6'

Shielded TEGLAR(r) Radome Cover
 
 
$1,026

8'

Shielded TEGLAR(r) Radome Cover
 
 
$1,418

10'

Shielded TEGLAR(r) Radome Cover
 
 
$1,962

12'

Shielded TEGLAR(r) Radome Cover
 
 
$2,439

4'

High Performance Antenna, 7.75 to 8.40 GHz, Single Polarized
185

441

$3,456

6'

High Performance Antenna, 7.75 to 8.40 GHz, Single Polarized
360

823

$6,345

8'

High Performance Antenna, 7.75 to 8.40 GHz, Single Polarized
500

1350

$7,871

10'

High Performance Antenna, 7.75 to 8.40 GHz, Single Polarized
575

1620

$9,999

12'

High Performance Antenna, 7.75 to 8.40 GHz, Single Polarized
1053

2130

$13,545

4'

High Performance Antenna, 8.2 to 8.5 GHz, Dual Polarized
185

441

$5,418

6'

High Performance Antenna, 8.2 to 8.5 GHz, Dual Polarized
360

823

$8,775

8'

High Performance Antenna, 8.2 to 8.5 GHz, Dual Polarized
500

1350

$11,025

10'

High Performance Antenna, 8.2 to 8.5 GHz, Dual Polarized
575

1620

$13,365

12'

High Performance Antenna, 8.2 to 8.5 GHz, Dual Polarized
1053

2130

$18,212