Installation Information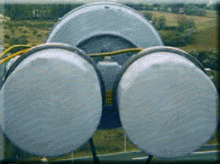 Standard and High Performance Microwave Antennas
As simple as some microwave installations seem, only contractors qualified and experienced in microwave installation should be utilized. The most basic installations are either spread spectrum or licensed hops that utilize an indoor unit/outdoor unit configuration. These systems typically utilize small antennas and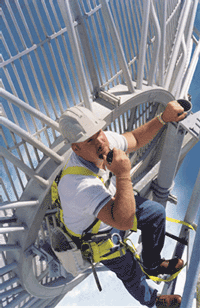 only require the installation of a coaxial or other multi-wire cable.  These hops are usually very short, use very small antennas and the cable installation is fairly simple and doesn't necessarily require sweep testing.
Licensed hops that require larger antennas are more difficult to install and align.  An installation contractor must know how to build the antenna, survey the proposed tower location, the waveguide routing and plane that it must run on, and also be able to align larger antennas ranging up to 12'.  The larger the diameter of the antenna, no matter what the frequency is, the narrower the beam width of the antenna will be, requiring more difficult alignment procedures.  Only highly qualified contractors should be utilized for installing, aligning and testing this type of terrestrial microwave hop.
Installing a 10' to 12' dish at 200' or higher is a task that should be left to the professionals. Many inexperienced erection crews are not cable of rigging and installing microwave dishes. There have been multiple incidents where projects were delayed when damaged dishes had to be replaced after they were improperly tagged and smashed into the tower, causing contractor/client riffs and the erector ending up with a damaged 10' high performance antenna with a high price in excess of $13,000.00.
Typically, the transmission line connects directly to the back of the  antenna feed flange. Sometimes a
flex section is required when the mechanical limitation of waveguide prevents this connection. Flex sections are employed at the radio interface to relieve stress from the elliptical waveguide.
Carriers are taking a closer look at microwave backhaul options and microwave installations throughout the nation are increasing. Currently, most wireless carriers' backhaul networks are composed of T1 lines, but microwave is becoming popular in wireless systems to ensure that the carrier can minimize blackouts that occur due the unreliability of T1 lines.
Pricing to install a microwave dish is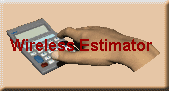 project-specific and will be fairly competitive for small dishes in IU/OU applications. The below pricing is a general idea of what a contractor will install a microwave dish for on a tower at a 200' level while on site performing other services. Add to your cost the expense of disposing of the antenna's crating.
We recommend that you contact our valued microwave antenna installation professionals to obtain additional information about their services, capabilities and experience.
    Microwave Antenna Installation

Size
Description
Net  Lbs.
Pricing

4'

Grid Antenna, Unpressurized Single Polarized
24
$0

6'

Grid Antenna, Unpressurized Single Polarized
121
$0

8'

Grid Antenna, Unpressurized Single Polarized
215
$0

10'

Grid Antenna, Unpressurized Single Polarized
287
$0

13'

Grid Antenna, Unpressurized Single Polarized
454
$0

4'

Standard Antenna w/Radome, Single Polarized
180
$0

6'

Standard Antenna, Single Polarized
230
$0

8'

Standard Antenna, Single Polarized
350
$0

10'

Standard Antenna, Single Polarized
454
$0

12'

Standard Antenna, Single Polarized
694
$0

4'

High Performance Antenna , Single Polarized
185
$0

6'

High Performance Antenna, Single Polarized
360
$0

8'

High Performance Antenna, Single Polarized
500
$0

10'

High Performance Antenna, Single Polarized
575
$0

12'

High Performance Antenna, Single Polarized
1053
$0