Product Information
Water Tower Specialists
Although there are multiple style variations, generally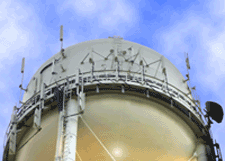 there are four types of elevated water storage tanks encountered throughout the country, the pedisphere, fluted column, standpipe and multi-leg water tower as shown below.
Each water tower has its unique features, but there are some commonalities between each type. Similarly, many installation products appear to be alike, but manufacturers

have varying designs to allow for ease of installation and to ensure that the mounting system provides years of trouble free service.
Water tanks are prime locations for wireless systems and oftentimes have multiple tenants on one site. Tank owners at first were hesitant to accommodate carriers on their structure, but the revenue couldn't be ignored and in some high traffic corridors it proved to be downright intoxicating.
However, many maintenance problems surfaced following unsupervised installations by unqualified contractors. A few poorly designed mounting products also contributed to the troubling installs.
Today, design engineers and water tank accessory manufacturers are aware of previous problems and are providing product designs that will not damage the interior or exterior structure when installed correctly. Although there are occasional maintenance concerns over rust streaking, the majority of problems occur with the installation (see Installation Information ).
Wireless management service companies or tank owners can assist by overseeing the project and assisting in the installation design. Special care requirements are necessary to ensure the integrity of the structure. If a new tank is being considered, provisions for multiple antenna co-locations should be included in the design stage.
There are organizations that can provide additional information pertaining to water tower antenna installations such as the American Water Works Association (AWWA) and the National Association of Corrosion Engineers (NACE). Structural engineers whose disciplines cover water tank analysis and design are also excellent resources.
Pod mount assemblies are often selected for pedisphere towers where the installation footprint is limited. They are also stackable and some can accommodate mini monopoles for co-locating requirements.
Where there is an area available for a rooftop installation there are numerous tripod mounts, sector frames and three-sector assemblies available. Hand rail antenna mounts are also offered by manufacturers. Some will also provide special design applications.
Accessories obtainable include mid span mounts, water tower leg brackets, access tube stiffener rings, expansion brackets and coax stand-off brackets. A colocation installation may also require a waveguide bridge and the associated cable mounting brackets and hardware.
We recommend that you contact our valued water tower mount and accessory manufacturers and distributors for your site-specific requirements.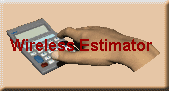 The following pricing for mounting pods, frames and brackets are industry averages from multiple manufacturers and distributors. They do not include installation. Add taxes and freight. Contact your vendor for specialty items such as coax penetration pipes.