Installation Information
Wi-Fi Specialists
Prepackaged hot spot equipment packages for small venues like restaurants and coffee shops can be purchased for less than $800.00. The access point and controller are connected to a DSL, and installed at a nominal cost. Starbucks' system is more robust, 
requiring a T-1 internet connection.
Corporate campuses, office buildings, learning institutions and government facilities installations can be extensive, but deployment is relatively quick.
Installation requires the mounting of multiple access points unless an interior or exterior Wi-Fi switch is utilized, mounting of NEMA enclosures, antennas and lines connected to the access points, and access point and remote power system connections.
Verifications of coverage, configuration and backbone connectivity
are performed by the system provider.
Some systems do not employ the standard, 'off-the-shelf' access points with integrated antennas; instead, they use an external antenna. 

Drop-ceiling tiles are sometimes retrofitted with integrated antennas as part of the network for uniform coverage and cosmetic consistency.
AC power and 10/100/1000 copper or fiber Ethernet external connections are required to enable Wi-Fi indoors. Power over Ethernet injectors can be used when AC power is not available.
ISPs and Wi-Fi providers require small antennas to be installed for coverage. Some firms, however, are trying to perform the installation by utilizing their own employees or subcontractors that do not have the requisite skill sets, insurance and safety training when working at elevated levels. By not hiring qualified contractors they're exposing their company to a liability that can close their doors if a serious or fatal accident should occur. OSHA's attention is being directed to these frequent violations.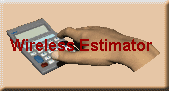 Pricing for a Wi-Fi installation is always project specific. We  recommend that you contact our valued Wi-Fi specialists for your site's installation requirements.