Product, Service Information
Broadcast Specialists
Although broadcast systems and construction have many similarities to private microwave, cellular, and PCS/PCN and other wireless applications, there is a wide range of additional equipment and skill sets required to design and install a broadcast tower and transmitter equipment.
Some businesses have successfully integrated their product lines into AM and FM broadcast, but TV broadcast equipment manufacturers are a smaller, select group of companies. A number of engineers will limit their services and consultation to either radio or TV broadcasting.
There are multiple broadcast transmission lines, from flexible air-dielectric cable up to 6-1/8" in diameter to 12" diameter rigid line. Numerous new transmission lines have been introduced to combine DTV and NTSC (UHF and VHF) signals. Some rigid coax is designed so that a bellows section in the inner conductor compensates for differential expansion between the inner and outer conductors. This can eliminate arcing at the flange and insulator areas caused by the mechanical wear dust from sliding contacts.
Some manufacturers will provide complete systems from transmitters to the antennas, combiners, diplexers, transmission lines and dehydrators.  Multiple tower manufacturers can provide competitive pricing on AM, FM and smaller TV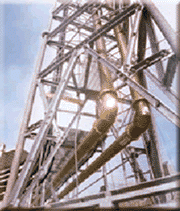 broadcast towers. The field is limited in the number of companies capable of providing taller TV broadcast towers.
The build-out of digital television has required many broadcasters to either upgrade or construct a new structure to accommodate the additional loading. A number of stations are opting to lease space on a new colocation structure to eliminate the capital expense of constructing their own tower at a cost of $2 to $6 million while avoiding the extensive associated costs for clearing regulatory hurdles.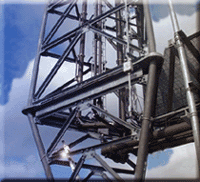 There are companies that specialize in  providing project guidance and supervision during the installation of broadcast radio and television conversions from analog to digital, including the complete installation of the broadcast system, from the transmitter to the transmit antenna. Others provide niche services such as specializing in the retuning of older transmitters to new frequencies and the conversion of older AM transmitters for use on HF bands.
Many professional broadcast service companies can assist you with engineering, consulting, funding, studio design, leasing opportunities and FCC and FAA legal advice and services.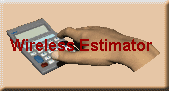 We recommend that you contact our valued broadcast equipment manufacturers, engineering and consulting professionals to obtain additional information about their services, capabilities, pricing and professional service fees.