Installation Information
Ground Resistance Testing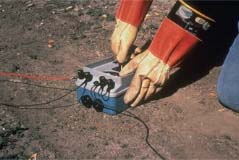 Three-stake testing of the resistance of soil is relatively easy.  Drive two steel rods into the earth between 1 and 2 feet deep at a specified distance from the ground electrode. Then connect your copper leads to each rod, to the ground electrode and to the test equipment. The test equipment indicates the resistance of the earth between electrodes. For analysis of your findings, most client report forms will require the type and model number of your test equipment as well as the frequently, HZ, current soil conditions and the last time that it rained.
Soil determines the resistance value as noted in the following table:
Soil Resistivities (ohm-meters)

Description

Resistivity Value

Description

Resistivity Value

Loam

25

Clay

33

Sandy clay

43

Slate or shale

55

Silty sand

300

Gravel-sand mix

800

Granite

1000

Gravel with stones

2585

Limestone

5000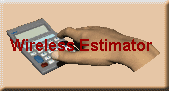 Providing ground resistance testing and documentation averages $435.00 while on site. We recommend that you contact our ground resistance testing companies to obtain additional information about their services, capabilities and experience.