Product Information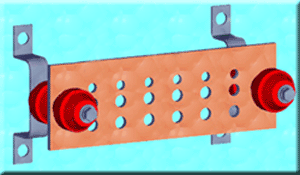 Ground Bus Bars
Ground copper bus bars are utilized in all wireless construction projects to provide external protection against the direct impact of a lightning strike, helping to prevent damage to expensive transceiver and other electrical equipment.
Manufacturers provide a wide array of selections as stock items; some vendors will custom design ground bars. The most common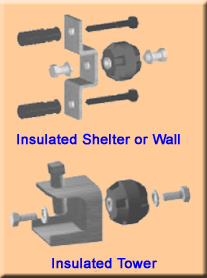 ground bus bar is 1/4" thick, 4" in width, ranging in lengths from 12" to 24". Tinned copper bars are available.
Most bus bars are sold as kits with attachment hardware and insulators, but the components can be purchased separately. Optional plexiglass covers are available with lettering and striping. Glass polyester insulators come in multiple sizes with shapes in round, hexagon or octagon. Brackets are typically stainless steel or galvanized steel.
Some manufacturers will provide an exothermically welded tail(s) to the bar to provide a secure grounding connection that is sometimes difficult to perform in field conditions.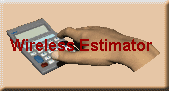 The following insulated ground bar pricing is for kits from multiple manufacturers. Add freight and taxes
We recommend that you contact our valued ground bar manufacturers and distributors for your site-specific requirements.
Copper Ground Bus Bars

Description

Price

Ground Bar, Copper, 1/4"x2"x12"- 9 Hole w/mounts, insulators*
$41.54
Ground Bar, Copper, 1/4"x4"x12"- 24 Hole w/mounts, insulators*
$53.19
Ground Bar, Copper, 1/4"x4"x24"- 34 Hole w/mounts, insulators*
$76.14
*Ground bar holes and slots are available in multiple configurations by each manufacturer, and typically have a limited impact upon the cost of a 12" or 24" bar, if any.