Installation Information
Foam Coaxial Cable
Prior to installing any coaxial cable it is important to fully inspect the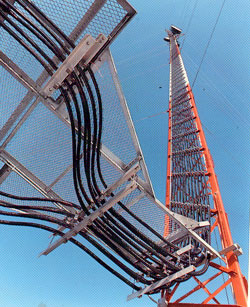 line for any damage. Many installation projects utilize transmission line that is purchased by the client, and the contractor has no knowledge as to the care that has been taken during shipping or storage.
If a carton is damaged or the crating has been broken by a forklift or other mishandling, carefully inspect the cable in that area. Although coaxial cable appears rugged and will enjoy a long life cycle if it is properly installed, it can be easily damaged during the process of unreeling, hoisting, bending and securing it to the structure.
It is advisable for a technician to place their hand around the circumference of the cable and apply light pressure as the coax is being unreeled. Damaged transmission line with flat spots or other irregularities will be quickly found. In a perfect wireless construction world it would be advisable for the contractor to sweep each transmission line prior to installing it, but it is not a standard procedure due to pricing considerations and available resources.
Getting a grip on hoisting
Hoisting grips should be used for lifting cable. When the standard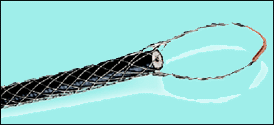 grip is properly laced to the cable, attach a support clamp or add multiple wraps of plastic tape along the bottom portion of the grip to  prevent it from relaxing before tension is applied.
Although a hoisting grip should be used every 200', don't rely upon the hoisting grip alone. It's advisable to use an independently attached rope safety line when hoisting the cable. When installing cable inside a monopole you will need to perform three calculations before clamping the hoisting grip to the coaxial cable (see hoisting grips ).
Correct rigging required
Installation of cable should only be done by experienced and qualified riggers that have a winch, hoist lines and other equipment that meet all safety standards and will support the weight of the coaxial cable. Observe the bending radius of the cable to ensure that the outer or inner conductors are not damaged. If they are, many clients will not allow a splice kit to repair the affected area, but will require replacement of the transmission line.
A weatherproof protective covering should be placed over the cable connector to prevent damage during hoisting. If there is not connector, cover the exposed transmission line. Cable should be supported within 1 to 2 feet of the antenna feed termination and of any cable connector unless it is specified by the client.
You should prevent kinking of the cable by maintaining tension on the cable reel to control uncoiling the cable. The reel should be at an adequate distance from the tower or structure to prevent the coax from slapping against the structure. If the jacket has been cut, seal it with butyl and vinyl tapes
Standard Coaxial Cable Weight Averages
(50 Ohms)

Cable Size
Per Ft.
50'

  

LBS
75'

  

LBS
100' LBS
150' LBS
200' LBS
250' LBS
300' LBS
350' LBS
400' LBS
450' LBS
500' LBS
1/2" Foam Coax
0.153
8
11
15
23
31
38
46
53
61
69
76
5/8" Foam Coax
0.225
11
17
23
34
45
56
68
79
90
101
113
7/8" Foam Coax
0.300
15
23
30
45
60
75
90
105
120
135
150
1-1/4" Foam Coax
0.697
35
52
70
105
139
174
209
244
279
314
348
1-5/8" Foam Coax
0.873
44
65
87
131
175
218
262
305
349
393
436
2-1/4" Foam Coax
1.255
63
94
126
188
251
314
377
439
502
565
628
Average of all major coaxial cable manufacturers. Check individual spec sheets for accurate weights.
If you are not going to immediately use the coaxial cable, ensure that the ends are properly sealed. Many reels have had to be replaced by contractors because their technicians failed to provide proper weatherproofing while they were in storage.
Installation Cost

Coax Size
Cost Per Ft.
2-1/4"
$2.15
1-5/8"
$1.93
1-1/4"
$1.83
7/8"
$1.69
5/8"
$1.61
1/2"
$1.56
3/8"
$1.49
1/4"
$1.44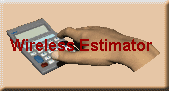 The sell price default installation pricing is based upon an antenna and line contractor preparing the transmission line, providing the rigging and hoisting it to the required height on a tower only. It does not include installing connectors or the cable's attachment to the structure which is provided for under hanger kits . Pricing is based upon being on site while performing other installation services. Add to the installation pricing the anticipated number of man-hours required to pick up the cable if it is not being delivered to the construction site by others. Also, add the cost to dispose of the reels.

We recommend that you contact our valued antenna and line installation contractors to obtain additional information about their services, capabilities, experience and pricing.