Product Information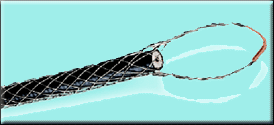 Hoisting Grips
Sometimes called a Chinese finger, a hoisting grip is an interlaced wire mesh that fits around the transmission line so that the looped handle at the upper end can be pulled to cause gripping of the cable. Grips are required at intervals of 200 feet along the transmission line. For transmission lines whose length exceeds 200 feet, the hoisting grip should be left on the cable and tied off to the tower or other support structure so that the weight of the cable is supported by the grips and not by the cable hangers.

The standard hoisting grip has open loops along its length. The grip is first wrapped around the cable and then the loops are laced together for hoisting. This type of grip can be wrapped over a transmission line that has a connector attached or at any point on the cable.
Pre-laced hoisting grips provide a closed mesh design which simplifies installing the grip over a non-terminated end of coax.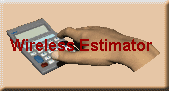 The following hoisting grip prices are averages from multiple distributors. Pricing does not include tax, freight and installation. The default pricing is for a lace-up grip.
We recommend that you contact our valued hoisting grip manufacturers and distributors for your site-specific requirements.
     Hoisting Grip Pricing

Size
Description
Lace-Up Price (ea)
Pre-Laced Price (ea)
1/2"
Hoisting Grip for coaxial cable
$20.73
$21.52
5/8"
Hoisting Grip for coaxial cable
$24.05
$24.98
7/8"
Hoisting Grip for coaxial cable
$26.33
$27.24
1-1/4"
Hoisting Grip for coaxial cable
$28.73
$29.50
1-5/8"
Hoisting Grip for coaxial cable
$31.56
$32.74
2-1/4"
Hoisting Grip for coaxial cable
$38.06
$42.29