Installation Information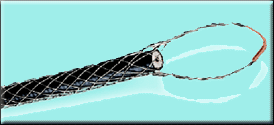 Hoisting Grips
The standard hoisting grip has open loops along its length. The grip is first wrapped around the cable and then the loops are laced together for hoisting. This type of grip can be wrapped over a transmission line that has a connector attached.
The looped handle at the upper end is then attached to a hoist line that can support the total weight of the cable. Upon initial tension of the hoist line, like a Chinese finger, the grip will firmly attach itself to the cable. Grips are required at intervals of 200 feet along the transmission line.
If you are pulling line inside a monopole, calculate where the interior cable support hook is located so that you can maintain the appropriate amount of cable leader required to reach your antenna.
Measure the distance from the top exit of the monopole to the interior support hook if it is not provided by the manufacturer.
Measure the distance from the top mesh of the hoisting grip to the top of the handle.
Identify the length of cable protruding from the top exit of the monopole.

By adding these three measurements you'll obtain the distance from the top of the cable connector to the point where the top of the hoisting grip's mesh should be located after the attachement.
If you are using a pre-laced hoisting grip over a non-terminated coaxial line, ensure that the transmission line is securely waterproofed.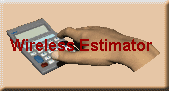 Technicians, on average, can lace up a hoisting grip in less than 10 to 15 minutes. If some organization were to sponsor a tower erection rodeo, it would be interesting to see how quickly one could safely lace and hog tie the coax.
We recommend that you contact our valued antenna and line installation contractors to obtain additional information about their services, capabilities and experience.