Installation Information
Grounding Kits
Transmission lines should be grounded along the vertical run near the top and bottom and at the entrance to the equipment shelter. However, you might have to provide four ground kits per line, an additional one for the midpoint of the cable, if the height of the line exceeds 200 feet.
A section of the coaxial cable jacket is removed and the ground strap is tightly fastened to the outer conductor. The connection is then wrapped in butyl rubber tape and vinyl tape for weatherproofing. This material is typically provided with the kit. The terminal is then attached to a buss bar or tower member.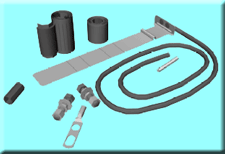 Most lug attachment hardware requires a 7/16" inch to 5/16" opening. Ground terminals must travel in a downward direction from the cable to the ground lug attachment point, with a minimum bend radius of 8". Make sure there are no loops or other unnecessary changes in direction. Prior to attaching the lug, remove any paint or oxidation from the contact with the terminal. Applying a non-oxidizing grease is recommended to ensure good electrical contact.  Check customer specifications to make sure there are no special lock washers required.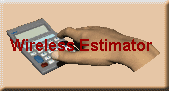 While secured at the grounding location, a technician, on average, can attach a standard ground kit and weatherproof it in less than 20 minutes. A hard shell kit can take as little as 5 minutes. The default pricing is for a standard ground kit.

We recommend that you contact our valued antenna and line contractors to obtain additional information about their services, capabilities and experience.