Installation Information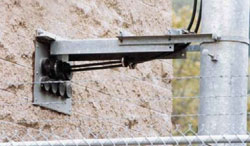 Cable Entry Systems
Wall or roof cable entry systems are requirements in many wireless construction projects, the wall panel being the most widely used.
A panel is sometimes mounted on the interior of an equipment area when a good appearance is necessary or when building insulation is required to be replaced within the wall.
For a masonry structure remove enough block or brick to provide an opening 5/8" smaller than the overall dimension of the plate. Construct a wooden frame and force it into the opening for a tight fit. Anchor the frame to the masonry.
Use pressure treated 2"x6" lumber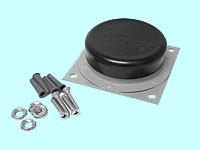 for the frame so there is approximately 1-1/2" minimum of surface for attachment of the plate screws. Prior to screwing the plate to the frame, provide a liberable amount of  waterproofing sealant on the frame.
If your wall is metal, plastic or wood, position the plate on the wall and mark the wall with a pencil for all of the holes in the plate. Cut the large holes first and then drill the smaller mounting holes.
Poured concrete walls will require core drilling. Carefully review the manufacturer's installation instructions for dimensions and procedures.
Be careful with some construction material facades. These larger panels are known to crack when drilling an opening.
Roof enclosures require contractor expertise
A rooftop hood entry enclosure, often referred to as a dog house,

requires the contractor to have a working knowledge of roof construction and repair. Although the process of opening the roof is similar to the requirements to install a panel, there are numerous areas of concern. Many roof panels are made of pre-stressed concrete and will require an x-ray prior to coring, an expensive undertaking. Also, flashing of the cut roof membrane must meet code requirements. If you are required to use the building owner's roofing contractor, identify the cost prior to your bid. When only one contractor can perform the services your costs will increase considerably.
Some enclosure weights are minimal and will allow one technician to carry it from the building elevator.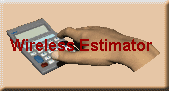 Contractor pricing to install a panel is always site specific. Easier installations can be accomplished by one technician in three hours; others can take a day and involve coring and other contractor coordinated efforts.


We recommend that you contact our valued installation contractors to obtain additional information about their services, capabilities and experience.