Product Information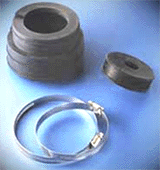 Waveguide Boot Assemblies
Waveguide boot assemblies provide a secure and weatherproof fitting for the site's transmission line entry panel. Standard sizes are 4" and 5" and include the boot, two hose clamp rings and an inner cushion that can accommodate single or multiple transmission line sizes. The term "waveguide boot" is identified in a number of catalogs as a cable boot since the majority of applications are for coaxial cable, not elliptical waveguide. When ordering from your distributor, identify the coaxial cable manufacturer, a non-corrugated coax will require a different cushion.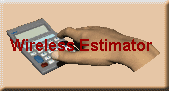 The following waveguide boot assembly prices are averages from multiple distributors. Pricing does not include tax, freight and installation.
Waveguide Boot Assemblies

Description
Wt. (lbs)
Price (ea)
4" Boot Assembly w/Cushion
1.78
$30.80
5" Boot Assembly w/Cushion
1.85
$32.78
Cushion Insert
0.35
$5.00
Cushion Plug
0.15
$1.00
We recommend that you contact our valued waveguide boot assembly manufacturers and distributors for your site-specific requirements.